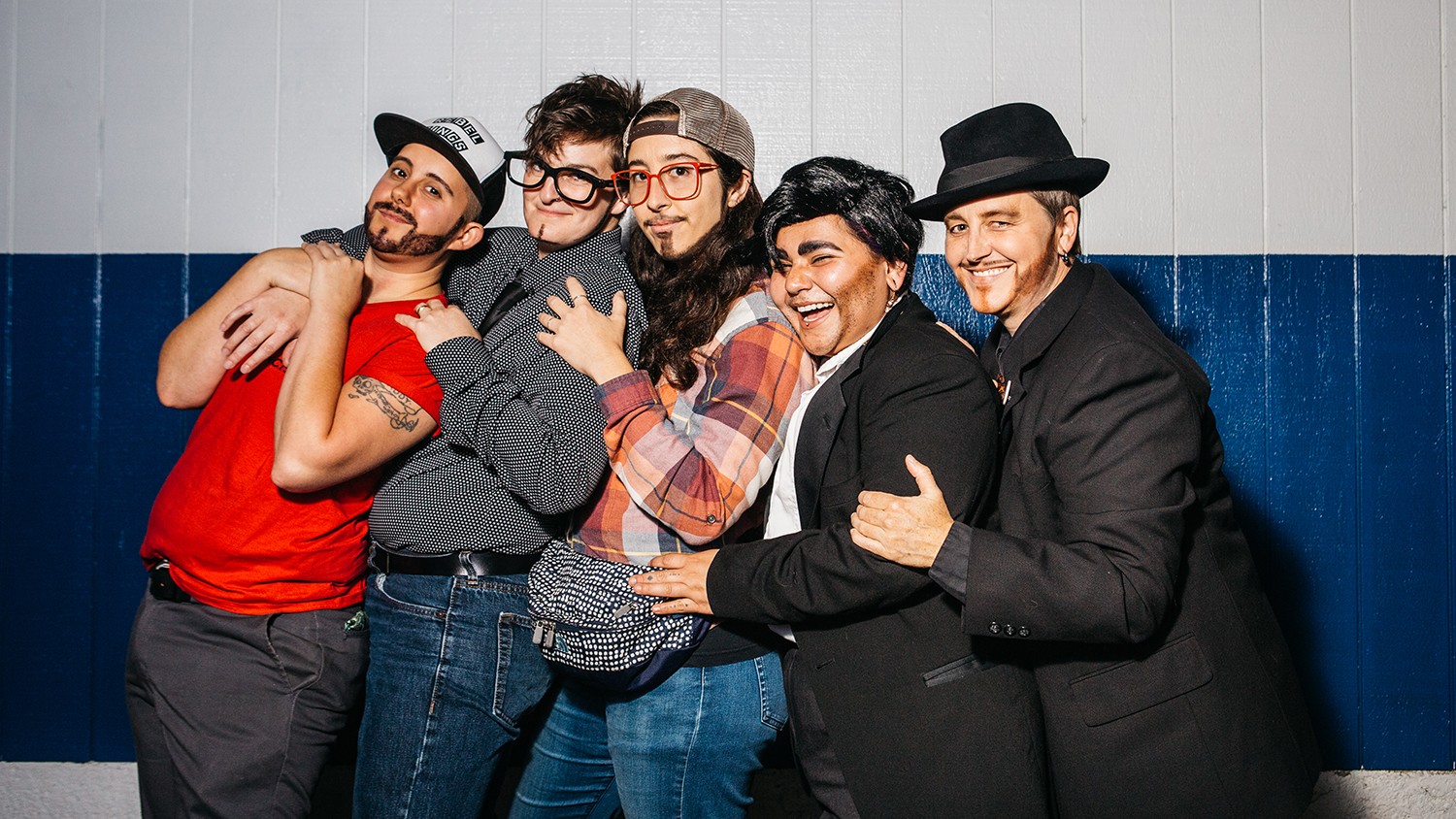 Evening prep for a Rebel Kings of Oakland show tends to include a bit of everything. On a recent evening, chuckles filled the little dressing room as performers helped each other duct-tape down their chests or fasten glittery nipple tassels under their suit coats. Some meticulously glued on beards using pieces of their own hair, applied thick lipstick, and deftly tucked brightly colored dildos into their underwear. The group takes pride in the fact that there are no rules to drag — (almost) anything goes.
"We're not your average drag king show," said the group's ringleader and emcee, Jen Shockey, while painting on broad eyebrows for her drag character, Vegas Jake.
A veteran performer, Shockey first took an interest in drag almost two decades ago when her friend unearthed a gold lamé costume that looked like a homemade Elvis outfit. The charming Vegas Jake came to life in the ill-fitting polyester suit and has yet to leave the stage. "My character really likes to be with people."
Shockey is one of a couple of performers who've stayed with the Rebel Kings since their start in 2010, a group that rose to fill a beard-shaped gap in the East Bay drag scene. Every first and third Wednesday of the month, the kings and their cortèges pack the back room of North Oakland's White Horse Bar — the oldest continually operating gay bar in the country, which is celebrating its 85th anniversary this year — to entertain captive audiences. Past performances have included two kings in shiny wigs singing a Willie Nelson and Johnny Rodriguez duet, and a dancer twirling across the floor to a Missy Elliott song with a choreography that even gravity couldn't seem to figure out. "From political, to funny, to serious, to sad — it's always a gamut," said Shockey.
For a $5-$15 sliding scale admission, folks of any orientation are welcome to attend a show. Dedicated acolytes come armed with wads of dollar bills to throw at their favorite performers.
Being the longest-running drag king show in the East Bay, and one of just a handful of drag king shows (there's also Shenanigans in Alameda, headed by Chico Suave), the Rebel Kings are committed to keeping their show fresh and alive. The current core group of six performers — Vegas Jake, Vera, Jay Mercury, Randy Puck, Joey Gelato, and Mickey Finn — are continually seeking out new talent to bring to the stage.
"You can express yourself however you want and our audience knows that. They also feel safe and welcomed and return the love," said longtime performer Vera Hannush, whose fanny-pack-toting "Armenian Weird Al" character — also named Vera — is known to do the splits in shiny underwear and eat unusual foods onstage.
"A lot of [our performers] are a blend of things," said Shockey. "We try to pay attention to our community, because people take to the stage in many different ways. Some have used it as a safe place to transition from female to male …. For others, it's just a fun way to explore their extrovert side — to mess with gender and bend it a bit."
Drag culture is more than a century old, but Shockey thinks kings may have taken a backseat due, in part, to icons like RuPaul who've ushered in queens as leading drag figures in pop culture. Today, drag nightlife still arguably favors queendom, and kings have to work harder to be seen. Masculinity is often viewed as a non-performative "neutral" and lacking in the dazzling accoutrements that queens flaunt.
But the Rebel Kings are unafraid to play with gender in a rather amorphous, fluid way, endearingly calling many of their performances "gender-fucking." Wild outfits and sparkly adornments are a regular part of their shows.
A popular piece performed by Mickey Finn — Mikaela Hamill's seasoned drag personality — begins with a stern three-piece suit and mustache, but finishes in a big reveal of stockings, lace underwear, and a dramatic removal of their top hat, letting their billowing blonde hair tumble down to their waist.
"The awesomest thing anyone has ever said about Mickey Finn is that I was raised by a pack of wild chameleons," said Hamill, who's been with the Kings since their start. "It's great to see more performers these days take the hyper-masculine and hyper-feminine and mash them together."
Their king acts are performed by cisgendered, trans, queer femmes, and nonbinary folks alike. Drag queens, burlesquers of all gender expressions, and "baby kings" — first-time performers — are always encouraged to join the lineup and have a go.
The Rebel Kings call Hannush and Shockey "mom and dad" because many of the performers turn to them first when they need help, whether to give lessons on face contouring and binding, or just offer emotional support. Shockey said in her intimidating early drag days there was one particularly encouraging king who helped her find her footing. Since then, she's tried to follow in kind.
Joey Hood, aka Joey Gelato, is one of Shockey's "drag sons" who took to performance as a way to manage their mental health. Having dealt with anxiety attacks since early childhood, Hood said drag became a calming antidote.
"I have a lot of gender, so it helps me get my male side out," said Hood. "I've struggled with wondering if I want to transition and drag definitely allows me to have that moment and still be my own gender that I do identify with.
"I do a lot of strip tease, so being able to show my body and making me feel comfortable in my own skin is basically the highlight of the performance."
For some, their characters aren't something they just peel off at the end of the night; it's a candid — if, admittedly, theatrical — expression of their gender(s).
"I honestly get sad to remove my beard," said Hannush. "It feels really natural to me, like it's a part of me."