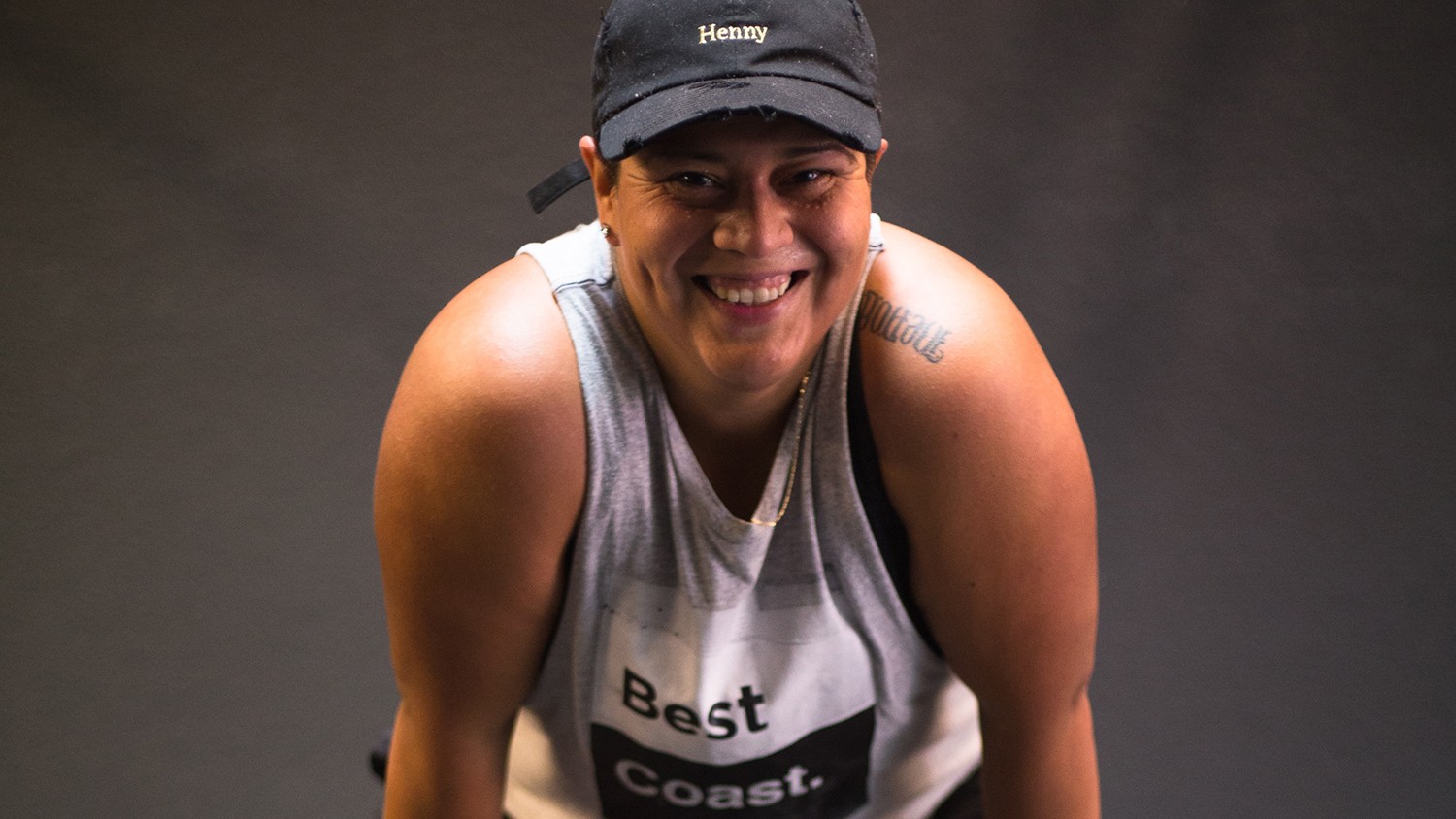 Gyms are places of transformation, but not always of acceptance. Queer individuals looking to avoid the body-shaming, gender binaries, and grim atmosphere of traditional gyms have had limited options. That dearth of queer-friendly fitness spaces led personal trainer Nathalie Huerta to open the Queer Gym in 2010.
"You're not going to go to the gym if you don't feel comfortable, safe, included, or welcome," said Huerta. "Going to the gym alone for any person can be a challenge, and then when you layer that with not feeling safe in the locker room, or being gendered at the front desk, that's a lot of barriers."
From the beginning, Huerta wanted to create a space where people of all ages, abilities, and orientations could feel comfortable working out, starting with the name. "I want us to be out and I want us to be bold about who we are and who we serve," she said.
But the Queer Gym differs from traditional gyms by more than title. There are no mirrors. Equipment is minimal. Routines focus on body movement rather than weight lifting. The gym works with trans individuals to develop workout routines that will help them prepare for and recover from gender reassignment surgery. At the start of every session, members introduce themselves by name and pronoun.
Staff undergo training in Queer 101, on how they can be more aware of and better serve LGBTQ+ individuals, especially before touching people's bodies to adjust form. "We're extra cautious in making sure we have consent," said Huerta.
Community response has been so positive that the Queer Gym has had to move three times, each time to a larger facility. Currently, it's located at 1243 East 12th St., Oakland. Huerta has decided to get the gym's manifesto — #nohomophobia #notransphobia #nofatphobia #noislamophobia #nogymcreepers #nomansplaining — painted on the floor.
Though the gym is centered around the queer experience, there are no restrictions to membership or classes. All are welcome to join and participate in all scheduled events. In Huerta's view, admitting non-queer identified members means creating space for better allies and advocates.
"Within the queer community it can already be pretty divisive," she said. "I want everybody to work out together and engage and interact.
"I feel very strongly that one of the first steps towards understanding somebody is interacting with them," she said.
Since the Queer Gym opened, several other spaces for LGBTQ+ fitness have opened in the East Bay. Huerta welcomes this development, describing fellow queer fitness spaces "as other soldiers helping to carry the cause forward."
In July, Lindsey Page opened Radically Fit, a queer-oriented, body-positive, sliding-scale fitness space at 1499 Fruitvale Ave., Oakland. Previously, Page was the head of the fitness program at Bayan Roots, a queer-oriented massage and wellness center located at 2575 MacArthur Blvd., Oakland. Page took over ownership of the program and rebranded it as Radically Fit in May.
Feeling physically capable can lead to feeling emotionally satisfied with one's own body and life. For queer-identified people, not feeling comfortable or safe exercising in the hyper-gendered, overly masculine spaces of standard gyms means being denied the benefits of a healthy lifestyle.
"[We] are the ones that are getting left out of mental and emotional spaces," said Page. "Physical fitness has been proven to help mental and emotional health."
For Page, fitness involves more than losing weight or toning muscle. It means having a holistic view of health. "You can come with whatever goal you want, but our mission is to make you feel comfortable in your body whatever way that looks for you," she said.
At Radically Fit, Page strives to create niche events tailored to different groups within the queer community, in addition to larger, more open events. Page describes them as efforts to create "even more inclusive space within our inclusive space."
"We're kind of trying to take the most marginalized communities within our bigger community and make sure they have their own space within the gym," she said. To that end, Radically Fit offers a class in transgender and gender nonconforming mind-body alignment. Led by a trans physical trainer, the class aims to help members center their emotional, physical, and mental identities without feeling self-conscious or concerned about safety. Radically Fit will also begin offering programs specifically for queer people of color starting in September.
Page views queerness as an identity forged at the intersection of orientation, gender, and politics. The three elements balance differently for different people. Having access to health facilities gives people the opportunity to find that balance themselves.
"I think that there's a lot of political feeling that goes into queerness — having more of a radical look at things," she said. "My political beliefs have opened immensely since stepping into my queerness. So has my sense of being a woman of color."
The hyper-awareness that queer individuals have for both the state of the world and the state of their own bodies can have severe negative impacts on emotional health.
"Stress manifests in the body," said Rocco Foronda, owner of Bayan Roots. "A lot of time that's coming from outside stress factors, especially in the last couple of years."

[pullquote-1]
Many queer individuals have come to experience daily life as a low simmer state of mixed rage and anxiety, with occasional high boil points. Foronda cites the June 2016 Pulse nightclub shooting in Orlando, Fla., the August 2017 Unite the Right rally in Charlottesville, Va., and the seemingly constant rallies and riots in Oakland and Berkeley as contributing stress factors. Not to mention efforts by the current government administration to undermine the rights of queer and trans individuals.
"The government being against those communities by policy and by law has a huge impact on the mental health of all of us," said Foronda. "It's extremely high stress times for many people in our community."
Though all are welcome to massage and acupuncture at Bayan Roots, the facility centers health and wellness around the queer, larger bodied, trans, and POC experience. "Our entire objective is to make a space where people are seen and heard," Foronda said.
According to Foronda, even well-intentioned queer spaces sometimes leave out other facets of identity. "Just because you say that you're a queer space doesn't necessarily mean that you're welcoming of all bodies," they said. "One of the best feedbacks we've heard was from a client who said, 'This is the first time I've walked into a queer space that I've felt able to be my entire self.'"
As more spaces begin to prioritize queer fitness, there will be even more opportunities to do so.