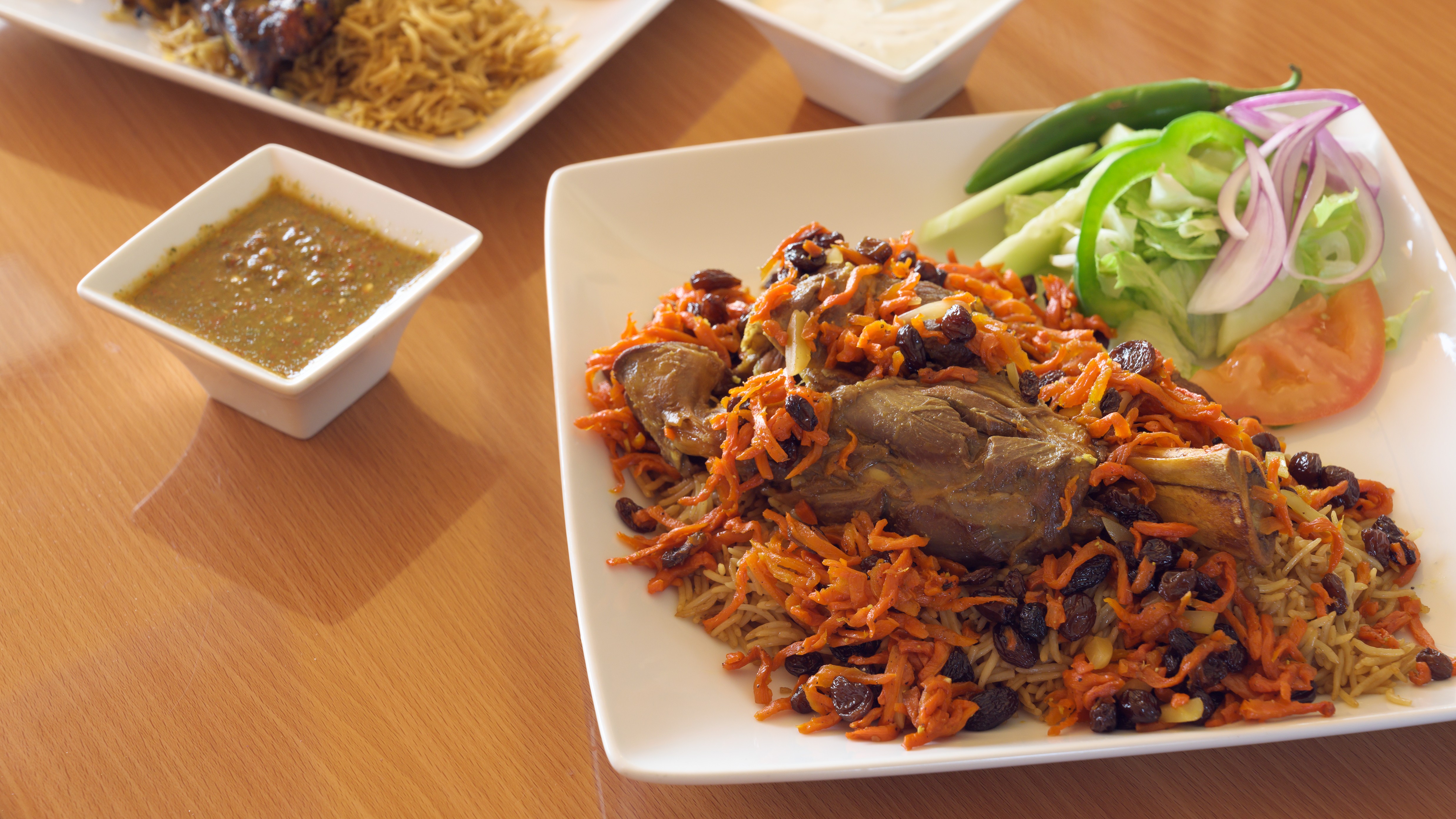 There are few things more exciting than eating your way through a heap of fragrant basmati rice, scented with lamb juice and mixed with caramelized carrots, plump raisins, and crunchy almond slivers — and unveiling a whole, juicy lamb shank underneath.
Or at least, that's how I felt when I ordered the quabili pallow at Yummy Grill, the new Afghan restaurant in Oakland's Fruitvale district at the corner of High Street and International Boulevard that opened earlier this year. Its unassuming storefront is located next to a check cashing store in a strip mall, and most people in the parking lot were busy carting their laundry to and from the nearby laundromat. Inside, the TV blares daytime shows or music videos over the loud hum of the soda fountain. From the outside, it's not immediately obvious that this is an Afghan restaurant. The main sign outside advertises a slew of specialties, from gyros to burgers to Philly cheesesteaks, while a smaller sign alludes to the restaurant's Afghan and Mediterranean cuisine.
But the most popular items here, according to owner Farid Bakhtary, are the kabobs, made with fresh halal meat. There are plenty of kabobs to choose from, and all of the ones I tried were exceptional. The chapli kabob in particular was a standout. Here, ground beef and a secret mix of spices were blended together and shaped into two hamburger-sized patties, with a hard-to-achieve combo of a juicy middle and a crisp, charred outside. (If only all hamburger patties could be cooked this well.) Equally impressive was the chopan kabob, a plate of small, bone-in pieces of lamb chops that were grilled until a perfect crust formed on the edges. Meanwhile, the tender inside was just the right amount of pink, and bursting with flavor. Bakhtary said the chopan kabob is marinated, which provides added savoriness and juiciness. Even the chicken kabob, which had an orange-colored spice rub reminiscent of tandoori chicken, was expertly cooked with chunks of succulent white meat and bits of char at the edges.
Every kabob comes with a small handful of iceberg lettuce salad topped with onion, tomato, bell pepper, and cucumber, and a generous portion of Afghan "brown" rice, which isn't brown rice in the health food sense, but instead brown-colored, long-grain basmati rice that's a little oily and full of flavor. On most of my visits, I also received a small piece of homemade Afghan naan, made in part with whole wheat flour, which provided a sweet, nutty taste. Bakhtary said they make the fresh Afghan bread in the restaurant's pizza oven — the bread is several feet wide before slicing. And according to Bakhtary, good naan is important. "We Afghanis are addicted to bread with everything — with rice, with veggies, with kebabs," he said. "We always accompany the food with a piece of bread."
While kabobs may be the most popular choices, I was equally enamored with the Afghan appetizers. The mantu, which were made fresh in-house, came stuffed with flavorful, spiced ground beef and topped with yogurt, lentils, and dried mint. However, the wrappers were a little soft for my liking and tended to fall apart. But the potato bolani received perfect marks: a crisp, stuffed flatbread served piping hot, with a thin layer of creamy potato for richness and green onions for sharp contrast. The bread was fried until golden and crisp, and the oil added flavor without excess grease. The bolani came with a cool yogurt sauce and a cilantro-based spicy chutney, both of which complemented the bolani well. While potato is currently the only option, Bakhtary said he also plans to offer squash bolani and leek bolani soon.
For a meat eater, it would be easy to ignore the vegetarian offerings at Yummy Grill — but it would be a shame to do so. The cauliflower, served in a zesty tomato sauce, was cooked until tender, without becoming mushy. I particularly enjoyed the eggplant, which was grilled until falling apart, and served in spicy tomato sauce, along with bell peppers. Yogurt and a housemade hot sauce livened up the dish. It's an excellent side dish to share with the rest of table, or a meal on its own when scooped up with a piece of fresh naan.
Yummy Grill even offers a few Afghan desserts. I tried the ferni, a creamy, custardy pudding that was strongly scented with rosewater and cardamom and topped with crushed pistachios and almonds. Unlike most puddings, this one was refreshing and light — an ideal end to a meal full of grilled meat and rice. In the future, Bakhtary hopes to expand the menu to include freshly made pastries, cakes, and cookies.
Although Bakhtary brought on an Afghan chef with 20 years of restaurant experience, he asserts that the food at Yummy Grill is similar to what he eats at home. "We take great pride [in] our food — the way we cook," Bakhtary said. "We cook every food the way that we cook for ourselves. We try to be simple and good and fresh, and that's it."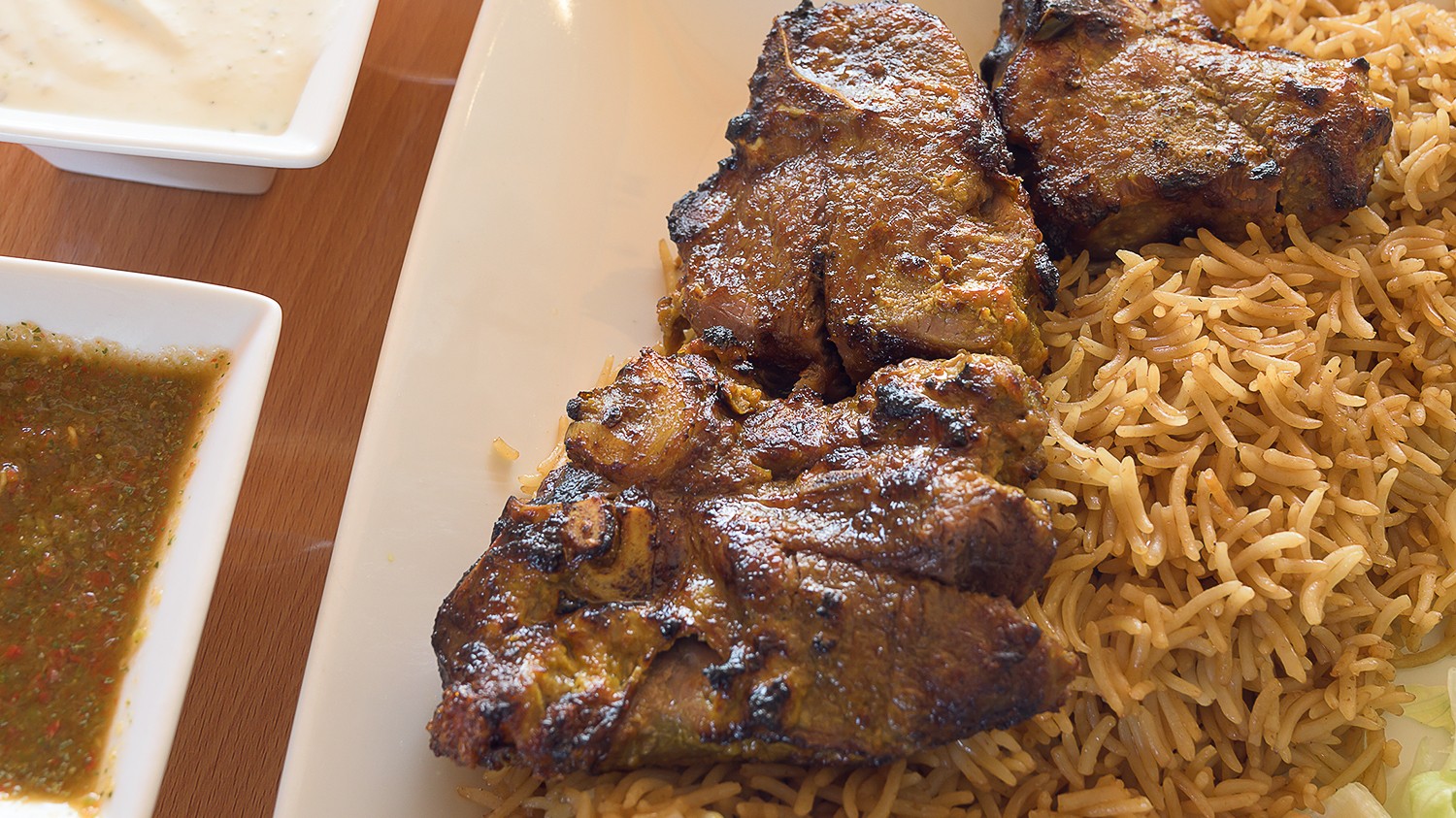 If you're bringing along picky eaters, there are plenty of other options to choose from: falafel, gyros, shawarma, burgers, fried chicken wings, and Philly cheesesteaks. There's even tandoori chicken and chicken curry, which Bakhtary serves to accommodate his Indian and Pakistani customers. The vast menu is representative of Bakhtary's experience in the restaurant industry: He arrived in the United States 32 years ago and has worked in the industry, including owning a hot dog stand and a cafe, for about 25 of those years. Along with Yummy Grill, he currently owns a pizza shop in San Francisco.
But Bakhtary is proud to introduce local residents to Afghan cuisine. According to him, Yummy Grill is the only Afghan restaurant in this neighborhood, where there are taco trucks on nearly every corner. Bakhtary said that for many of his customers, this is their first time trying Afghan food. So far, he's received positive responses — and every time I ate at Yummy Grill, Bakhtary made sure to check in and ask how I liked the food.
"You have to have passion," Bakhtary said. "[You] also have to care about what you serve, and care about your customers."
Yummy Grill Afghan Kabob House
4300 International Blvd., Oakland
510-533-1515
Hours: Mon.-Sun. 11:00 a.m.-9:00 p.m.
Cash, all major credit cards

Sample Menu
Quabili pallow … $14.99
Chapli kabob … $12.99
Mantu … $7.99
Bolani … $6.99
Eggplant … $8.99
Ferni …$2.00