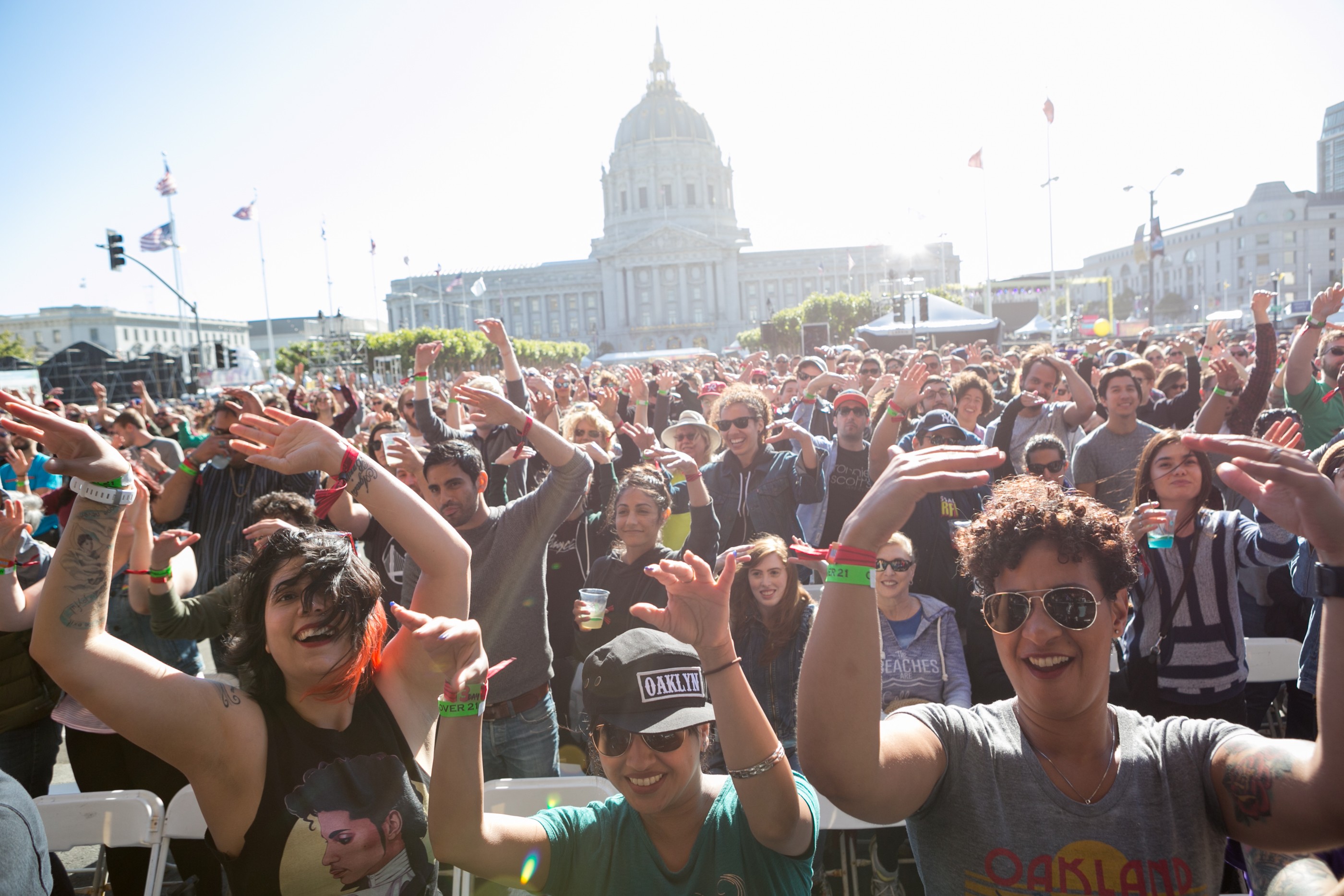 The biggest comedy festival in the Bay Area is also one of the newest. Clusterfest returns Friday, June 1, through Sunday, June 3, for its second year of nonstop stand-up as well as live music and interactive attractions.


Presented by Comedy Central, Superfly, and Another Planet Entertainment, Clusterfest inverts the Outside Lands formula with comics as the headliners and bands in supporting roles. The headliners are huge names: Amy Schumer, Berkeley's The Lonely Island, John Mulaney, Trevor Noah, and Jon Stewart, who will close out the festival on Sunday with his first stand-up performance on the West Coast in 15 years. (Don't worry, the former Daily Show host does indeed have an act. Read this interview in the San Francisco Chronicle.)


With five stages sprinkled throughout San Francisco Civic Center and the Bill Graham Auditorium, Clusterfest has a habit of overwhelming. Here's what we recommend checking out this weekend beyond the headliners:
Comedy


Tiffany Haddish: Endearing and hilarious, the star of 2017's Girl Trip is an easy choice in one of the earlier time slots.
Saturday, 5:45-6:30 p.m., Colossal Stage
David Cross: Best known for his role as Tobias on Arrested Development, Cross is far more dry and sarcastic in his stand-up persona. He also has a small but vital role in the upcoming Boots Riley film, Sorry to Bother You.
Sunday, 7:45-8:45 p.m., Bill Graham Stage
Maria Bamford: Her semi-autobiographical Netflix show Lady Dynamite was a critical hit and an important, destigmatizing portrayal of mental illness.
Friday, 5:30-6:30 p.m., 415 Comedy Club; 7:15-8:30 p.m. Bill Graham Stage
Awkwafina: The Asian American comedian and rapper is poised to blow up with two movies coming out this summer, Ocean's 8 and Crazy Rich Asians, as well as a Comedy Central pilot.
Saturday, 3:15-4 p.m., Colossal Stage; 7:15-8:15 p.m. Room 415 Comedy Club
Doughboys: Mike Mitchell and Nick Wiger took reviewing chain restaurants to a new level with their hilarious podcast.
Sunday, 7:30-8:30 p.m., Larkin Comedy Club
Music


Wu-Tang Clan: Get ready to sing along to "C.R.E.A.M."
Sunday, 6:45-7:45 p.m., Colossal Stage
Third Eye Blind
: This is, after all, a comedy festival.

Friday, 6:25-7:10 p.m., Colossal Stage
Food

Kronnerburger: The Piedmont Avenue restaurant is no more, so this might be one of your last chances to get the official Kronnerburger. (The stand will also serve vegan Impossible burgers.)
Aburaya: The Oakland favorite will serve fried chicken rice bowls, vegan drumstix, and fried cauliflower.
Whistlin' Willys pizza: Little Star Pizza will serve deep dish and thin crust slices in honor of the South Park pizzeria.
Paddy's Pub food: Ever wondered what rum ham, bagged spaghetti, and tachos would actually taste like? It's time to find out.
Dosa By Dosa: Head here for lighter, healthier meals, including their sprouted mung bean salad and pani poori, a chaat dish you can't even get at the actual Oakland restaurant.
Attractions
Paddy's Pub: The shitty bar from It's Always Sunny in Philadelphia is back, featuring live entertainment every day in addition to themed food. You can even play Flipadelphia.
The Donald J. Trump Presidential Twitter Library: The Daily Show presents "the finest works from Trump's Twitter collection."
South Park County Fair: Join the gang for skee ball, archery, and other carnival games.
Double Dare: The Nickelodeon game show will be recreated with interactive challenges, a one-hour live show on Sunday, and slime.
Arrested Development: You've probably already binge-watched the new season on Netflix, and now you can hit up the banana stand and take a selfie on the stair car.
Tickets ($289.50 for three days and $115 for single days) are still on sale here.