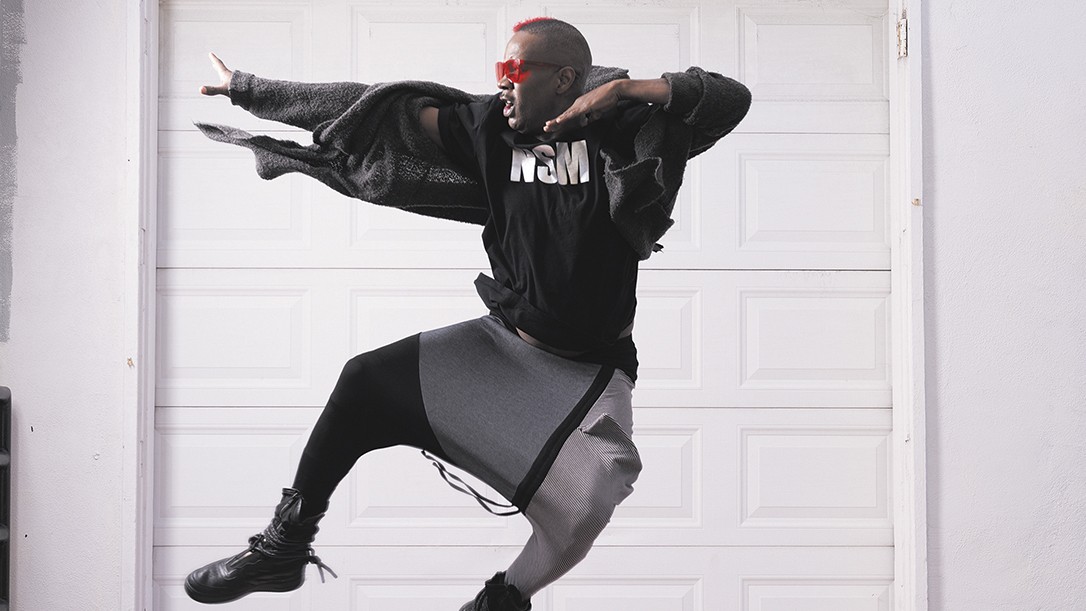 You can imagine the amount of energy it takes to run a studio from morning to night seven days a week, but talk to Corey Action for a few minutes, and you'll see how he's able to do it. Action is the founder and director of the New Style Motherlode, the nearly 30-year-old Oakland hip-hop dance group and company.
Throughout its lifespan, New Style has been an institution for Oakland hip-hop dancers. This June, for the first time in its history, San Francisco will be included in its operations. The New Style Motherlode is merging with Town Fitness and San Francisco's Dogpatch Dance and Yoga. Action will take the reins as the artistic and creative director of the new endeavor.
On June 1, New Style Motherlode will hold its last class at its current Broadway location. In what is now a classic Bay Area story, a developer bought the studio building, forcing the company out of their home of the past seven years.
When he learned of the sale in 2017, Action was unfazed. "We're going to have other places to go," he recalled thinking. "We have too many kids here who are talented, so many people who live to go here, people who need a place like this."
Action, an Oakland native who graduated from the former Performing Arts Academy at Skyline High School, started the group with his friend and business partner Teela Shine-Ross in the early '90s. From the Malonga Casqeulourd Center for the Arts to a studio in Rockridge to its current location on Broadway, New Style has always had a home in Oakland.
"This is just a building, but the energy? People need that," Action said. "I'm just here to make sure it feels good."
During an average week, people ranging in age from 2 to 80 years old drop into New Style for capoeira lessons, ballet, jazz, modern, hip-hop, Afro-Cuban, twerk, and break-dancing classes. In addition to those offerings, the New Style Motherlode Youth Company, which consists of children ages 7 to 16, holds auditions for members every six months. As a professional who got to pursue his art in high school, Action takes the passion of his young dancers seriously, working to get the company members into Oakland School for the Arts or other studios where they can get more training.
Artistic development is one part of the company that fell to the wayside in recent years, when Action found himself running the company on his own after his business partner retired. It is something he is happy to get back to under the newly merged companies, which is why this is a rare positive story of real-estate change in the Bay Area.
For the past few years, Action has been the first and last face that students see at New Style Motherlode. On any given morning, you can find him teaching classes, coordinating future events for the studio's youth dance company, fielding questions from students, or checking them in for one of the single-room studio's daily classes.
At the Town Fitness studio, Action has opened a loft office space, which he has dubbed the New Style Motherlode headquarters. It's here where the company can continue to evolve by getting into music and video, and where they will incorporate graphic artists and DJs into the company.
"We're the New Style Motherlode," he said, emphasizing the word "new." "We've always been morphing into different things that deal with hip-hop dance. I'm trying to do something that's never been done."
What that looks like is finding new artists that can bring hip-hop to life on a cell phone, for instance.
"I have to be so turnt up on the idea of giving the community and our people so much more," Action said. "We have to change our position. We have to show people that we're transferring into what's happening now. We have to go forward."
Considering the work he's already done in that arena, it's easy to believe that he will.
Because the story of New Style Motherlode is equal parts hard work and perfect timing, the closing party for the old iteration of the company falls on Action's 45th birthday, on Saturday, June 2.
On Monday, June 4, the first classes will take place in New Style Motherlode's new studio at 130 E. 12th St. in Oakland. With the merger, a variety of aerobic classes, including yoga and boot camps, will be offered. Drop in and try something new — experience the energy Action can create in a room.
"We're not doing surgery here," he said. "We're having a good time. We're dancing. We're the Bay Area people."
Celebrate New Style Motherlode's new era on Saturday, June 2, 4-10 p.m., 4225 Broadway, Oakland, NewStyleMotherlode.com.