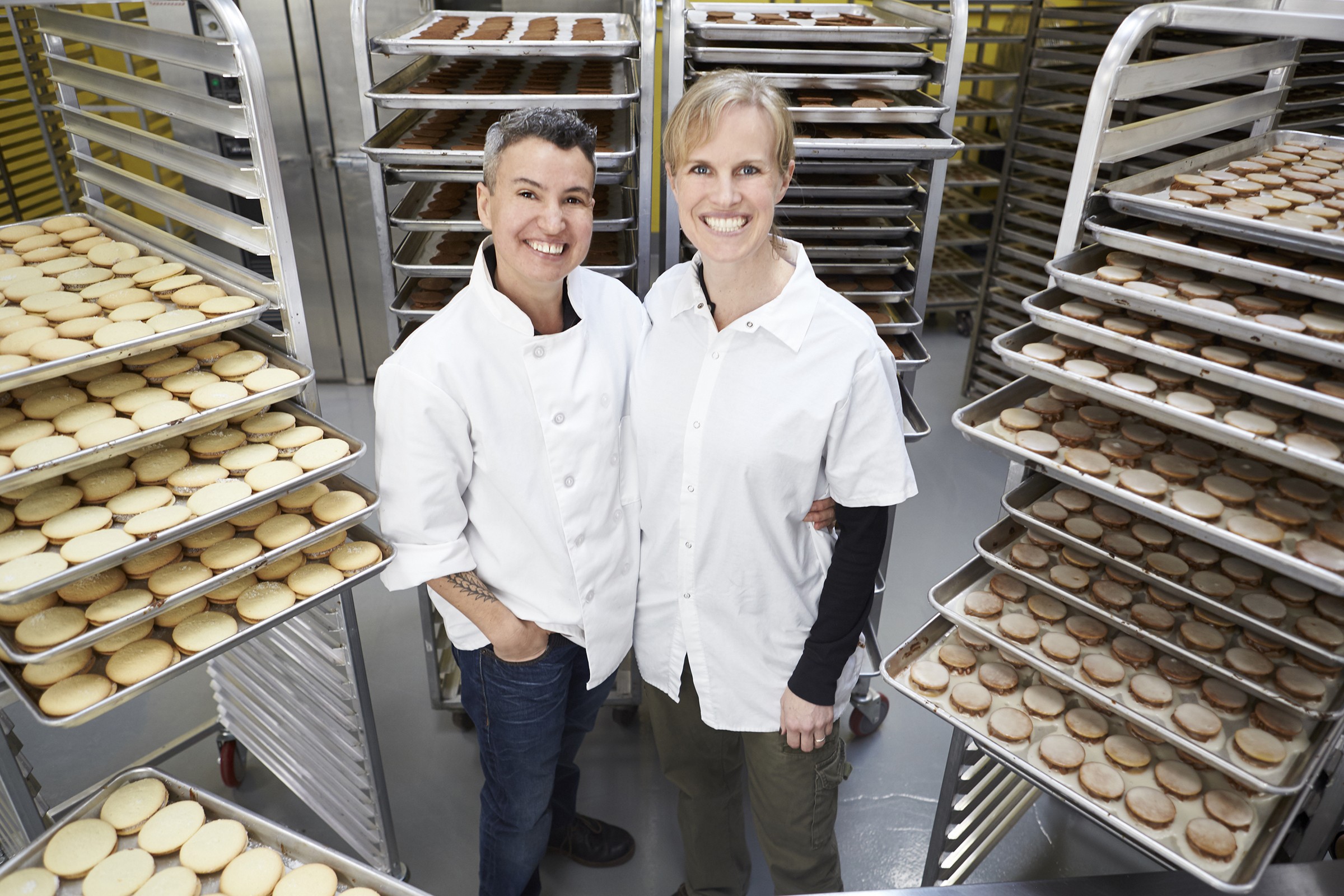 After six years of distributing her
alfajores
to wholesale clients such as  Berkeley Bowl and Whole
Foods, Andreas Ozzuna of Wooden Table Baking Co. is finally opening her own
space.
"I've always wanted to have direct contact with people and hear their feedback," Ozzuna said.
She and her wife, Citabria Ozzuna, will debut Wooden Table Cafe (2300 Broadway) on Sunday, Oct. 22, in Uptown Oakland. The grand-opening party from 1-5 p.m. will include live music, tango performances, prizes, and lots of free samples.
Wooden Table's signature is alfajores, the traditional treats from Andreas's native Argentina. They consist of thick dulce de leche sandwiched between two light, crumbly shortbread cookies. At the cafe, she'll experiment with new flavors every month in addition to her core fleet of about a dozen alfajores, which includes non-traditional flavors such as lemon ginger, snickerdoodle, and chipotle chocolate. After living in the United States for 20 years, Andreas calls her style "Argentinian-American fusion."
Also on tap: chocolate bon bons filled with <i style="mso-bidi-font-style:
normal">dulce de leche; little cone shaped Argentine confections called conitos, chocolate cookies topped with a mound of dulce de leche and covered in dark chocolate; small cookies in flavors such as chai tea, lavender, and rose water; and empanadas.
On the drinks side, Wooden Table will have an espresso bar in addition to some beverages traditional to Argentina. That includes submarino, a hot chocolate style in which a whole bar of chocolate lands in your cup of warm milk, and yerba mate service with bombilla, the traditional straw-like filter.
"In Argentina, mate drinking is a community thing — you have a minute to sit and you share it with family and friends," Andreas said.
Wooden Table will be small at 500 square feet, but there is indoor and outdoor seating — enough, Andreas hopes, to cultivate a similar feeling of community.