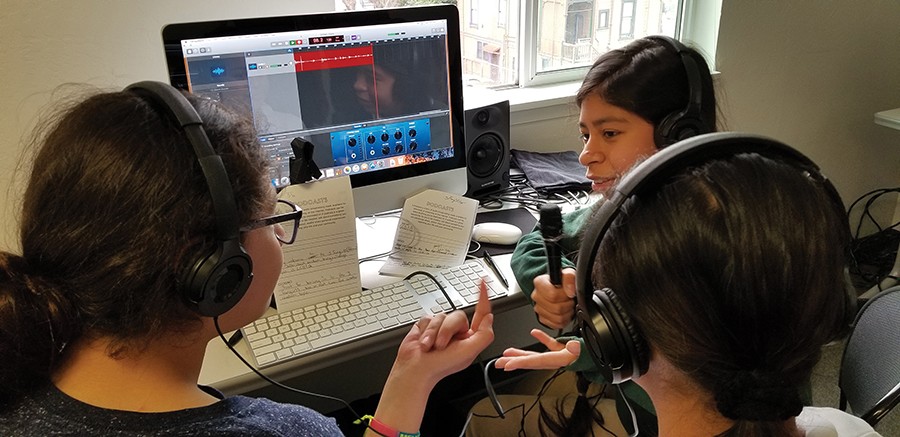 Years ago, Terri Winston finished mixing a song for a band, sent it back to them, and was told it wasn't good enough. But she knew it was good enough.
"So, we went ahead and put a man's name on it and made no changes to it," she said. "It got approved."
While women have made strides as singers and performers, they are rarely the people producing music. A recent USC Annenberg study examined hundreds of popular songs on the Billboard Hot 100 year-end charts from 2012 to 2017 and found that only 2 percent were produced by women.
"You've got a small, unregulated industry that doesn't have human resources departments or diversity inclusion departments to say, 'Hey, we might want to consider hiring this person or diversify operations,'" Winston said. "It's kind of the wild west."
Changing these dire statistics is one of the goals behind Women's Audio Mission, which Winston founded in 2003 in San Francisco. On multiple levels, the nonprofit works toward the advancement of women in music production and creative technology. One way is through a free after-school program that teaches girls basic audio production skills. Women's Audio Mission has seen huge demand for this Girls on the Mic program from all over the Bay Area and even countries overseas. Too much demand. "We had to say no to a lot of people. We had to turn away schools," Winston said. "It was demoralizing."
To help meet this need, Women's Audio Mission expanded for the first time with a satellite location in Oakland's Fruitvale district this past fall. The nonprofit worked with some Oakland girls in the past, but that involved staff lugging equipment from the San Francisco studio to individual schools in East Oakland. It wasn't sustainable. Now, Women's Audio Mission has its own 1,100-square-foot lab, classroom, and small studio space in the Unity Council building, which is within walking distance of eight schools. Winston's goal is to reach 3,000 girls in Oakland every year by 2020.
Winston is an industry veteran, having spent 30 years as a songwriter, composer, recording engineer, and producer. She shared stages with luminaries such as P.J. Harvey, Pixies, and The Flaming Lips, but was never interested in performing.
"I didn't get any payoff from being on stage. I didn't love it, but I loved being the studio," she said. "It's always been this temple for me. Starting Women's Audio Mission was a way to bring that environment to girls. … I wanted as many girls as possible to be able to experience that."
So far, students from Roots International Academy, Urban Promise Academy, Greenleaf K-8, Elmhurst Community Prep, United for Success Academy, Life Academy, Aspire Lionel Wilson College Prep, Girls, Inc., Aim High, and Citizen Schools all have access to Girls on the Mic. At the Oakland location, girls develop podcasts, use code to make drum machines, record soundtracks for cartoons, edit together radio dramas, and create beats. And they get to choose the topics and music. "We're really meeting them where they are and taking content they're already interested in," said associate director Katie Fahey.
Even though students might be initially excited by Beyoncé, Girls on the Mic is also meant to encourage girls to explore the fields of science, technology, engineering, and mathematics. Since the girls are surrounded by technology in the studio, they directly see how it can used as a tool for self-expression, Winston explained.
"It's not just a gadget," she said. "It can be used to make art and change things and be political and become an activist."
Women's Audio Mission also conducts classes for adults interested in breaking into the industry. In May, the nonprofit will offer its first Oakland training, Pro Tools 101, and more classes are expected down the line. Women's Audio Mission is on a bit of an expansion blitz in general right now. Winston is finishing up construction on a second studio in San Francisco and organizing a conference in New York with an eye toward setting up a location on the East Coast. Before meeting demand in other states or countries, though, Fahey said Women's Audio Mission is most likely to continue growing its presence in the Bay Area. Even within Oakland, Winston is currently exploring how to reach more schools whose students can't travel to the Fruitvale office.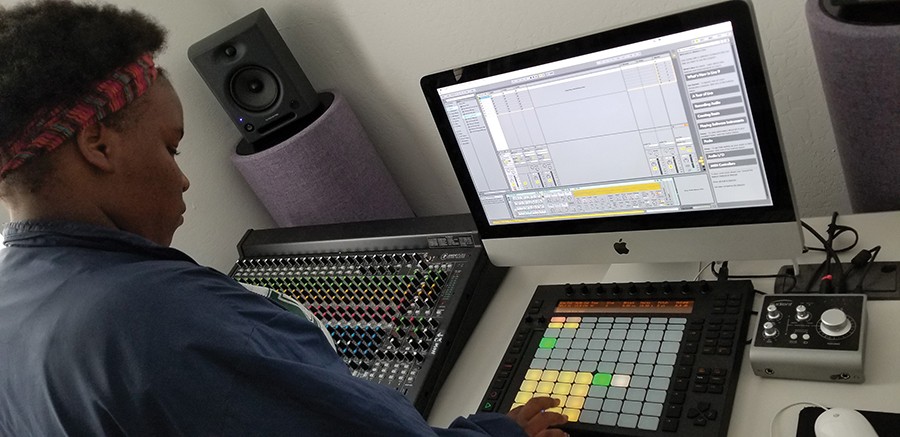 Clearly, Women's Audio Mission has found a way to get girls excited about audio technology. For Winston, a major contributing factor is that she hires relatable role models as instructors.
"They're being trained by someone like them, who is from their neighborhood and speaks their language. They're surrounded by girls," she said. "I think it's one of the few times they feel free to express themselves and have total ownership of a space, and I think it's really liberating for them."