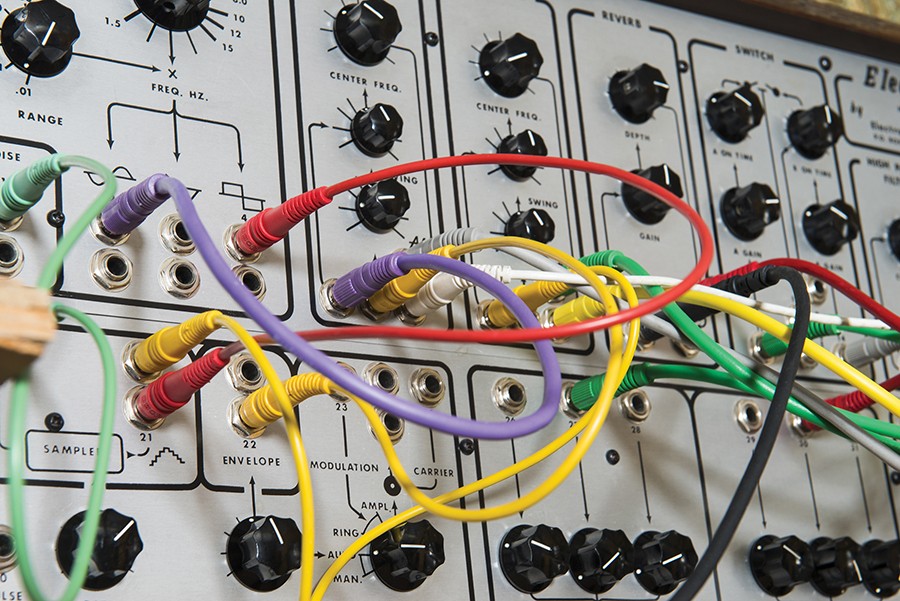 Lance Hill dismounted his bike and, using two hands, opened a steel sliding door in an industrial complex in Emeryville. Inside, he flicked a few switches, prompting lights and a barely perceptible hum — the sound of dozens of synthesizers at rest. Cords snaked between mixers and keyboards of all stripes, routing to a glass-paned control room with a long recording console. Hill emerged from a backroom holding a modest little synth with an oscilloscope, which shows a waveform changing shape. It illustrated the simple science underlying all of the retro-futurist machinery in the room: factors such as amplitude, frequency, and distortion affecting the electrical signals we perceive as sound.
We were inside the Vintage Synthesizer Museum, a recording studio, workshop, and hands-on showroom for synthesizers of the past and present that Hill launched in its current location in 2013. Hill has a background in underground electronic music, and he carries the irreverence of a self-taught synth enthusiast. (His voicemail message is processed by a vocoder.) He offers private instruction and group classes, and engineers for artists who record with the collection, which has drawn masterful synthesist Kaitlyn Aurelia Smith, left-field metal outfit Neurosis, and esteemed hip-hop producer DJ Fresh.
"[Vintage Synthesizer Museum] is one of my most favorite places to come create," DJ Fresh, a regular visitor who's recorded dozens of tracks at the synth museum, told the Express. "The analog shit is still king to me — those sounds cannot be fucked with."
The "museum" part of Vintage Synthesizer Museum is slightly misleading; there are no vitrines, no wall text. Like the Pacific Pinball Museum, which Hill said inspired the name, visitors are encouraged to play the items on display, not just to stare at them. As far as Hill knows, his mightily valuable, hard-earned collection is unrivaled among other studios in the Bay Area. Refreshingly, though, he isn't precious. And lately Hill's been pushing weekend-long group workshops in hopes of demystifying analog synthesizers, which sometimes seem like an intimidating, rarefied realm of underground music's moneyed elite.
"I'm coming from a place of, you don't need shit to make great music. Bongos, a distortion pedal, bass guitar, Radio Shack microphone, and you're good to go," said Hill, who plays in the experimental rock group Shame Waves. "And anyone with an ear can get cool sounds from a synth, but then you're going to be like me years ago: You probably won't be able to recreate those sounds when you want to the next time. Learn some basics, though, and you can — without losing any of that initial wonderment."
The East Bay boasts a long, rich history of synthesizer innovation: The San Francisco Tape Music Center, which commissioned the late Donald Buchla's groundbreaking "Buchla Box," became a part of Mills College in 1967. The school's Center for New Music has for decades breathed life into local experimental electronic music, likewise companies such as the synth-controller design firm Keith McMillen Instruments in Berkeley. It isn't unusual, at underground shows, to hear synths in place of guitars in abrasive rock ensembles, or to see synth-oriented electronic acts open for punk bands.
That sort of experimentation attracted Hill, who's 42, to the East Bay in 2002. He grew up in Tennessee and started recording music at home when he was 18, using Casio keyboards in various states of disrepair and an Akai stereo with a finicky karaoke function. A friend's dad loaned him his first synth, a Moog Prodigy. "You could get these weird, liquid-y bleeps and bloops, and I was transfixed," he recalled. "Much more control than the Casio with the distortion pedal — though that's still really cool to me, too."
In the East Bay, he started buying busted synthesizers on Craigslist to use in his solo project, USA For LSD. They were then relatively abundant and affordable, and he found a local repairman to complement his self-taught knowledge of basic electronics. Soon, though, demand for vintage synths exploded — a reaction, some say, to the spread of "in-the-box" music production software — and Hill's collecting morphed into dealing. "Eventually, I had a room full of synths at home, and that's where I got the idea," he said. Since opening the synth museum in its current space, which was built as a recording studio in the 1980s, Hill has focused less on buying and selling, and more on sharing.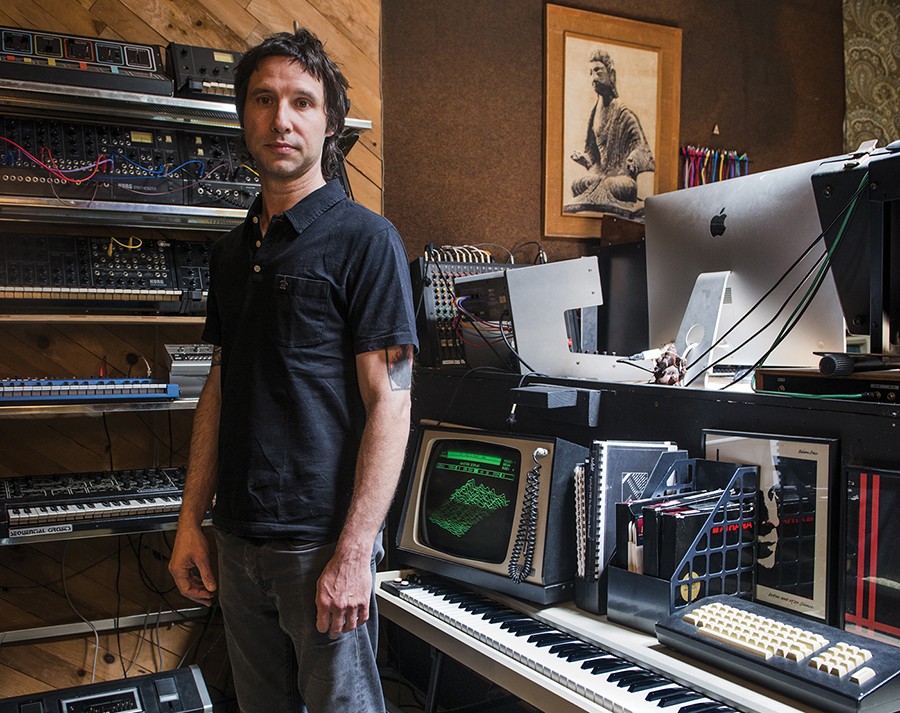 The "Intro to Synthesis" workshop, which next occurs May 12 and 13, begins with a small modular synthesizer, meaning one without a piano-like keyboard. Its intuitively placed panels make the process visible and legible, Hill explained. From left to right is an oscillator, which generates the initial electrical signal; a filter, which removes frequencies in order to change the timbre; an amplifier, for volume; and modulation, which applies effects such as reverb. The first day of the workshop centers on this barebones synth, which encapsulates most of the functions found on the next day's more elaborate gear. Even attendees who've played synths, Hill said, tend to learn overlooked fundamentals.
The group workshop is priced at $200 per person, though Hill is open to accommodating people who can't afford it. He's mindful of the prohibitive cost and expertise that alienates many people from vintage synthesizers, resulting in a homogenous, generally white and male pool of enthusiasts. To test-run the workshop, he invited students from Women's Audio Mission, a local organization devoted to training women in the recording arts. And last year, artists associated with the local dance party crew Club Chai hosted a free workshop at the Vintage Synthesizer Museum for queer and trans people of color.
Although the Vintage Synthesizer Museum is booked — either for recording, private instruction, or group workshops — just about every day, Hill said that it just "barely" pays for itself. "I've got so much invested in equipment for the workshops, I need to do a few more just to break even," he said, adding that he'll soon introduce an advanced workshop. But he's optimistic; most people who book recording time end up returning, and his clientele includes high-profile artists such as Blackalicious and Hot Chip.
DJ Fresh, who's produced music for rappers including E-40 and The Jacka, said he creates upwards of 15 tracks in a few hours with Hill at the Vintage Synthesizer Museum. It's where he made most of the music on Payroll Giovanni and Cardo's Big Bossin Vol. 2, which came out earlier this year on Def Jam. "Lance will engineer for me, but he taught me how to use all the gear," said Fresh. "At home I do more sampling … but when I'm at VSM, it's like I'm actually making the music I would normally sample.