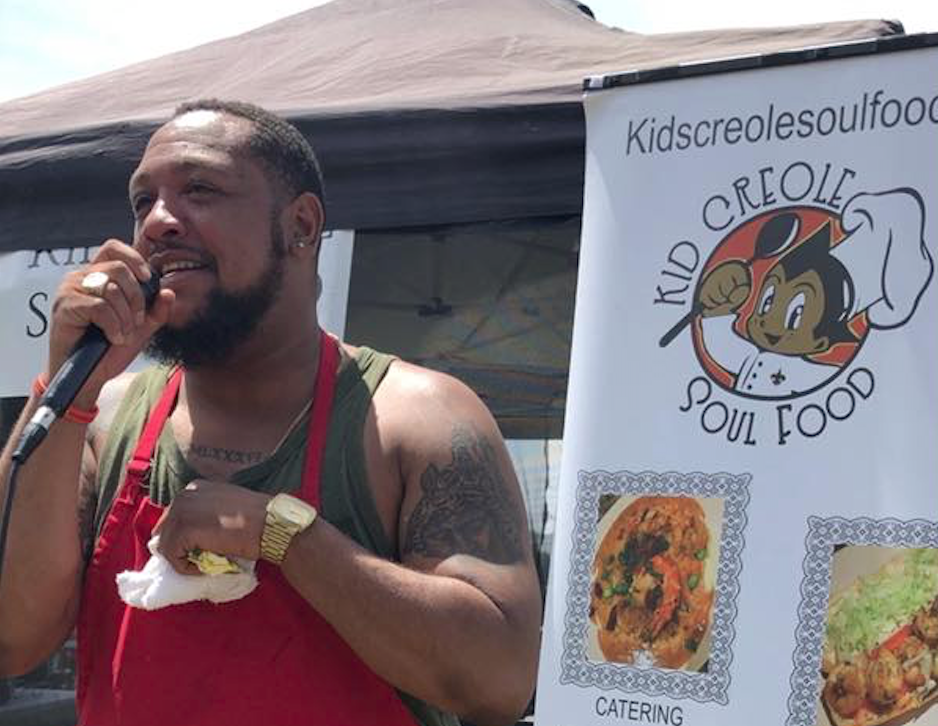 At last Sunday's "BBQing While Black," David Smith set up
a tent alongside Oakland barbecue staple, Everett & Jones. Both vendors
gave out free food to attendees, no doubt contributing to the sense of joy and
community at the lake that day. The event was organized in response to the
incident where a woman called the police on a group of mostly Black people
barbecuing at Lake Merritt. (Smith is friends with the two men in the video.)
"It was like family," Smith said about the barbecue.
Smith grew up with two grandfathers as chefs in his household; one owned a barbecue restaurant, and the other was a chef at a Jewish men's club in Oakland.
When he was a teenager, he took care of his maternal grandfather and learned how to cook alongside him. "I would work with him at events," Smith said. "I learned his recipes and adapted them."
His pop-up Kid Creole Soul Food's menu includes items like kitchen-sink gumbo, shrimp po' boys, ribs — and the classic Southern dish, shrimp and grits. His take on it is a mix of his New Orleans-raised grandfather's recipe and his own twist. Most shrimp and grits have a tomato base, but Smith uses homemade chicken stock and ground up shrimp tails to create the flavor base. He describes his cooking as "healthy soul food."
Smith has always been about bringing people together. He's currently a culinary instructor at Hayward Unified School District, where he teaches middle and high school students how to cook. He often employs students at catering events.
He brought students from Hayward High School to the barbecue event at Lake Merritt. They grilled corn to make Cajun-spiced elote and hot links, and attendees set up a tip jar for the students.
Smith credits one of his co-conspirators, Romney Steele, as a mentor. Two years ago, Steele, chef and co-owner of The Cook and Her Farmer in Swan's Marketplace, held a jazz brunch with sf|noir, and Smith was the lead chef. The dish? Shrimp, grits, and greens. "He really cooks from the heart," Steele said. Smith has brought groups of children on field trips to The Cook and Her Farmer, where kids learn about food and try their hand at recipes. "He's introducing all these kids to different foods," she added.
Smith recently received a grant to hire youth leaving juvenile hall in Contra Costa County, and the county will pay for their wages to work with Kid Creole Soul Food.
Kid Creole Soul Food pops up twice a month, every other Friday, at Federation Brewing near Jack London Square. The next pop-up is June 1, 5 to 9 p.m. at 420 Third St., Oakland.