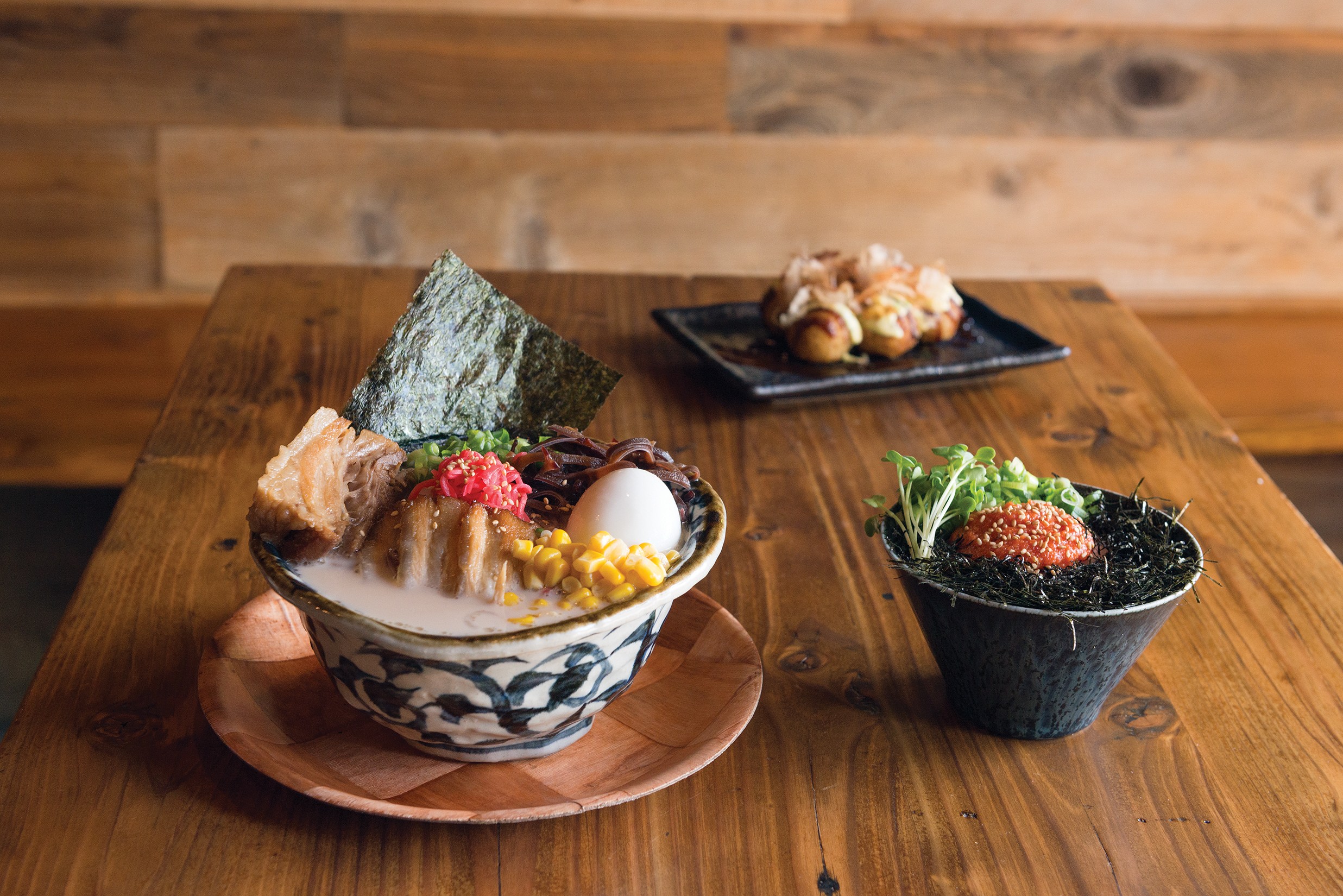 Lines are a familiar sight in Temescal. Cholita Linda, Bakesale Betty, Burma Superstar, Pyeongchang Tofu House — you'd be hard-pressed to walk by any of these restaurants on a Saturday without navigating through a hungry crowd patiently waiting on the sidewalk.
Now, we can add Marufuku Ramen to that list of reliable line-creators. Open since March, Marufuku not only fills a need for ramen in this particular, food-obsessed neighborhood, but it might serve the best Hakata-style ramen in the entire East Bay.
Hakata ramen is characterized by milky, tonkotsu broth — made from pork bones that have been boiled for several hours — and thin, straight noodles. It's arguably the most popular style in the United States, likely at least in part due to the enormous success of Hakata-style ramen chain Ippudo. The Oakland restaurant is the second branch of Marufuku Ramen in San Francisco's Japantown, which was quickly met with long lines and critical acclaim when it opened last year.
The menu lists two broths to choose from: tonkotsu and chicken paitan. Let's start with the more familiar tonkotsu. Marufuku chefs boil pork bones for more than 20 hours to yield an incredibly creamy, rich broth that naturally clings to the restaurant's skinny, chewy noodles. Unlike a lot of local bowls of tonkotsu, Marfuku's version tasted luxurious without feeling heavy or overly salty. The proportions were well thought-out, with enough scallions, kikurage mushrooms, and bean sprouts to assert some presence, but not too much. The noodles had space to breathe. The broth had room to be appreciated on its own. The soft boiled egg, while not marinated, was cooked to gooey perfection. And the irregular, wide-mouthed ceramic bowl was both beautiful and functional.   
The standard tonkotsu order comes with three slices of simmered pork belly, which were soft and tasty but not particularly memorable. For a few extra bucks, you can add corn, seaweed, and buta kakuni, braised pork belly. The pork belly portion is thick, generous, and has a shade of soy sauce. While packed with umami flavor, it wasn't as juicy and tender as I'd hoped.
In some ways, the chicken paitan ramen is even more impressive. Think of it as tonkotsu's cousin — instead of boiling pork bones, the chefs use chicken bones and feet. The result was just as cloudy, velvety, and white, with an unctuousness you normally wouldn't associate with chicken broth. Yet, again, it was balanced. The basic version comes with the same toppings as the tonkotsu, with soft pieces of chicken chashu instead of pork belly. But if you head to Marufuku early enough, spring for the chicken paitan DX, which comes with a grilled chicken leg still sizzling in a pan over a bed of charred bean sprouts. Sweet and fork-tender, it was glistening with soy sauce, adding a beautiful counterpoint to the milky ramen. The menu warns that Marufuku only makes 15 servings per day.
Though it's not listed on the menu, Marufuku also makes a vegan ramen — and it's stellar. Most vegan ramen options in the East Bay feature a shoyu broth, and they're often watery salt bombs. But like the tonkotsu, Marfuku's veggie ramen arrived milky and rich in mouth feel. I loved the savory but bright sesame flavor, with a hint of seaweed, and the green-tinted noodles held plenty of spring. I wasn't a fan of Marufuku's choice to top the ramen with a heap of salad, though. Raw greens, onions, and bell peppers feel extremely awkward in a bowl of hot soup: The arugula's peppery bite competed too much with the subtle nuances of the broth. The standard toppings of scallions, corn, and mushrooms would have been better. (If you're vegetarian and not vegan, the ramen also comes with an optional egg.)
The biggest ramen inconsistency I found was in spice level. Whether I ordered "medium" or "spicy," I seemed to get mild. Part of this is because, as the servers will tell you, Marfuku just uses togarashi to deliver heat, and there are bottles of the chili-forward spice blend on every table. DIY to your liking.
According to Yuki Sakakibara, manager of Oakland's Marufuku, the vegan broth is made solely out of vegetables and soybean oil, and he said the creaminess comes from boiling Chinese cabbage for ages. I pressed for more details — really? Chinese cabbage is the answer to vegan ramen bliss? — but he kept his ramen secrets to himself. He was similarly vague about the restaurant's owner and chef, only saying that Marufuku's ramen master used to work at ramen restaurants in Japan before moving to the United States. According to Sakakibara, the Marfuku team descended on the Bay Area to spread the gospel of "authentic" and "soulful" Hakata-style ramen. Regardless of the backstory, it's hard to argue with the results.
One bowl of ramen should be enough to satisfy you, but if you go with a group, you could also share some izakaya-style small plates or mini rice bowls. Across the board, these were good but unremarkable — you'll find better versions elsewhere, and besides, you waited in line for ramen, right?
Still, if you insist on some appetizers, I recommend the takoyaki, five little pancake balls dotted with a small piece of octopus. They were slightly crisp on the outside, soft on the inside, and finished with bonito flakes, Japanese mayo, and a sauce similar to a more syrupy and sweet Worcestershire. The Japanese-style fried chicken crunched in all the right places, but it was a little oily. The fried squid legs showed a lighter touch, but I wished the chefs cut them up so they were easier to eat. My favorite non-ramen dish was the rice bowl topped with spicy seasoned cod roe, which offered just the right amount of saltiness and briny ocean flavor. To drink, there's a rotating selection of beer and sake on tap.
Marufuku took over the former Hina Yakitori space and barely made any changes, which isn't necessarily a bad thing given the sleek, contemporary look — and all the pale wood accents — that Hina left behind. (Oddly, the comic book-esque mural remains, too.) Hina's open kitchen feels slightly too big for Marufuku's needs — unlike Ippudo, Shinmai, or Ramen Shop, there isn't much action to observe from your bar stool. That's fairly inconsequential, though. The food comes out so fast that you'll likely be in and out within 30 minutes — not exactly enough time to take in the sights. This was only slightly problematic when I ordered appetizers, and the ramen arrived about two minutes after the small plates. Suddenly, we had way too much food, all cooling rapidly, and tough decisions to make.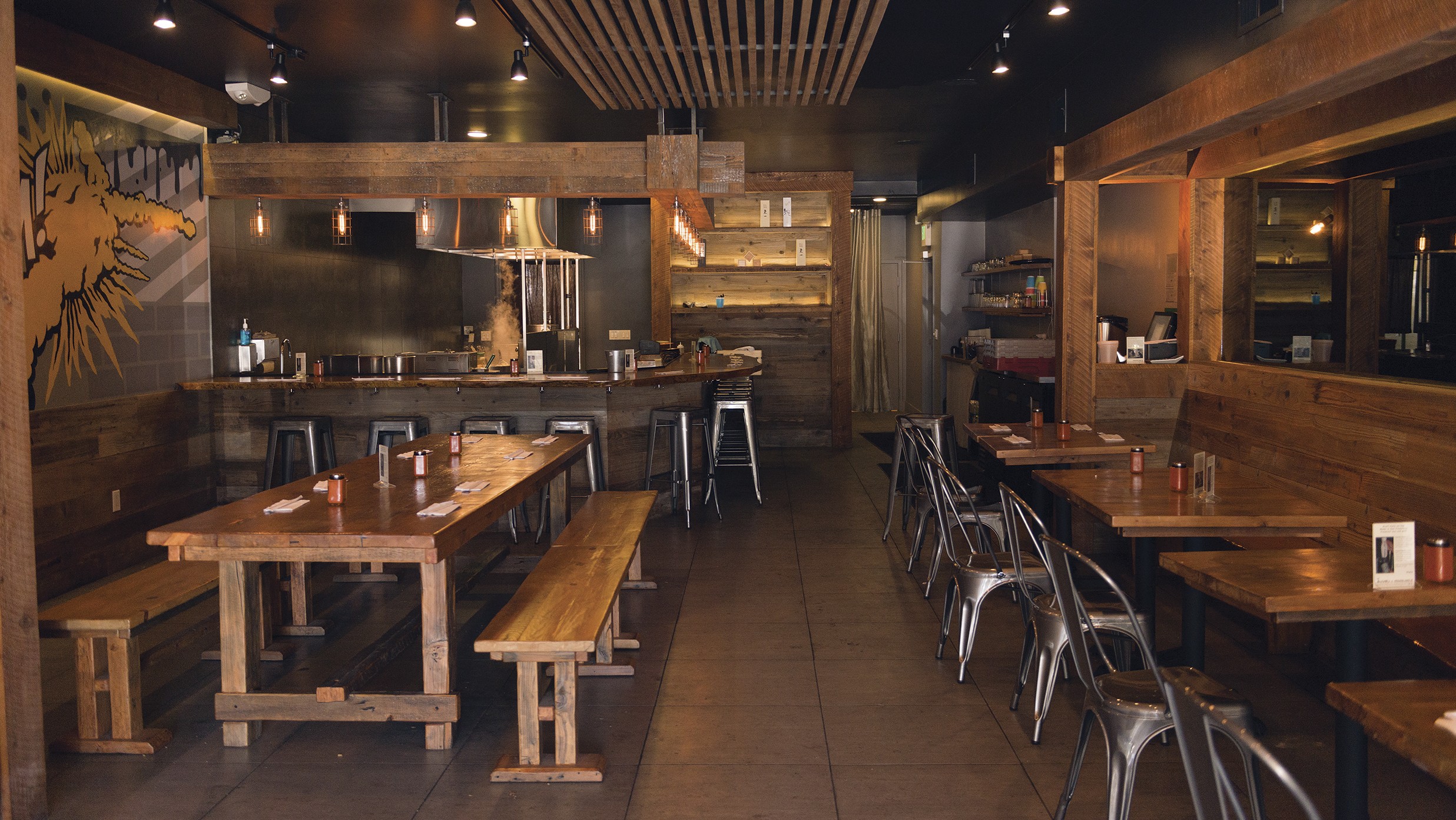 And yes, that does mean you might wait two hours for a zippy, 30-minute meal. Marufuku employs a Yelp waitlist system that makes it a little less painful. When you walk through the door, you can add your name to the waitlist via tablet. You'll get an estimated wait time and receive a text message when your table is ready. Feel free to get a drink at the dive bar next door, or make a new friend with one of many others in line.
Marufuku Ramen
4828 Telegraph Ave., Oakland
510-823-2416
MarufukuRamen.com
Hours: Wed.–Thu. 5:30–10:30 p.m., Fri–Sat. 5 p.m.–midnight, Sun. 5–10 p.m
Cash, all major credit cards
Sample Menu
Tonkotsu
… $11.99
Chicken
Paitan
DX … $15.99
Takoyaki
… $6.50
Mentaiko
rice bowl … $4