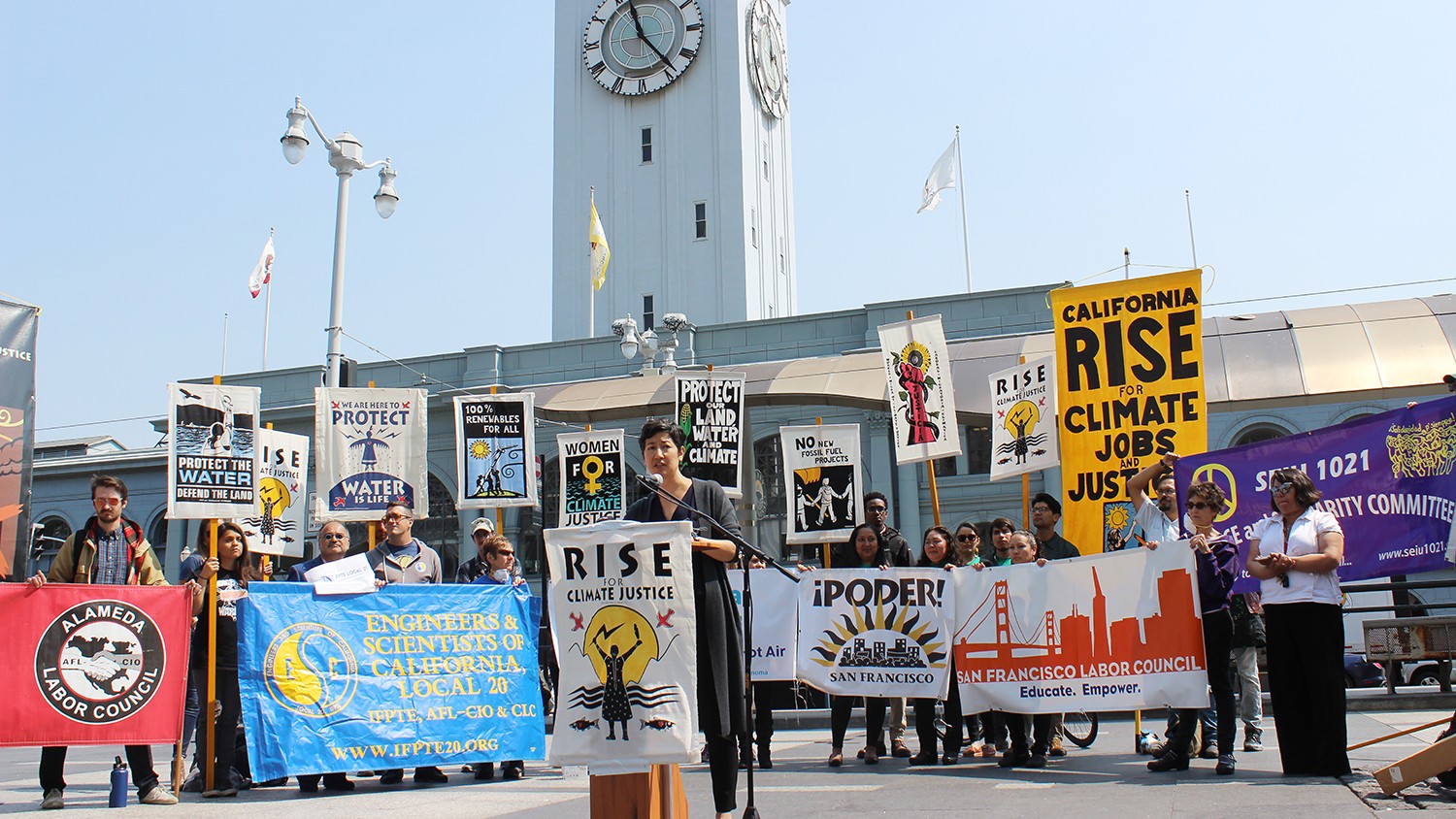 When President Trump pulled the U.S. out of the Paris climate agreement, California Governor Jerry Brown announced that he would host his own "Global Climate Action Summit." So on Sept. 12-14, hundreds of business and government leaders from around the world, along with experts, nonprofits, and national officials, will convene in San Francisco. Their purpose is to discuss ways of stepping up their efforts to meet the goal of the Paris agreement — keeping global temperature increases below 2 degrees Celsius, or 3.6 degrees Fahrenheit, in order to prevent the worst effects of climate change.
In conjunction with Brown's summit, thousands of activists will hold their own events, kicking off with a massive march on Sept. 8 and including three conferences, several protests (some including civil disobedience), a film festival, and programs to showcase the voices of the "frontline communities" most impacted by the fossil fuel industry.
At the official Global Climate Action Summit, businesses and state and local governments will be asked to make specific commitments to meet six challenges: increasing the use of clean energy, setting "science-based" targets for reducing greenhouse gases, promoting "land and ocean stewardship," shifting private investment toward climate solutions, and developing new technology to address the crisis.
Many activists see the alternative events as pressure for stronger summit results. "We need to hold them accountable, put their feet to the fire, transition to supporting investments in local solutions that have been working," said Alvina Wong of the Oakland-based Asian Pacific Environmental Network (APEN).
Some directly challenge Brown's claim to be a climate leader. A statewide coalition called Brown's Last Chance argues, "California's current climate path is insufficient to meet even our short-term goals." They say that while Brown has promoted the use of clean energy, he has done nothing to restrict California's oil and gas production. A new report by the nonprofit Oil Change International found that during Brown's administration California has issued more than 20,000 permits to oil companies to dig new wells.
"We're in a huge climate hole. The first step is to stop digging," said David Turnbull of Oil Change International. "If we're not keeping fossil fuel in the ground, we're not going to solve the climate crisis."
The Brown's Last Chance campaign is demanding that Brown — and the next governor — stop issuing permits for new fossil fuel projects. They also advocate a "planned phase-out" of oil and gas production with a "just transition for workers, communities, and economies" affected by the fossil fuel industry.
Despite a recent state report celebrating California's early achievement of 2020 greenhouse gas reduction goals, many oil-industry experts say Brown's showcase "cap and trade" program is not the reason. Factors like the heavy rainfall in 2016, which lead to an increase in hydroelectric power, were more significant. And a new study shows that under cap and trade, local pollution has actually increased in the frontline communities near a majority of the regulated facilities.
Many of those frontline communities will be leading the events in San Francisco, organized under the banner "Solidarity to Solutions" (Sol2Sol), a national coalition of grassroots groups based in "frontline communities impacted by the systemic interaction of poverty, racism, and pollution," said Miya Yoshitani of APEN. This coalition emphasizes the importance of "having climate solutions center on the communities most impacted by the fossil fuel industry," she added.
"The issues connect," said Isabella Zizi of the indigenous environmental organization Idle No More. For example, "climate change affects food systems and water supply. Indigenous people from the global south are low on water, so they migrate north, then face deportation."
Climate change also contributes to the housing crisis, said Martha Hawthorne of Service Employees International Union Local 1021. "We have affluent people moving into places like San Francisco, where it's still pretty comfortable. Where my mother lives — near all the fires — it's a low temperature when it's 90 degrees. And many people in the North Bay lost their homes in the fires."
That housing crisis, in turn, adds to climate change, said Antonio Diaz, of the mostly Latino community organization PODER (People Organizing to Defend Environmental and Economic Rights). When soaring prices push people out of San Francisco, he said, "they have to travel longer distances to work and school." More driving means more greenhouse gas emissions.
Annie Dobbs-Kramer of the North Bay Organizing Project pointed to another connection: While industrial agriculture worsens climate change, its use of pesticides also harms the health of many farmworkers in Sonoma County and elsewhere.
"We need an integration of approaches to address both climate change and the inequality endemic to our communities," said Yoshitani. "If we don't do that, we won't get to the roots of the climate crisis."
It's the communities most affected that are developing the most powerful solutions, she added. Yoshitani said we need massive public and private investment to bring community solutions to scale. For example, "Rather than giant renewable-energy farms in the desert, we need small-scale renewable energy everywhere," she said. The new East Bay Community Energy program, she said, shows the direction we need to be going in.
That local approach, she added, can be used with other systems, such as food and transportation. Local production of food and other necessities, for example, could mean less diesel trucking, a major source of both greenhouse gas and toxic pollution, said Wong.
Sol2Sol events will showcase solutions being developed by frontline communities in the Bay Area and across the country. Participants will include Kentuckians for Commonwealth, which is working on a transition from coal mining to renewable energy, the Black Mesa Water Coalition, which is working to develop solar energy on Navajo land, and many more.
They will also highlight the victories of local communities in stopping the expansion of fossil fuel. In the Bay Area in recent years, people organizing in Benicia and Pittsburg stopped two projects to increase rail transportation of crude oil. More recently, community groups in Oxnard forced the shutdown of a polluting power plant, and the Kern County city of Arvin recently passed restrictions on the expansion of oil drilling.
The events leading up to the Global Climate Action Summit started more than two weeks earlier. On Aug. 24, the Berkeley city government hosted a "town hall" meeting for Bay Area cities, regional agencies, and grassroots organizations to start planning a "Regional Just Transition and Climate Emergency Mobilization Collaborative Effort." One of the city's goals for the town hall was to "ask public officials to sign on to a letter about what needs to be accelerated, to bring to the GCAS," said Sara Kershnar, chief of staff for Berkeley City Councilmember Cheryl Davila.
Then, on Sept. 8, under the slogan "Rise for Climate, Jobs, and Justice," thousands of people are expected to converge in San Francisco in a march calling for "an immediate end to new fossil fuel projects" and a renewable energy economy "that rapidly expands economic opportunity, creates family-sustaining jobs, and protects vulnerable communities, workers, and future generations." Thousands of rallies in cities all over the world will echo those demands.
Although sister rallies will take place in Los Angeles and San Diego, organizers are "asking anybody within a day's drive to come to San Francisco," said Vanessa Warheit of 350.org. "We need as many people as possible in the streets — and also it's a chance to help build solidarity in California." Her organization is chartering buses and providing a clearinghouse for carpools and housing.
"The march will be led by California and other indigenous tribal members, then those who live on the frontlines," said Zizi of Idle No More. That includes residents of Richmond, Oakland, and other communities polluted by fossil fuel operations, as well as communities like those in the North Bay impacted by climate events like wildfires.
A labor contingent will represent the more than 30 participating unions and workers' centers as well as individual members of other unions. The San Francisco and Alameda County central labor councils have endorsed the march. "The climate crisis is making all our other struggles worse, from defending our democracy to finding a place to live," said Hawthorne of SEIU.
She added that the labor contingent wants a "just transition" to good union jobs for workers in the extractive industry, as clean energy replaces fossil fuel. "This is something the [climate] movement needs to take up," she said.
Some contingents will represent groups like youth, elders, and faith communities, while others will focus on the connections between climate change and other issues, such as health care and militarism, and promote solutions like clean energy, "eco-agriculture," and clean transportation.
Preparations for the march emphasize the goal of making it "full of art, beautiful!" said Zoe Cina-Sklar, of the youth climate organization Sunrise. After marching from Embarcadero Plaza to the Civic Center Plaza, the group plans to paint a series of giant murals on surrounding streets. On the plaza itself, a "resource fair" will showcase the work of participating organizations and try to plug people in to ongoing efforts.
The day after the march, Sol2Sol organizers will conduct tours of Bay Area communities "to uplift the local frontline struggles we're dealing with against fossil fuel expansion — also solutions," said Zizi. The tour will start at the Ohlone shellmound in West Berkeley, site of a current fight to protect an indigenous sacred site from development. It will visit sources of fossil fuel pollution like refineries, including a simulated "shelter in place" scenario at the Richmond Chevron refinery. The tour will also visit sites of local solutions such as clean energy projects and community farms.
The tour is one of several efforts to create platforms where people impacted by the fossil fuel industry can tell their own stories, including "Live from the Frontlines," which is creating videos of people in those communities and posting them online. "We want to show the human component, the health component," such as increased rates of asthma and heart and lung disease in communities near oil wells and refineries, said Damien Luzzo, who helped create the project. The group plans to combine the videos into a documentary that will show in locations around the Bay Area before and during the Climate Action Summit.
Starting Sept. 9 and going through Sept. 11, the annual Soil Not Oil conference, usually held in Richmond, will meet in San Francisco. The conference was inspired by the work of scientist Vandana Shiva, who argues that industrial agriculture worsens the climate crisis by depleting the soil with chemical fertilizers and driving farmers off the land.
The Soil Not Oil conference showcases agricultural methods that increase organic matter in the soil as a way of absorbing carbon from the atmosphere. Sequestering carbon in the soil, said conference organizer Miguel Robles, is a proven and powerful method, unlike schemes to develop new carbon-sequestration technology. He pointed to a statement from the 2015 UN climate conference that declared that increasing carbon in the soil by as little .4 percent a year would "halt the increase in the CO2 concentration in the atmosphere due to human activities."
The Sol2Sol coalition will also host two conferences. On Monday, Sept. 10, members of more than 150 participating organizations from frontline communities all over the country will share information and "start networking local solutions into solutions with national impacts," said Wong. Those solutions include indigenous land rights, food sovereignty, zero waste, public transportation, universal healthcare, racial and gender justice, and more.
On Tuesday, Sept. 11, the same groups will host a Sol2Sol Summit, open to the public, to "showcase our interlinked solutions," said Wong. "We're thinking about it as kind of like a festival, with panels, demonstrations, interactive exhibits, and cultural performances."
Demonstrations throughout the week will protest "climate capitalism," the Bank of Montreal's funding of the proposed Oakland coal terminal, and more. Some of these will include "nonviolent direct action."
The activist events around the summit will emphasize imminent danger of climate catastrophe and the need for immediate, drastic action — but they also carry a positive message, said Wong. "In this moment of climate crisis it's easy to feel hopeless, but there are a lot of things we can do to make the transition to a more viable world, by coming together as a community," he said. "We want folks to be excited by that."