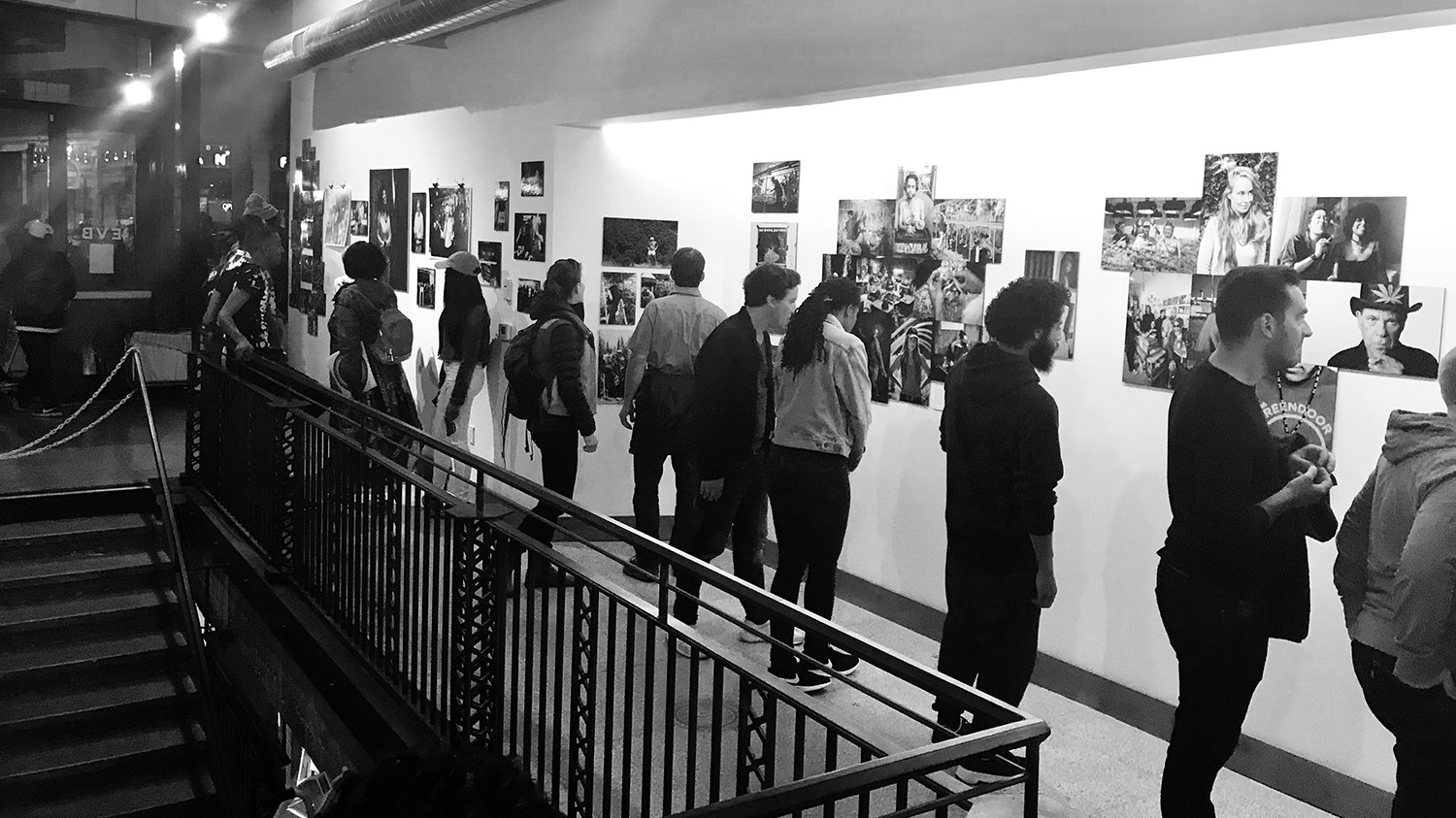 Stories from the Underground: Reflections from the Shadows will end its four-month run with a closing reception at Oakland's Gallery EVB on Thursday, Aug. 30. Organized by the nonprofit Cannabis Community Foundation, the exhibit uses photography, art, and storytelling to highlight Bay Area activists, patients, and pioneers whose efforts and, in many cases, personal hardships, helped pave the way for the legal cannabis industry.
"It was one of those times when I saw an opportunity, and in the moment went for it," said Sarah Ceti, exhibit curator and co-founder of gallery sponsor Green Rush Consulting. Ceti approached EVB last December about developing an experience that would raise awareness about the history of the cannabis movement. But trying to get pictures from a community forced to live and operate underground proved tricky at best.
"We were really challenged with getting images because there was not much documentation of life prior to really recently," said Ceti. "Then I met Mark and Susan Rutherford, and without them, the exhibit would not exist."
Photographer Mark Rutherford's work capturing various facets of the industry, from the lives of "trimmigrants" on weed farms to the activists in The Women of Compassion calendar benefitting the Dennis Peron Foundation, inspired the black-and-white portraits in the "Warriors & Heroes" photo series at the center of the installation. "We have a couple of equity applicant winners and recipients in there, a couple of longtime activists, the Supernova Women," Ceti said of the portraits, which include Debby Goldsberry, Sue Taylor, and Ophelia Chong among other familiar names in the industry.
"This creates an interesting opportunity to really look back at what got us here before we forget entirely," said Oaksterdam University Chancellor Dale Sky Jones, who is also featured in the exhibit in a family portrait with her children and husband, Jeff Jones, co-founder of the Oakland Cannabis Buyers' Cooperative (now known as the Patient ID Center). "There's still a concentration of the old-school activists and thinkers that are still very present, and I don't know if that'll be the case in five years."
Also part of the exhibition is a community altar designed by Aaron "Practice" Dolson, the local artist behind Dennis Peron's memorial altar. "We wanted to give a space for people to add their own stories of their family members or friends who have been impacted, who are currently incarcerated, or who have passed away," Ceti said. "It's really turned into something quite beautiful."
Rounding out the exhibit for the last two months has been a weekly speaker series. Every Thursday, attendees have been able to hear the stories from the underground by the people who lived them — an idea that was the brainchild of volunteer gallery manager Andre Chiles.
"I have been incarcerated before," Chiles explained, "so I thought it'd be a cool idea to have the speakers come out and provide education, motivation, and inspiration, and raise some awareness from different aspects of the industry."
He sought out speakers from people he'd met while he was a student at Oaksterdam and through the cannabis community at-large. "If you're in California and you got a business, apparently you did something right," he said of his approach, "so come motivate and inspire us!"
To generate interest in the exhibit and weekly speakers, Chiles posted on Facebook and Instagram under the handle @Jimma VisionTv. "He's done such an incredible job at bringing people in, interviewing them, and adding elements that I would have never thought of, which was bringing it live on social media," said Ceti.
The Aug. 30 reception will be a night of entertainment and honoring and will feature live music, guest speakers, and a fundraiser for the exhibition, which organizers hope to take around the country before finding it a permanent home. "Ideally, this is a multi-year, multi-location, multi-state process that then comes back and maybe goes into the Oakland Museum of California or SFMOMA," Ceti said.
"Other states need to hear this," said Chiles, who relocated to California from Texas. "That way they can band together, let their voices be heard, and get different laws implemented and overturned in their cities and states."
VIP tickets are on sale, with proceeds going toward the Cannabis Community Foundation, and includes access to EVB's private rooftop lounge (adult consumption is allowed), food, raffles, entertainment from comedian and activist Ngaio Bealum, and a chance for a private meet-and-greet with Oakland Mayor Libby Schaaf, who will be in attendance. But ultimately, the goal of the reception is the same as the exhibit's: to make sure more people understand what it took for us to get here.
"The majority of the country is not aware of the history," Ceti said. "And if they're not aware of the history, they don't know the values. It's medicine so we've got to keep the spirit of the medicine connected."
The closing reception for Stories from the Underground: Reflections from the Shadows will be held on Thursday, Aug. 30, 6-10 p.m., at EVB Gallery, 1738 Telegraph Ave., Oakland.