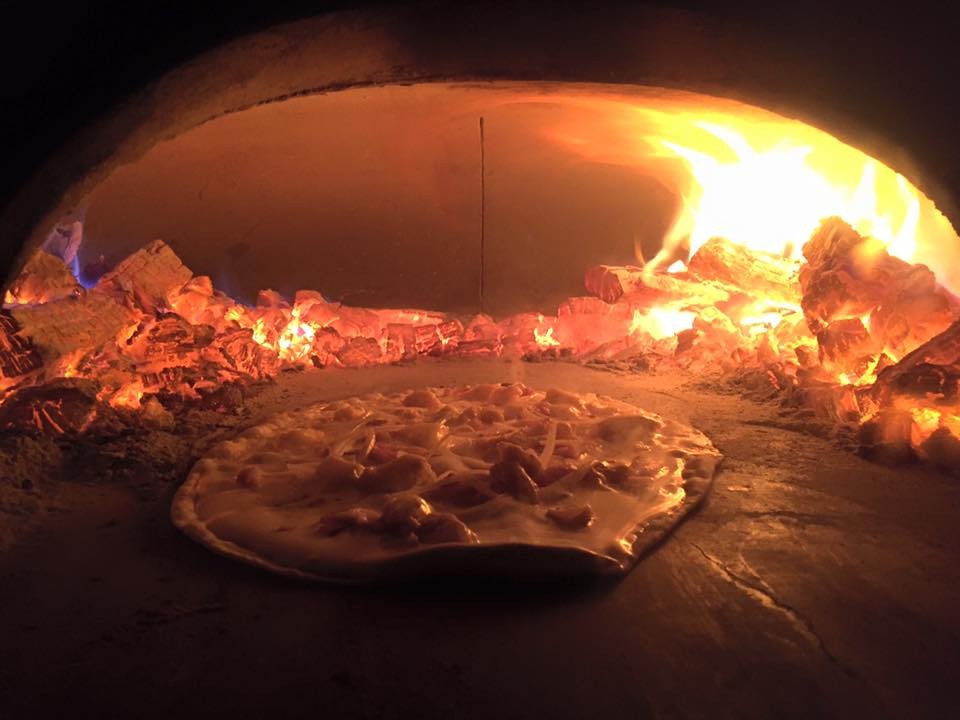 Jean-Luc Besset was adamant. "It's not a pizza," he told me. "It's completely different."
Besset and his wife, Anne, are the co-proprietors of a new East Bay food business specializing in
flammekueche
(pronounced something like "flahm-uh-kush"), a specialty of the Alsace region of eastern France. And you might forgive me for the mistake: After all, the
crowdfunding campaign
for the Bessets' fledgling business, which they hope to turn into a full-on restaurant in the East Bay called
La Flamme
, is where I first read the phrase "Alsatian pizza." It's a kind of shorthand they're using to explain the dish to Americans who might not be familiar with it, Besset explained.
[jump] If there's one food Americans love, it's pizza. That's the eternal truth the Bessets — Rockridge residents and recent immigrants from France — are counting on as they recruit investors for La Flamme, which they hope to develop into a recognizable brand name. The idea, Besset said, is to eventually open a whole chain of
flammekueche
restaurants.
But how likely is it that a dish whose name most Americans can't even pronounce would become the Bay Area food scene's Next Big Thing — the next Asian-inflected fried chicken or build-your-own ice cream sandwich?
To take any kind of fair measure of those odds, it seems appropriate to point out that the dish's more common French name,
tarte flambée
, is quite a bit less obscure. (
Flammekueche
is what it's called in the Alsatian dialect.) And for those who haven't had the pleasure, Besset is happy to offer a quick primer. He explained that the
tarte flambée
has its roots in the traditions of French peasants who would bake thin sheets of dough in a wood-fire oven. In truth, the dish shares a lot in common with, say, a traditional Neapolitan pizza in the sense that the dough is cold-fermented over the course of 24 hours and cooked in a very hot wood-fire oven for a short period of time — about two minutes. The main differences? The oven itself has a very low dome, so each
flammekueche
gets cooked very quickly from both the top and bottom. And the toppings are uniquely French: onions, bacon lardons, and either gruyere cheese or crème fraîche is the most traditional combination. No tomato sauce,
s'il vous plaît
.
Besset explained that his wife is actually the driving force behind the business from a culinary standpoint, leaning on the years she's spent baking tartes at home for their family of seven. When the Bessets open the first branch of La Flamme, hopefully somewhere in Oakland or Berkeley early next year, she'll be the main chef. The menu will be fairly simple and streamlined — maybe nine or ten varieties of
flammekueche
, including a couple of sweet options, plus some salads, and beer and white wine from Alsace to drink. At
tarte flambée
restaurants in France, the typical custom is for a group of friends to order a bunch of different tartes to share, family-style, one after the other.
In the meantime, while the Bessets work to get their
flammekueche
empire off the ground, you can try one of Anne's wood-fired creations by contacting her via
LaFlamme-SF.com
. It could be for a big company catering order or a single
tarte
to be picked up at the
Kitchener
, the Uptown Oakland commercial kitchen where she cooks.