The Oakland Symphony sometimes rehearses in an old, derelict bank. Other times it rehearses in a more appropriate venue, sound-wise, but the musicians' car windows get broken outside. And the symphony's concerts at the regal Paramount Theatre are less than ideal, lamented Executive Director Steven Payne, because boosting sound throughout the 3,000-seat auditorium requires a couple-dozen microphones. Storage, too, is a problem. Payne regretted to admit that percussion instruments live in a "semi-outdoor storage unit — a maintenance closet, really."
Payne detailed the symphony's predicament because a solution looms, if hazily, on the horizon: consolidating rehearsal, performance, and administration space at the rehabilitated Henry J. Kaiser Convention Center and its renovated 1,500-seat Calvin Simmons Theatre (named for a former Oakland Symphony director).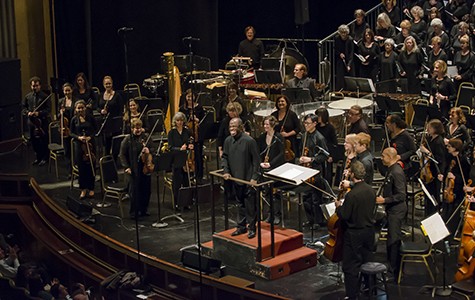 "We'd get a space for classical music, one that's also small enough for chamber music and recitals or what have you," Payne told the Express.
He also noted that Music Director Michael Morgan described the Calvin Simmons Theatre as having the best acoustics on the West Coast.
"It really does have the potential to transform our organization," Payne said.
Orton Development, which won the right to redevelop the city-owned property last year, has promised to accommodate performing arts organizations with its $52 million rehabilitation of the dormant building. Plans reserve offices in a new, four-story "building-within-a-building" within the 45,000-square-foot arena for nonprofits and cultural groups. The idea, according to project manager Nick Orton, is to offer a stabilizing combination of office, storage, and performance space to Oakland's arts organizations at a time of "huge uncertainty."
Orton declined to name what he described as more than three-dozen "Arts Stakeholder Groups," but leaders of some cultural organizations who've met with the developer remain skeptical. Space reserved for arts groups at market-rate hardly promises stabilization, they counter. It's prohibitively expensive.
"There's a big need for more performing spaces in Oakland, and obviously studio space and office space," explained Judith Smith, founder of AXIS Dance Company, currently headquartered at the Malonga Casquelourd Center for the Arts. "But for these organizations to be able to afford market-rate is not realistic."
Oakland Ballet Artistic Director Graham Lustig said that he's "cautiously optimistic." He stressed a need for local dance facilities, aside from the Malonga. But he was "not yet convinced" of Orton's intentions at the Kaiser location.
"When we first sat down, we were told it would be market-rate," he said of his meeting with Orton's group. "I think the rates offered nonprofits need to be rates nonprofits can afford."
Orton told the Express that it was too soon to discuss rent rates. "This is new construction, so we're not talking about the bottom end," he said.
In his view, arts tenants would save money by bringing performance, rehearsal, and administration under one roof, as envisioned by Payne of the Oakland Symphony. He also said that part of an agreement still under negotiation with the city reserves the first $50,000 of project cash flow for an endowment supporting arts uses in the Calvin Simmons Theatre.
In October, City Councilwoman Rebecca Kaplan echoed concerns by members of the arts community. "We've done a lot of deals where the developer promises various community uses but they're not written into the agreement in a way that makes them required," she said. She said that, by the end of the process, she wants to hear about "actual requirements and not just promises."
Completed in 1915, the Kaiser Convention Center features seven terra-cotta friezes facing Lake Merritt. And the building — which boasts three ballrooms, a full basement, and over 200,000 square-feet of floor space — was at the center of Oakland's civic life for nearly a century.
When San Francisco's Winterland Ballroom closed in 1978, concert promoter Bill Graham brought his booking over to Kaiser. When the City of Oakland's infamous yearlong moratorium on live rap expired in 1990, Kaiser hosted Too $hort and Ice Cube. Roller derbies and Huey P. Newton, orchestras and Martin Luther King Jr., Elvis Presley and Public Enemy — the neoclassical landmark's cultural pedigree is secure.
But operating costs grew to outpace revenue, and City Council shuttered the facility in 2005. Several schemes to revive it — including a 2012 attempt by Occupy protesters to expropriate the building, stymied by a mass arrest — fizzled.
In 2014, the Lake Merritt Station Plan revised zoning to allow a broader variety of uses, including commercial, office, and retail. Also that year, the city requested redevelopment proposals that prioritized public access and conditioned that the Calvin Simmons Theatre remain a performing-arts venue.
Why couldn't the main arena return as a concert hall, one to rival the similarly sized Bill Graham Civic Auditorium in San Francisco? According to an independent consultant hired by Orton, the minimum $50 million required to re-open as a full venue "is several times what the live concert and special event industry can support in debt service payments." Since the consultant also ruled out convention use, Orton supports renaming the building "The Oakland Civic."
As for an anchor tenant for the non-arts office space, Orton said that "a lot of people are saying they want a non-tech tenant." They've had the most substantive conversation with the Oakland Unified School District, a possibility that Orton described as great.
"We want someone that supports the civic-minded use," he said. "But we're looking at a 2019 opening and you never know how the market will change."