The East Bay is a region rich with the relics of shuttered theaters, from extravagant movie palaces to modest auditoriums. During the early 20th century, Oakland and Berkeley boasted dozens of theaters — with 43,300 total seats at their peak — in order to serve the public's ravenous appetite for film during that era. There were cinemas in nearly every neighborhood, plus scores more downtown.
In 1930, 80 million Americans went to the movies each week, drawn by the promise of escapism from the country's grim economic situation, as well as a fascination with this relatively new art form. Demand for celluloid entertainment was so great, in fact, that one downtown Oakland theater, the Telenews, showed nothing but newsreels.
But with entertainment and technological advances after World War II, such as the increasing presence of television in American living rooms, weekly cinema attendance fell drastically. Why did so many theaters start closing? "We stayed home," explained Bill Counter, a historic theater project consultant who also runs the Bay Area Historic Theatres group on Facebook. "In the Fifties, we stayed home to watch TV, in the Eighties, to watch home video. And then we lost most of the remaining [theaters] to the more favorable economics of the multiplex." According to CinemaTreasures.org, 63 former theaters in Oakland have gone dark, and 35 of those have been torn down. In Berkeley, 24 theaters have closed and seven have been demolished. With a few notable exceptions, most of the East Bay's venues are no more than memories.
One of the area's first grand theaters was the French Renaissance-style Orpheum Theatre, later renamed the Twelfth Street Follies, which opened in 1907 on Oakland's 12th Street. Like many venues at the time, this 2,561-seat theater featured live Vaudeville acts as well as silent films. According to the September 30, 1907 issue of the San Francisco Call newspaper, opening night was swarmed, attracting ordinary citizens as well as East Bay society members and the mayors of Oakland, Berkeley, and Alameda. The playhouse remained popular for a few decades, despite financial struggles and complaints from the Oakland Tribune that the building was "antiquated and inaccessible." The Orpheum closed during the Depression and was demolished in 1958 after sitting vacant for years.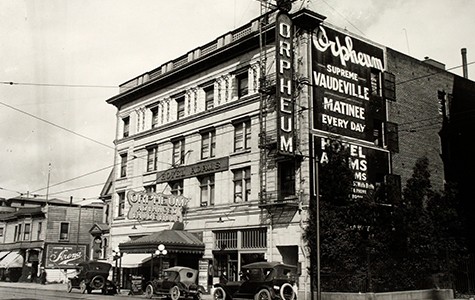 Opened in 1916, the T&D Theatre on 11th Street in Oakland continued the trend of larger and grander movie palaces, aspiring to be more than a mere nickelodeon — the modest theaters prevalent at the time, so named because they charged a nickel for admission. "Even in the 1910s, the business was changing — old, smaller theaters closed, replaced by more opulent, larger ones," Counter said. The T&D's architecture featured an intricate façade, adorned with light- and steam-emitting stone jars. Seeing a show at the T&D included amenities such as a ladies' tea parlor decorated with canary cages and a colorful fish tank, as well as live Wurlitzer organ performances before the film. In the 1950s, as movie attendance waned, the theater remained open late at night and installed a wide screen in an attempt to attract patrons. Unfortunately, like most of its contemporaries, the T&D could not maintain its previous popularity, and was eventually demolished in 1979, replaced by an office building.
Many of the East Bay's former movie theaters were left standing, but shuttered before being repurposed, often as stores or churches. Oakland's Palace Theatre on 23rd Avenue, for example, has seen many incarnations. Built in 1923, the 1,146-seat theater was later redesigned in the Spanish Mission style by Reid & Reid, an architectural firm that also designed the Grand Lake Theatre. The theater closed for good in 1953 and housed a church for the next sixty years, until the building was renovated by Lucid Dream Lounge, Inc. and reopened as an arts venue in July 2014.
Although most of the movie houses of the early 20th century are no longer here, the East Bay remains a region with an extremely rich theater history, and one that is fortunate enough to be the home of several surviving movie palaces and humbler venues that nonetheless retain their vintage charm. These historic theaters include Oakland's Grand Lake, Paramount, and Piedmont theaters, the Alameda Theatre, and Berkeley's California Theatre. Seeing a show at one of these stunning venues is an experience that harkens back to the glamorous Golden Age of cinema — sometimes even complete with a Wurlitzer performance.
More information about the history of Oakland's theaters can be found in the book Theatres of Oakland (Arcadia Publishing) by Jack Tillmany and Jennifer Dowling.
Correction: The original version of this story misstated the number of former theaters in Oakland that have gone dark and been torn down.