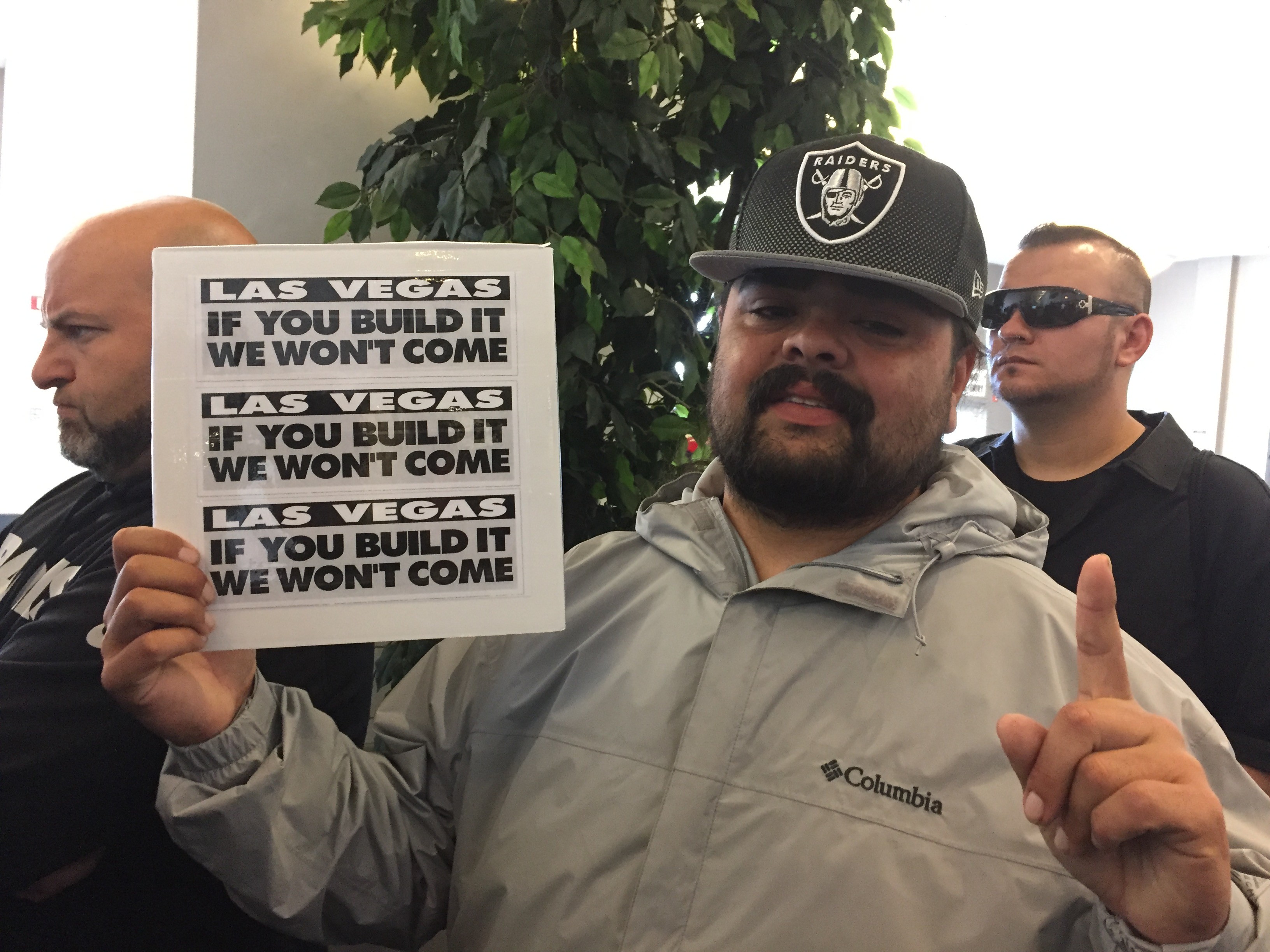 When I first heard that Oakland fan groups wanted to sue the NFL and Mark Davis over the Raiders' move to Las Vegas, I called Jim Quinn, the rumored lead attorney in the case.
Quinn emphasized during the phone interview that it would help their case if Oakland or Alameda County filed the suit as soon as possible.
"It's important because this type of litigation can take several years," he said.
That was last October — nine months ago — which is a problem because, as Quinn noted last fall, the clock is ticking.
Yet, for some reason, Oakland leaders, as well as Alameda County supervisors, have not yet taken the required steps to make the lawsuit official.
To be fair, a handful of local leaders publicly support the legal action. Oakland Councilmembers Rebecca Kaplan, Noel Gallo, and Desley Brooks, and Alameda County Supervisor Nate Miley have said they're in favor of the suit. But it's been radio silence from most other city and county officials.
As for Oakland Mayor Libby Schaaf, she has strong concerns about the lawsuit, according to her spokesperson Justin Berton. "The mayor is concerned that a third-party lawsuit could end up costing taxpayers more money, and it's not yet clear how strong the merits of this case are," Berton said Monday.
That boggles my mind. And it should anger every taxpayer in Oakland and Alameda County, especially those who go to the polls this fall and beyond.
A successful lawsuit against the NFL and the Raiders, even after attorneys take their cut, could net a lot of money for the city and county. "It's hard to predict, of course," Quinn told me in April. "But a recovery settlement certainly could be in the range of hundreds of millions of dollars."
A failure to file this lawsuit would be an unforgivable failure to protect taxpayer money, and an egregious show of incompetence from our elected officials.
Why? I'll explain right away, as time is of the essence.
Hints of this lawsuit were being dropped as far back as March 25, 2017, when hundreds of fans crowded into the Coliseum's Eastside Club for an emotional rally held two days before NFL owners approved Davis' Vegas plans. Schaaf, Councilmember Larry Reid, and other leaders spoke at the tense gathering nearly 16 months ago, making their case that the team didn't need to move because City Hall had been working hard on building a new football stadium in Oakland.
Amid all those East Bay politicos, the real star of the day was Oakland business owner and longtime fan Raymond Bobbitt, the soft-spoken but charismatic leader of a group called the Oakland Coliseum Economic Impact and Legal Action Committee.
"I just have one statement that I want to make to the NFL and to the Raiders," Bobbitt said. "There are two things in this life you can't pay for: love and loyalty. You can't put a price on it."
But Bobbitt believed you can put a price on the Raiders' actions. As Silver-and-Black-clad fans cheered his speech, Bobbitt noted that he'd closely studied the NFL's rules for relocation and believed that those rules had been broken.
Many in the Eastside Club that day desperately hoped the NFL would somehow keep the Raiders in The Town. However, Bobbitt and Griz Jones, leader of a fan group called Forever Oakland, had already surmised that the league's owners would throw Oakland under the bus. And they decided that the only remedy to the city's "Davis problem" would be found in a courtroom.
Two days later, Jones waited in the Phoenix resort where NFL owners approved the Vegas move by a 31-1 vote. Shortly after the vote, Jones rejected Mark Davis' attempt to speak with him at the hotel.
"The NFL made the biggest make of their lives," Jones told Bay Area TV reporters that day. "We will take legal action."
Jones and Bobbitt immediately joined another fan group, We Stand with Oakland, in researching lawyers. They selected the nationally renowned Quinn and his New York firm Weil, Gotshal & Manges. They've since joined efforts in the case with Berg & Androphy of Houston.
Quinn is undefeated in court against the NFL. His legal victories over the league include litigation on behalf of the North American Soccer League; a lawsuit that hastened the end of the NFL's 2011 lockout; and the so-called "Freeman McNeil case," when a jury verdict found the NFL had violated antitrust laws and paved the way for league free agency.
The attorneys have been ready to go for months. The majority of Oakland and Alameda County officials, unfortunately, have not.
Bobbitt and Jones first took the lawsuit to the Oakland-Alameda County Coliseum Authority, which manages the Coliseum and Oracle Arena. The Authority, also known as the JPA, rejected the lawsuit last October. Councilmembers Larry Reid and Lynette Gibson McElhaney, as well as former Councilmember Ignacio De La Fuente, were among the JPA commissioners who rejected the suit. The only two dissenting votes were cast by Miley and Chris Dobbins, a former Oakland school board member.
Reid and McElhaney explained their votes as they cast them, saying they'd been advised by city staff that the lawsuit would leave Oakland vulnerable to a costly countersuit.
That week, I called City Attorney Barbara Parker to ask if her office had advised council members to reject the lawsuit. Parker spokesman Alex Katz declined to comment at the time, saying that attorney-client privilege prevented Parker from publicly discussing the matter, including whether she'd given any advice at all.
Frustrated but undaunted, Jones and Bobbitt persuaded Quinn's team to address many of the concerns expressed by lawsuit opponents.
Since then, the attorneys have promised that Oakland will take no financial risk. Quinn and his team are working on a contingency basis, meaning they'll front all legal fees at no cost to the city or county. If the suit fails, the law firms will cover the tab. The attorneys have to win in order to receive payment, which would be one-third of a judgment or recovery settlement — the industry standard for contingency work.
"I don't know how much better you can get than having the best antitrust attorneys in the world, who've beaten the NFL multiple times, and are working on a contingency basis at no risk to the taxpayers," Bobbitt said.
If the NFL and/or Davis countersue, the attorneys have said they'll defend Oakland free of charge. And a countersuit is very unlikely, Quinn said. "You have to have basis for a claim to do [a countersuit], and [the NFL and Davis] have no claim," he said in April. "It would be frivolous, and they could be sanctioned for it."
Also, fears that the legal action might prevent development at the 120-acre Coliseum complex are unfounded because the A's say they'll be at the Coliseum until 2023, meaning the site will be tied up by MLB, anyway, for at least five more years.
Some have argued the lawsuit might alienate the NFL and ruin Oakland's chances to land another football team. That is absurd. The NFL has twice slapped Oakland in the face within the past 35 years, making decisions that enabled the Raiders to leave in 1982 and again last year. There is no relationship with the NFL to salvage, and the only way to bring the league to the table is through legal leverage. Hence, the lawsuit.
St. Louis' lawsuit against the NFL and Rams owner Stan Kroenke, meanwhile, continues to wind its way through court, two years after NFL owners approved the Rams' relocation to Los Angeles. Judges have rejected attempts by the NFL to get part or all of that case dismissed. That could bode well for an Oakland lawsuit.
In January, the local fan groups joined Miley, Gallo, and state Assemblymember Rob Bonta, D-Alameda, at a news conference intended to drum up support for the legal action. Kaplan also announced public support for the lawsuit, and rumors began flying in April that councilmembers were close to approving it.
However, no official vote has been called.
After a closed session in early May, councilmembers referred me to Parker for an update. The city attorney's office, however, has declined to comment, again citing attorney-client privilege.
The fan group leaders say they understand that government officials must perform due diligence before backing a major lawsuit like this. But after nearly a year, patience is wearing thin and time is running out.
Bobbitt, Jones, and other fans have done all of the legwork and selected successful, high-level anti-trust attorneys who have sought to address the concerns cited by the suit's opponents in City Hall.
So, what's the holdup?
The elected officials' inaction is especially perplexing given the list of good things the lawsuit can do for Oakland. Again, it could gain the city and county several hundreds of millions of dollars, even after the lawyers receive their contingency fee.
Oakland, like most American cities, could use the money. A recent grand jury report found that Oakland has a shortfall of more than $850 million for future retiree benefits, according to the East Bay Times. Meanwhile, the city continues to pay millions of dollars in lawsuit settlements, including a recent $12 million payment to a motorcyclist who was struck by a vehicle driven by an Oakland police officer. And, of course, the city and county still owe around $80 million for the Coliseum renovation done 23 years ago to bring back the Raiders.
A successful lawsuit against the NFL would erase that debt and the lingering political stench from that ill-fated plan. The local fan groups also hope to use legal leverage to compel Davis to leave the Raiders' name and logo in Oakland, before the owner takes his team to Vegas. Former Browns owner Art Modell did the same thing in Cleveland, as his relocating franchise became the Baltimore Ravens in the mid-1990s.
I understand and respect that elected officials' jobs are difficult and time-consuming. I also understand that Mark Davis' constantly wandering eye and years of dealing with the Raiders' greedy demands have been exhausting.
However, protecting large sums of taxpayer money is something for which elected leaders should always make time.
Failing to file this lawsuit would look far worse for an East Bay official than being associated with the 1995 Raiders stadium deal. In that case, at least our leaders erred on the side of fighting for this community and trying to right the wrong of losing the team in 1982.
In contrast, waving the white flag this time would be a clear case of fiscal irresponsibility, given the large amount of public money that would be left — unnecessarily — on the table.
Several Oakland elected leaders often post Facebook messages that rightly criticize Donald Trump's racist policies and the morally bankrupt NFL owners who've blackballed Colin Kaepernick and Eric Reid over player protests.
I strongly agree with local leaders on both fronts, and I applaud them for taking a brave public stance on those issues.
But what good are those posts if you're not going to fight back against those same Trump-supporting team owners in substantive ways when given the chance?
Oakland residents can speak from experience about how the NFL brazenly mistreats its home cities. Within the past two years, the league has moved teams out of Oakland, San Diego, and St. Louis — a betrayal of three of the league's most loyal football towns. As managed by Roger Goodell from his Park Avenue office, the NFL treats its home cities like an old ATM machine — they're either withdrawing money from it or replacing it with a new one.
Put simply, this lawsuit is the Oakland City Council's best chance to hit those same greedy NFL owners where it would hurt them the most: their wallets.
Within the past two weeks, I've reached out to each councilmember to get their thoughts on the lawsuit and its progress. Councilmembers Kaplan and Brooks both told me they support the lawsuit. Councilmember Gallo, likewise, has gone on record several times in favor of it. The other five councilmembers either did not reply or referred me to the city attorney. When reached by phone recently, a city attorney spokesperson again declined to comment on the suit, citing attorney-client privilege.
So, now what?
The next city council meeting is scheduled for July 24. After that, councilmembers break for August recess and likely won't meet again until September — almost a year since Quinn urged local lawmakers to approve the lawsuit.
To the elected officials, I say this: You were put in office to fight these kinds of battles on behalf of Oakland taxpayers. Instead, we've had several months of inaction. What started out as due diligence now is looking suspiciously like incompetence. Or cowardice.
The good news? It's not too late.
At that emotional rally 16 months ago, the fan group leaders displayed a remarkable level of poise, even though Davis and the NFL were on the verge of ripping out their hearts — for a second time. I think those fan leaders were unusually calm because they believed the truth was on the side of Oakland and its taxpayers, and they intended afterward to do what was necessary to protect them.
On this issue, can we say the same about all of Oakland's and Alameda County's elected officials? Kaplan, Gallo, Brooks, and Miley have publicly answered "Yes" to that question.
How about the rest of you?
I urge you to protect taxpayers and put the lawsuit on a meeting agenda before you break for recess in August, even if you have to call a special meeting. Approve the lawsuit. Not because it's easy, but because it's the right thing to do.
Do it as soon as possible. For Oakland's political future. And yours.
Chris De Benedetti writes a regular sports column for the Express.