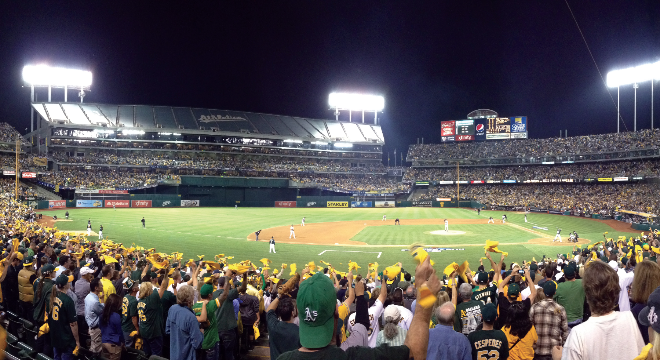 Less than seven years after the movie premiere of
Moneyball
, the Cinderella A's are writing a brand-new feel-good story, and the proud old Oakland Coliseum once again will serve as the stage.
If you've ever had the privilege of watching a pennant race unfold in the A's' venerable East Oakland home, where white-knuckle tension, sunny East Bay skies, and baseball's most underrated fans come together for terrific theater, then you know the summer of 2018 is going to be special.
The A's have failed and flailed the past three seasons, leaving expectations low and depressing the franchise's hearty fan base. But that's always been the strange magic of A's baseball during their 50 years in Oakland. Just when you think the franchise is completely out of gas, the Green and Gold shock everyone and come roaring back.
The 2018 A's have done exactly that. They've stormed into the playoff race by winning 19-5 in their past 24 games. They're 7-0-1 in the last 8 series. They're 48-31 since April 15, winning at a .608 clip. Those are first-place numbers.
One of the most charming parts of this underdog team is that they never say die. On Thursday, Oakland erased a 4-run lead for the second consecutive game, scratching out a 6-4 win.
At the end of Thursday, the A's were just 5 games back from Seattle for the final Wild Card spot. And they sit within striking distance of first-place in the AL West, trailing Houston by 8 games.
The A's now are 53-41, their best record since the 2014 campaign. I know, I know — just raising the specter of that ill-fated season is enough to make an A's fan flinch. The trades during and after that dark season left some permanent scars on the Oakland fan base's collective psyche; so much so that I hesitate to even bring it up.
But if any team can exorcise those demons, it's this one.
While many — including me — assumed this uneven roster would serve up yet another forgettable summer, this gutty A's team apparently has other plans.
They have strong young pitching in Sean Manaea and Frankie Montas, a deep bullpen, and a coterie of solid bats led by second-year infielders Matt Olson and Matt Chapman, all of whom are anchored by veteran hitters like slugger Khris Davis and All-Star second baseman Jed Lowrie.
Stoic, steady-as-they-go skipper Bob Melvin deserves credit for holding the whole unruly lot together, taking the lead spot for another Manager of the Year award.
And I'm willing to genuflect in front of the A's front office execs who built this team, from Billy Beane to general manager David Forst to farm director Keith Lieppman to scouting director Eric Kubota, and many others. They should be praised for building yet another talented, entertaining, and compelling roster.
Oh, yeah, there's one other thing.
This A's squad has that indescribable something or other that every championship team needs, even though it's a very unpopular topic in this age of analytics, defensive shifts, and coaching-by-spreadsheets.
What is it? Well …
It's magic. That strange magic that has fueled every unexplainable, jaw-dropping miracle that you and I have seen countless times in the Oakland Coliseum ever since baseball arrived there in LBJ's final year in office.
Yeah, yeah, I hear you. I can already see the Hall-of-Fame Snarkologists on Twitter launching verbal cannonballs: "Good point, Chris. Who should Billy trade for next, the Easter Bunny?"
Fair enough. I appreciate — and fully expect — derision over this point. And yet, I submit this to you:
How else are we to explain the A's getting quality starts from 34-year-old journeyman Edwin Jackson? How should we describe the team squeezing wins out of the battered arms of Trevor Cahill and Brett Anderson, two 30-year-old ex-A's prospects the front office plucked from the scrap heap this spring out of sheer desperation?
How would you explain the A's' latest comeback victory, which was led by Nick Martini, a 28-year-old rookie with a lounge singer's name? How can I not be amazed that Martini, who spent the previous seven seasons toiling in minor league towns like Batavia, Quad Cities, and Peoria, not only has finally made it to The Show but stepped into the batter's box on Thursday and slapped three hits against the World Champion Astros? How else could we decipher the red-hot stats of Blake Treinen, the All-Star closer most A's fans had never heard of just two years ago? Whom should we credit for the A's becoming MLB's resident Comeback Kids, as they've scored a league-leading 69 runs in the 8th inning this year?
There's something inexplicably perfect about this imperfect roster. Which brings me to my final point.
While it's fun to enjoy the novelty of being buyers instead of sellers at this year's July 31 non-waiver trade deadline, I'd be happy if the A's stayed pat and made no trades at all. The team is stocked with so much young talent in Oakland and its farm clubs, I'd prefer to let all that raw talent remain and get pennant-race experience together.
Plus, let's remember that many October heroes have been nobodies who rose to the occasion at surprising times. For every Reggie Jackson — a superstar who plays like one when you need him the most — there are several unlikely playoff hotshots in Oakland history: from Gene Tenace to Darold Knowles to Angel Mangual to Dick Green to Walt Weiss to Marco Scutaro.
If the A's are able to catch Seattle or Houston and get into the playoffs, it would not surprise me if Chad Pinder, Mark Canha, or, yes, Nick Martini somehow, someway emerged as the team's unsung hero.
But I'm looking too far ahead. Right now, this baseball season is hitting the All-Star break and the Oakland A's again are playing a fun and excellent brand of baseball.
You don't have to believe in magic to enjoy that. The Green and Gold are good enough, at long last, to make us believe in their talent and the incredible, fleeting thrill of an Oakland pennant race.
Chris De Benedetti, a co-founding member of Baseball Oakland, writes a regular sports column for the
Express.