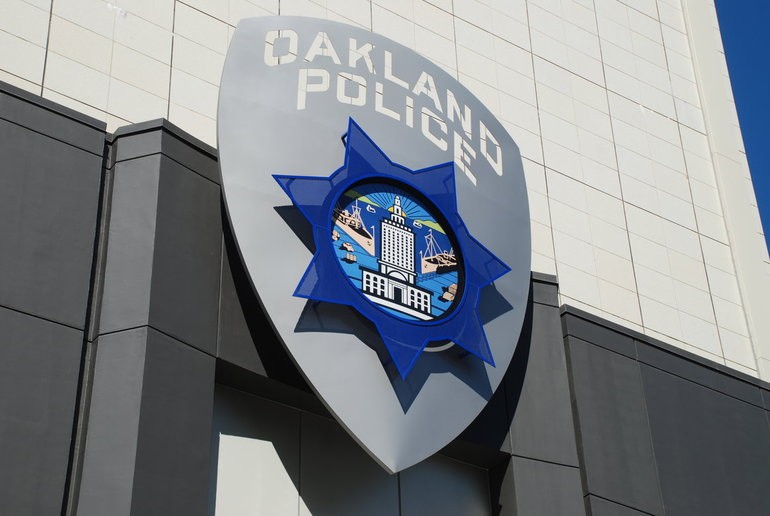 Criminal cases against multiple police officers accused of raping and exploiting the teenager known as Celeste Guap fell apart over the past few months as judges decided there wasn't enough evidence to order the cops to stand trial.
But today, Alameda Superior Court Judge Vernon Nakamura decided that there is sufficient evidence to move forward with a case against Daniel Troy Knight, a San Francisco man accused of trying to become Celeste Guap's pimp.
Alameda District Attorney Inspectors Jeffery Israel and Andrea Moreland testified in court today that Knight reserved a hotel room for three nights at the Oakland Courtyard Marriott in March 2016 for the purpose of putting up Guap so that she could engage in sex work. Knight then received $300 from Guap, as well as oral sex, the inspectors said.
Prosecutor Sabrina Farrell presented the court with a receipt from the hotel showing Knight paid for room with his credit card.
Moreland also testified that she interviewed Knight in November of last year while investigating the case. Knight, who has no history of being involved in pimping, allegedly told Guap that he knew she was a sex worker. Moreland also testified that when she asked Knight if he offered to be Guap's pimp, he said he "might have," and "yes" because "I figured she was old enough to do it, or at least I thought she was old enough."
But Kevin Mitchell, Knight's attorney, said his client is not guilty. He also said OPD allowed Guap to destroy evidence that might have exonerated his client.
Mitchell intends to continue to fight the charges against Knight. "I don't envision a plea deal happening in the near future," he said after today's hearing.
He also likes his client's chances. "Their election not to call the star witness speaks volumes," he added about the absence of testimony from Guap.
According to various police reports and court records, when Guap was initially questioned by OPD about the sex exploitation she experienced by police officers and others, the teenager destroyed evidence from her phone in their presence. The officers did not attempt to stop her from deleting the messages.
During today's hearing, Mitchell repeatedly raised questions about whether or not the cellphone and Facebook records presented as evidence in the case were complete, given prior public testimony about Guap deleting messages from her phone.
"When police officers destroy evidence, or allow someone to destroy evidence in their presence, it's potentially useful evidence. It's not available to me anymore," complained Mitchell.
At least one Oakland police officer actually visited Guap for sex in the hotel room that Knight paid for. This officer was also accused of deleting information from her phone.
Officer Brian Bunton visited Guap at the Courtyard Marriott on March 5, 2016.
While he was there, he allegedly had sex with the teenager and then proceeded to open up her phone. Guap told investigators that she thinks Bunton deleted text messages he sent to her earlier.
Bunton was subsequently charged with prostitution and felony conspiracy based on evidence that he traded protection for sex with Guap. Among other things, he tipped her off about possible police operations on International Boulevard in Oakland.
But on Sept. 13, Alameda County Superior Court Judge Jon Rolefson dismissed all charges against Bunton, saying there was insufficient evidence to move forward with the case.
Other East Bay cops who exploited Guap have also had their charges reduced or dismissed in preliminary hearings.
A sexual assault case against Oakland Police
Officer Giovanni Loverde
was dropped by prosecutors on Oct. 5. Prosecutors indicated that Guap declined to testify.
The day before that, Judge Rolefson threw out charges against Ricardo Perez, a former-Contra Costa County sheriff's deputy who was also charged with oral copulation with a minor and lewd acts in a public place. The judge said there was insufficient evidence against Perez.
Knight wasn't as fortunate during his preliminary hearing today.
Although Mitchell pointed to statements made by Guap to the district attorney's investigators that she "didn't want to prosecute" him either, Judge Nakahara took no time to deliberate before ruling that there is sufficient evidence to order Mitchell to stand trial.