At 2 p.m. on September 5, a new season of Cal football begins, which means that at 10 a.m. that day, a new season of Cal pre-gaming also begins. Pre-gaming is a sacred tradition for Cal fans, a necessity born from Memorial Stadium's ban on the sale and consumption of alcohol.
The pub crawl from downtown Berkeley BART to Memorial is a sort of pilgrimage. The bars and restaurants along the way are hubs where new friends meet and old friends meet-up, where the team's past successes and failures are remembered in exacting detail, and the team's future is all but decided by doomsayers and sunshine pumpers.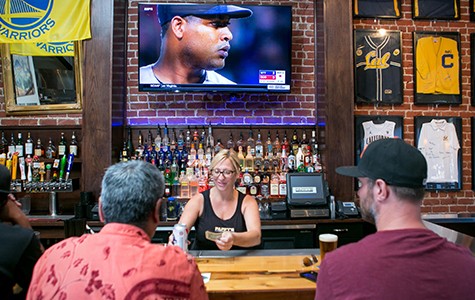 But every sports bar is different and every sports fan, despite the uniformity of colors and chants, is different, too. Here are six unique Berkeley establishments to check out during the 2015 Cal football season:
Eureka
2068 Center St., 510-809-8282, EurekaRestaurantGroup.com
Atmosphere: This sophisticated whiskey showroom is quickly becoming one of Berkeley's liveliest game day establishments. It becomes possessed by the enthusiasm of fans due to its close proximity to downtown BART and its retractable walls that open to the street.
Coverage: Eight TVs spread around its spacious interior allow viewing from anywhere, even the sidewalk. Eureka has both Dish and Comcast, so it has the Pac-12 network and just about any other sporting event short of the Siberian beard-growing competition.
Drinks: The bar's shelves are lined with bourbons and moonshines. Where's the Scotch, you ask? With the exception of the tequilas, Eureka's entire food and drink selection is American-made. The Farmers' Market cocktail is made from farmers' market ingredients and thus changes with the season and availability of produce. Among the best beers is Oskar Blue's Old Chub, a Scottish-style ale as dark as the burnt coffee at the bottom of a pot. Tastes more like porter than ale, but with all that chocolaty froth and an 8.8 percent ABV, who's complaining?
Food: Artisan burgers. Not the kind that claim that title by adding avocado or using ciabatta bread. Hearty, decadent burgers topped with a buttery sauce made from bone marrow and porcini mushrooms or fig marmalade with goat cheese.
Go Here If: You just got off BART and want to start things right. Put a layer of quality food and drink in you before the ballpark franks and lord knows what else.
Bobby G's Pizzeria
2072 University Ave., 510-665-8866, BobbyGsPizzeria.com
Atmosphere: A family-friendly sports bar and pizzeria. Bobby G himself — owner Robert Gaustad — sometimes comes to cheer with fans. Gaustad is a native with Cal ties going back to a grandfather who played for the Cal soccer team in 1919.
Coverage: Six TVs covering three walls, one of which shows the Pac-12 Network.
Drinks: The draught beer selection is ale-centric, and includes Alameda-based Faction Brewing Pale Ale. The rotating beers and bottle selection offer more variety, including a hoard of Belgian crafts. No hard sauce, though.
Food: Bobby G's offers build-your-own pizza by the slice and by the pie, including the signature pizzas, such as the Clam and Garlic Pie and the Roasted Chile Pepper Pie with chipotle sour cream base and assorted spicy peppers.
Go Here If: You're a Cal family person. You've already prepared your daughter's UC Berkeley application and can't wait until she's old enough to read it. You pass down the story of Cal's last Rose Bowl victory, just as it was passed down to your parents and their parents before them. You're a torchbearer in your family's dynastic fandom.
Kip's Bar (Upstairs)
2439 Durant Ave., 510-848-4340
Atmosphere: Read some online reviews of Kip's: "juvenile," "messy," "chaotic." Do you know why no one at Kip's cares? They're having too much fun. It's overflowing with twentysomethings doing what they do best: shots, drinking games, and bedlam. Yes, it's raucous and the furniture is sticky, but if you're sitting and chatting at Kip's on game day, you're doing it wrong.
Coverage: Kip's has the Pac-12 Network and TVs everywhere, including a large screen and speakers in the standing-only area.
Drinks: $2 Insta-Shots made of cheap vodka and neon mixer in a shot glass. Or there are the Fish Bowls: cheap vodka and neon mixer in — you guessed it — a fish bowl. Feeling brave? At the very bottom of the liquor shelf also sits a nameless vermillion bottle, demarcated only by hand-drawn signs with a skull and crossbones and the words "Chinese shit." For the less adventurous, Kip's craft beer selection is also respectable, featuring regional favorites such as Brother Thelonious and further afield breweries, such as Goose Island (Chicago) and Dogfish Head (Delaware).
Food: Wings, nachos, burgers, pizzas, etc. You get the idea: drunk food.
Go Here If: You want to rage. Maybe you're a college student. Maybe you recently watched Old School and thought, "If only… ." Just make sure you have nothing important the next day.
Remy's Mexican Restaurant
2506 Haste St., 510-848-2588, RemysBerkeley.com
Atmosphere: Compared to the rest of this list, Remy's' comparatively undiscovered status only adds to its allure. Soccer jerseys on the wall are reminders that football doesn't dominate the bar's sporty focus. Like Bobby G's, Remy's is family-friendly. A VIP room and enclosed adobe-style patio offer more privacy.  
Coverage: Eight televisions and the Pac-12 Network. You could and should watch every Pac-12 game simultaneously.
Drinks: Remy's offers good margaritas and unique options, such as agave wine and sangria. The beer selection makes a full geographical sweep, from the lagers of Mexico to the IPAs of California. Why not make that beer a Michelada with lime, tomato juice, and Remy's special blend of spices?  
Food: The extensive menu might take the first quarter of the game to read. But worry not, you can't go wrong. A smattering of tacos and an order of carne asada fries will feed the whole table. 
Go Here If: You want a quieter atmosphere to watch football. You want to savor good food and a well-made drink without fans fist-pumping in front of the screen. 
Pappy's Grill & Sports Bar
2367 Telegraph Ave., 510-405-1000, PappysonTelegraph.com
Atmosphere: Pappy's screams "Cal athletics" (i.e., blue-and-gold bannered, with a local football legend as the bar's namesake), which is why it attracts so many showdown-seekers from both the home and away fan bases. Pappy's street-level bar maintains a competitive, yet civil crowd. But in the basement gathers the demographic whose self-esteem seems unhealthily linked to the outcome of the game.
Coverage: Pappy's advertises itself as the "best sports coverage in the East Bay." And the bar backs it up: Televisions with the Pac-12 Network are visible from everywhere, and the 205-inch HD projector screen gives viewers front-row-seat detail.
Drinks: Students and flip-cup competitors can buy cheap lagers, such as Rolling Rock, by the pitcher. Those with more money or taste buds can get intriguing California brews, including 21st Amendment's Hell or High Watermelon and Stone's Delicious IPA. The bar also has wine and a selection of fruity cocktails.
Food: Standard sports bar fare — food that can be held in one hand while the other grasps a beer. Pappy's does a little variety with mushroom or jalapeno burgers and even salads.
Go Upstairs If: You like friendly trash-talking or you're used to humble Washington State fans patting your back and buying you a round when your team hands them its 12th consecutive non-winning season.
Go Downstairs If: You can keep your cool when belligerent USC fans are waving their "V" sign in your face while you loudly denigrate the opposing fans' most beloved players. When Cal loses, you cast aspersions on the academic caliber of the opponent. If this sounds like you, then consider the basement of Pappy's as the newest no-holds-barred battlefield in your one-fan crusade.
Freehouse
2700 Bancroft Way, 510-647-2300, BerkeleyFreehouse.com
Atmosphere: The closest full bar to Memorial Stadium is strangely not really a sports bar at all. With its collegiate Gothic architecture, Freehouse has the air of a distinguished university pub. Its billiards room, spacious patio, and crackling fireplace provide a mature, adult hang-out that fills up on game day. Luckily, satellite bars open on the lawn and patio to facilitate thirsty fans.
Coverage: Freehouse has the Pac-12 Network, but only two TVs, both over the bar. None in the patio, lawn area, or billiards room.
Drinks: Each game this season Freehouse is pitting a local beer against a beer from the away team's locale. In this suds showdown, each brew sold gives a point to either Cal or the away team. At the football game's end, a winner is declared. Experts are predicting a landslide victory in this year's match-up with Utah.
Food: Inventive sandwiches like the Buttermilk Fried Chicken Po'boy with "baconnaise" and decadent vegetarian options, including the Black Bean Burger with Cotija cheese and cumin aioli.
Go Here If: You'd rather hang out than watch every play. You have that one Cal football shirt and you know who Jared Goff is, but you probably can't name the year Cal last went to the Rose Bowl. (Hint: It was a long time ago.)