In many restaurant preparations of pescado a lo macho, a popular Peruvian dish of fried fish and seafood stew, the "pescado" component of the dish is a boneless fillet, which then gets buried under so much sauce that you might not even recognize it as fish. Not so at El Mono, the newish Peruvian spot in El Cerrito, where a whole fried sea bass arrives at the table with eyes bulging and mouth slightly agape — the look of a fearsome prehistoric sea creature curled around its stash of clams and mussels.
This is how I knew El Mono was a serious Peruvian restaurant.
But not so long ago, owners Matt and Daniela Khadivian had no intention of opening a restaurant at all. Before El Mono, the Khadivians were the proprietors of Kiks Cafe, a modest coffee shop located a little farther up San Pablo Avenue, where the couple first started selling Peruvian food in 2013 — as a matter of survival, really, thanks to the outsize presence of a Starbucks across the street. At first, they offered just a few simple dishes based on recipes that Daniela, a native of Peru, had learned in her grandmother's kitchen: banana-leaf-wrapped Peruvian-style tamales, lomo saltado sandwiches, and a few basic rice plates. As the menu grew, Kiks morphed into a wine bar of sorts, and Daniela and Matt decided that Peruvian flavors were the real heart of the business — and that they needed a bigger space to do justice to the kind of food they wanted to serve.

So, in April, El Mono was born. In terms of sheer variety, it's as ambitious as any Peruvian eatery in the East Bay. Matt, who manages the front of the house and oversees the business side of the operation, estimates that he and his wife expanded the old Kiks menu by a factor of five. That means there are enough options to make ordering a daunting task, especially for diners who don't know their way around a Peruvian menu.
No one would fault you for sticking with one of the classics of the cuisine — say, El Mono's above-average version of lomo saltado, the beef and tomato stir-fry that's characterized in part by its dual-starch double-whammy of French fries and rice, both of which help soak up the dish's meaty, soy-sauce-laden juices. Or if you're the kind of Peruvian food initiate who has mostly only dabbled in rotisserie chicken, you'll find a reasonably tender version of that, too — even if it isn't quite as juicy or crisp-skinned as what you can get at a dedicated pollo a la brasa specialist.
El Mono also serves many of the lesser-known, offbeat fusion dishes that are characteristic of the cuisine, with its hodgepodge of Chinese, Japanese, Italian, and Incan aboriginal influences. A Peruvian expat might find comfort in a plate of the Chinese-Peruvian fried rice known as chaufa, or in the restaurant's several variations of tallarin, a pasta dish that combines elements of Italian spaghetti and stir-fried chow mein.
But if you're only going to eat one meal at El Mono, and don't mind splurging a bit, you might consider indulging in a seafood feast. If it's a hot day, start with an order of the ceviche de pescado, another classic that combines chunks of raw fish (sea bass, in this case) that have been cured in lime juice and are served with a kicky dose of rocoto chili spice and all of the traditional accompaniments: toasted corn nuts, soft-cooked sweet potato, sliced red onion, and starchy kernels of Peruvian corn that resemble cartoonishly oversized hominy. I've had more elegant ceviches, with cleaner knife work and higher-quality fish — Pucquio in Rockridge probably still holds the overall crown — but El Mono's rustic, homestyle version was enjoyable in its own right, with bold, bright flavors and a generous portion that felt all the more abundant when we spooned big mouthfuls straight out of the serving bowl.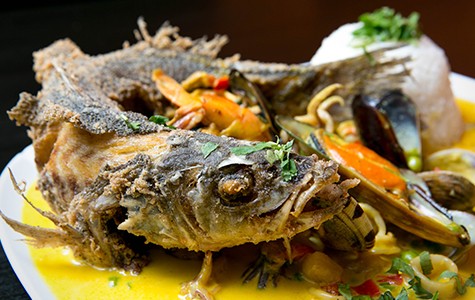 The showstopper is the aforementioned pescado a lo macho, an off-menu special that will feed two hungry diners by itself. As far as "surf and surf" seafood dishes go, this is a combination that's hard to top. There is, of course, the fried fish itself, which, by virtue of being served alongside, rather than under, the stew, maintained its exterior crunch. A patient fish eater could happily spend the better part of an hour picking the meat off the bone, extracting every last morsel of tender flesh. And, as if a whole fish weren't cause enough for celebration, the a lo macho also featured a bountiful seafood stew: clams, mussels, shrimp, calamari, and tiny scallops all cooked in a rich, bright-yellow sauce infused with the mild, fruity heat of aji amarillo chilies. It's one of several addictive sauces at El Mono that will leave you asking for an extra order of rice or a hunk of bread to sop it all up.
Maybe my favorite sauce of all belonged to the chupe camarones, which is described on the menu as a kind of creamy shrimp chowder, which gets ladled over a mound of rice. The shrimp were slightly overcooked, as was the poached egg on top, but the beauty of this dish was its rich reddish-orange sauce — made with another Peruvian chili, the aji panca — that soaked deliciously into the rice in the same way a good Indian curry might.
All of the dishes at El Mono aim for a middle-ground level of fanciness that lies somewhere between high-end restaurant food and home cooking. The best of the appetizers, the causa de atun — a Peruvian potato salad, basically — was elegantly presented: alternating layers of yellow aji-infused mashed potatoes and tuna salad molded into perfectly compressed little tower. But I imagined the dish would have tasted just as good at a picnic, eaten straight out of a Tupperware with plastic spoons. The crowning touch: a squiggle of El Mono's housemade aji verde — the same tangy green hot sauce that was in the squeeze bottle that our server later brought to the table. It tastes good with everything, pretty much.
One of the most pleasant surprises was another off-menu special, the seco de cordero, a garlicky lamb stew: surpassingly tender meat, soft-cooked beans, and a gravy that was so savory and addictive that we had to resist the temptation to lick the plate after we'd eaten all the accompanying rice.
El Mono isn't a particularly formal or stylish restaurant. All of the servers wore earpieces, which lent an unfortunate fast food drive-thru window vibe to the proceedings. But it was hard not to be charmed by the warm, festive atmosphere of the place. During each of my visits, there were large groups who had come to celebrate a birthday.
Even if you're just there for an everyday kind of meal, the best way to eat at El Mono is order as though you're having a big dinner party — to share a parade of dishes, family-style, so that everyone picks at the fish until there's nothing left but the bones, and everyone dips and double-dips his or her spoon into the sauce until every last drop is gone.