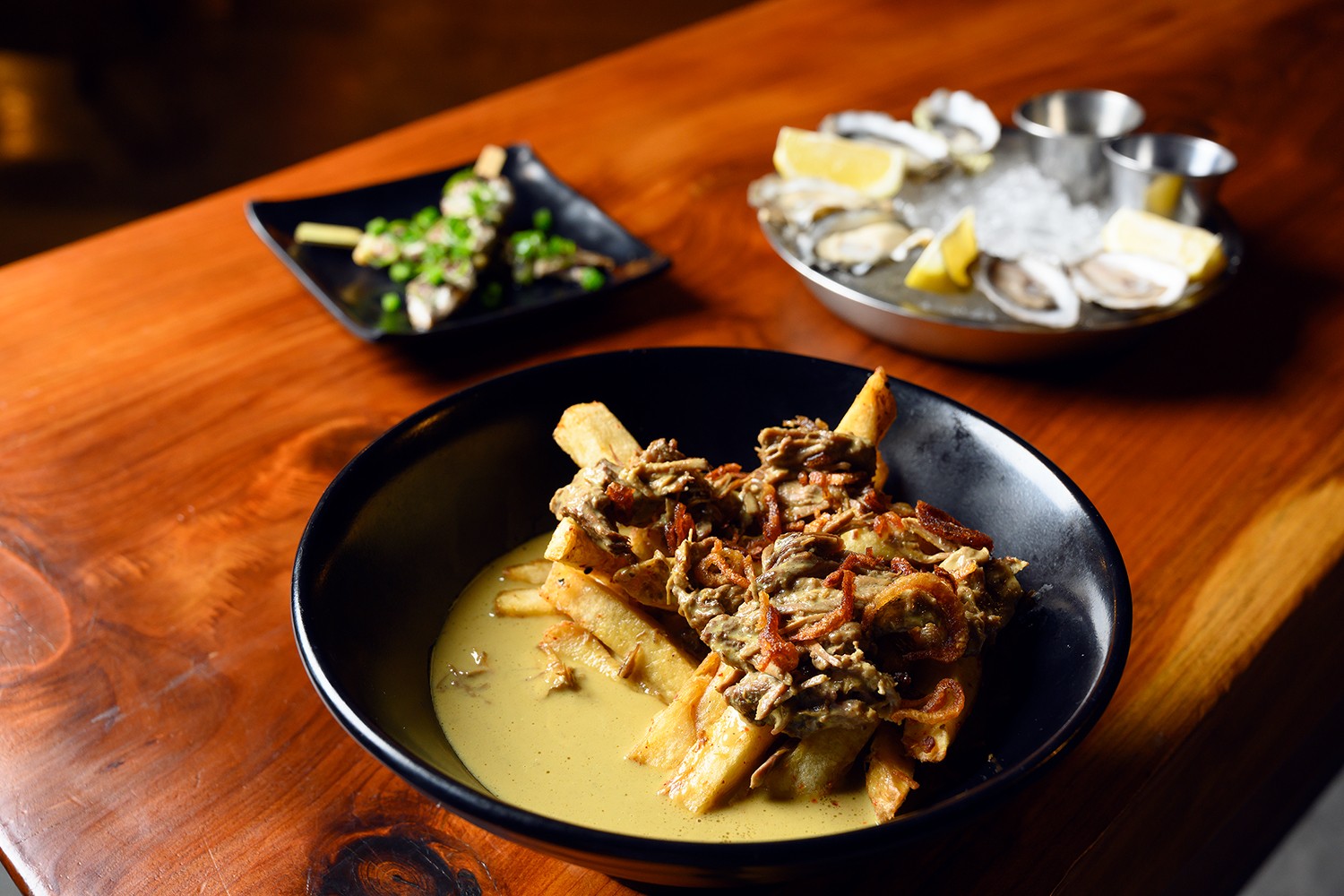 Call me food-obsessed, but my favorite part of going out on a weekend is probably the greasy, delicious late-night food that follows after the music stops, the dancing ends, and the bouncers are kicking everyone out. So the next time you find yourself hungry in the middle of the night, skip the drive-thru and head to one of these late-night eateries instead.
Berkeley
With hordes of hungry college students, it's no surprise that Berkeley is a destination for late- night eats.
The Smokehouse
(3115 Telegraph Ave.) has been open since 1951, serving no-frills burgers, chili cheese fries, chicken sandwiches, and shakes. The place is pretty bare bones, with seating limited to some rickety stools and a bunch of picnic tables — but that just adds to the nostalgic charm.
But if it's a hot dog you're after,
Top Dog
(2534 Durant Ave.) is your best bet. Open since 1966, options range from kielbasa to mango habanero — but my favorite is the hot link. Add some sauerkraut, mustard, and onions, and you've got perfection on a toasted sesame seed French roll.
There's one relative newcomer to Berkeley's late-night food scene that you shouldn't miss, though:
Smoke's Poutinerie
(2518 Durant Ave., Unit A). It was the first North American outpost of this Canadian chain when it opened back in 2014. Not only can you get traditional poutine, but you can also get your poutine topped with butter chicken or bulgogi.
Alameda
Props to
La Penca Azul
(1440 Park St.) for staying open until 3 a.m. every night in downtown Alameda. After the rest of Park Street has gone to bed, La Penca Azul is still buzzing. The menu here reads like a short novel, with antojitos like queso fundido, nachos, and quesadillas (including the relatively rare huitlacoche variety). You'll also find a variety of soups, salads, burgers, burritos, seafood platters, combo dinners, and house specialties to accommodate pretty much anyone's palate. Plus, there's a tequila bar serving 100 percent blue agave tequila.
Oakland
Uptown
Located in the basement below KBBQ joint Gogi Time,
Blind Tiger
(2600 Telegraph Ave., Suite B) is a swanky place for late-night beer, wine, craft cocktails, and pan-Asian inspired tapas. If you're in the mood for raw oysters, there are several varieties to choose from. You can also get appetizers like grilled chicken heart skewers, but the one dish I can't come here without ordering is the curry fries: a generous portion of steak fries covered in creamy coconut curry sauce and topped with tender beef.
Just a few blocks further north is the grittier but equally endearing
Dan Sung Sa
(2775 Telegraph Ave.) Despite its unofficial nickname of "Porno Palace," there's nothing salacious going on here. But if the nickname weren't already enough of a reason to check this place out, the soju cocktails and Korean snacks are also on point. Try the peach-yogurt soju, the cheese corn that comes out on a sizzling iron platter, and the spicy chicken wings that are coated in a spicy-sweet sugary glaze that'll leave your fingers sticky and red.
Temescal
Temescal offers even more options for late-night Korean eats. On the southern side, there's
Tin & Pig
(3702 Telegraph Ave.), which also serves a tasty rendition of corn cheese, along with spicy rice cakes with ramen noodles and fish cakes. They've also got platters of bo ssam — slices of tender steamed pork belly served with napa cabbage, jalapeño slices, and raw garlic.
Further north in Temescal proper, there's
AZIT
(4390 Telegraph Ave.), which has favorites like bo ssam and army stew, along with some out-of-the-ordinary options like Korean-style nachos, cheese bulgogi fries, and carbonara rice cakes. Wash it all down with a gigantic bottle of Korean beer like Cass or Hite, a pomegranate vinegar soju cocktail, or makgeolli — a milky, sour-sweet rice wine.
Chinatown
At
New Gold Medal Restaurant
(389 8th St.), partake in the beloved pastime of going out for siu yeh — the Cantonese term for late-night meals. I've been coming here for the giant steaming bowls of jook (rice porridge) since I was a kid, and options include fresh fish, taro and corn, frog and clam, and pig blood porridge. You can't go wrong with any of the won ton noodle soups topped with options such as roast duck, barbecue pork, or my personal favorite: the beef stew won ton noodle soup. The beef stew is tender and falls apart in your mouth, while the tendon adds chewy textural contrast. Plus, the flavor of star anise from the beef stew permeates the broth, adding extra fragrance and depth to the soup. Or try the shrimp dumpling noodle soup, which is like won ton on steroids — the giant dumplings are brimming with shrimp and shiitake mushrooms. There's also salted fish and chicken fried rice. The bits of fermented fish pack a punch of umami flavor, while the chicken and scallions help balance the funkiness of the fish. Or keep it simple with the barbecue plates served over rice, especially the roast pork (with crispy skin attached).
If you're looking for a more modern take on siu yeh,
Shooting Star Cafe
(1022 Webster St.) is a good bet. The menu is full of Hong Kong specialties like baked pork chop rice: a casserole dish with fried rice on the bottom, topped with thin-cut pork chops and smothered with savory-sweet tomato sauce and a layer of melted cheese. On the sweeter side, try the egg puffs, which are custardy in the middle and crisp around the edges.
Fruitvale
When taco cravings hit after midnight, head to
Tacos El Gordo
(4201 International Blvd.), a taco truck that seems to be packed at all hours of the day. Tacos are your best bet here, especially the al pastor, cabeza, and suadero tacos, which can hold their own against pretty much any other taqueria in Oakland. Complete your late-night meal with a gigantic cup of horchata.
Lakeshore
Sometimes, only a donut will do. Thankfully,
Colonial Donuts
(3318 Lakeshore Ave.) is open 24 hours a day, seven days a week. Here, you can get tried-and-true classics like a raised glazed donut, an apple fritter, a chocolate old-fashioned, or a maple bar, plus unusual flavors like vibrant purple ube. There's no sweeter way to end a night out.