Here's cause for celebration: Northern California's commercial Dungeness crab season opened on Friday, and local crab started to appear on East Bay restaurant menus as early as Saturday. Here are a few places to get your crab on this week and beyond:
China Village, 1335 Solano Ave., Albany: Perhaps my all-time favorite crab dish is China Village's ma po tofu Dungeness crab, a preparation that chef-owner John Yao devised as a way to use traditional Sichuan cooking techniques to highlight the local crustacean. Here, the classic combination of bean curd and Sichuan pepper-laced chili sauce is paired with an entire wok-fried crab instead of ground pork. The marriage of sweet crab meat and spicy-savory sauce (made rich with bits of delicious crab tomalley) makes this basically the perfect thing to eat over white rice.
[jump]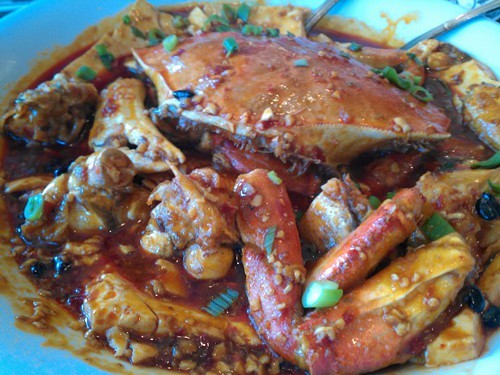 Ma Po Tofu Whole Dungeness Crab at China Village
The restaurant serves one other Sichuan Dungeness crab special — sautéed whole crab with roasted chili peppers — which, according to Yao, features the "warm" (i.e. not burning) heat of two kinds of Chinese chili paste. All of the classic Chinese crab preparations (ginger-scallion, salt-and-pepper, etc.) are also available. Yao told me he should have local crabs this week, but if you've got your heart set on one, you should call ahead to make sure.
Southie, 6311 College Ave., Oakland: To enjoy the natural sweetness of fresh crab meat, the simple Dungeness crab roll at Southie is a good way to go. Plenty of Bay Area restaurants serve a version of this sandwich (a play on a New England lobster roll), but Southie's is one of the most satisfying — mainly because it's almost all crab meat, with just a little bit of citrus aioli and sliced celery to round out the filling. These sandwiches should be available at Southie starting the week after Thanksgiving.
Homestead, 4029 Piedmont Ave., Oakland: Homestead will kick off the season by hosting a family-style crab feed on Wednesday, November 27 — the day before Thanksgiving — from 3-9 p.m. The $38/person prix-fixe will include a grilled half-crab (plus an additional half-crab for $20 more), a winter greens salad, roasted potatoes, Firebrand bread, and all of the traditional accoutrements (lemon, drawn butter, garlicky aioli, and other dipping sauces), plus pear sorbet with gingersnaps for dessert.
(Pro-tip: Chef and co-owner Elizabeth Sassen will be saving most of the crab heads to make a soup, but for those wise diners who consider the butter to be the very best part of a crab, she told me she'll set a few heads aside — just let your server know you'd like one.)
Ramen Shop, 5812 College Ave., Oakland: When Ramen Shop first opened this past winter, its Dungeness crab miso ramen was one of the dishes that best embodied the restaurant's approach — a traditional Japanese sensibility applied to the best local/seasonal ingredients of Northern California. Now, with the start of crab season, local Dungeness has already started making an appearance on Ramen Shop's daily-changing menu. A version of the aforementioned crab miso ramen (with ground pork belly, shoyu-marinated egg, King Richard leeks, and shungiku; $17) was on Saturday's menu; on Sunday, there was a Dungeness crab and chashu donburi (rice bowl) for $13. Check the restaurant's online menu for each day's crab offerings.
Hang Ten Boiler, 2306 Encinal Ave., Alameda: I discovered whole Dungeness crab cooked "Asian Cajun" style (boiled in a plastic bag filled with butter, garlic, cayenne, and a Cajun spice blend) last year, and it quickly became one of my favorite ways to eat crab. You might think all those spices would overpower the delicate crab meat, but you'd be wrong. Alameda's Hang Ten Boiler, currently my favorite Asian Cajun spot, serves Dungeness crab pretty much all year round, but owner Paul Wong told me he started getting the local crabs this past weekend. The crabs are market-priced, but for now a two-pounder is selling for $32.99.