Remember those dark days when simply having a gluten-free-friendly restaurant was considered a major breakthrough? Yrmis Barroeta and Bobby Chang want to take healthy eating and catering to those with dietary restrictions to the next level. Toward that end, Mission Heirloom, their new Berkeley-based food business, promises not only to be gluten-free, but also grain- and soy-free — with a little bit of molecular gastronomy mixed in for good measure.

This fall, Barroeta and Chang will open Mission Heirloom Garden Cafe, a brick-and-mortar restaurant located in North Berkeley, at 2085 Vine Street, the former home of the Vegi Food Chinese vegetarian restaurant.

[jump]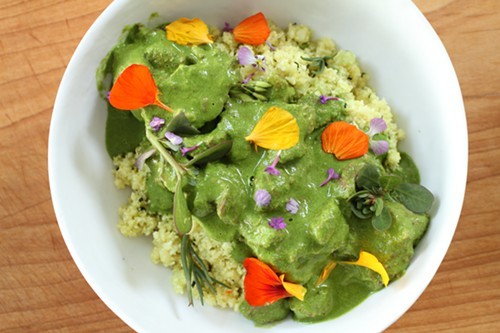 Mission Heirloom
Herb beef stew over romanesco cauliflower "tebouleh."
The cafe will be loosely aligned with the Paleolithic diet, whose premise is that humans haven't evolved to properly digest any foods that our Paleolithic ancestors didn't eat — namely, grains and legumes. (Barroeta and Chang credit the diet for curing a variety of health problems after they adopted it five years ago.) A quick scan of the company's
website
and
Facebook
page reveals that many of the foods the founders consider to be "above board" are fairly standard among sustainable-food types: Everything they serve is organic and GMO-free, there are no "ingredients that sound like chemicals," and the company's head-to-tail approach to meat is designed to maximize nutrition and minimize waste.
Other stipulations are more controversial — for instance, the idea that
cooking with olive oil
is inherently dangerous or that umami, the so-called "fifth taste," so beloved by modern chefs, should be
avoided as much as possible
. And, of course, the merits of the paleo diet itself are the subject of some debate in the medical community.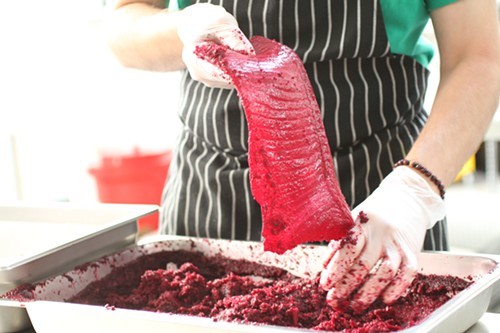 Mission Heirloom
Christian Phernetton flavoring salmon with beets.
All that said, Barroeta said the company's intention is not to be "preachy," and she stressed that, aside from the swath of ingredients that they've deemed "below board," there's a certain amount of flexibility. "We're trying to tell people that it's not a single ingredient that is the evil above all. It's about toxicity and your personal threshold," she said.
Barroeta said she's never considered herself much of a foodie, so she and Chang hired Christian Phernetton, a chef with a background in molecular gastronomy. According to Barroeta, there's a spirit of playfulness and scientific rigor to the Mission Heirloom kitchen: He uses beets and carrots to simulate the flavor of tomatoes, and serves lamb meatballs with Romanesco cauliflower that's prepared to resemble a grain-free tabouleh. He makes precise calculations to determine the exact proportion of liver that ought to be added to a meatball to achieve the ideal amino acid levels. And the food is undeniably gorgeous, each plate a kaleidoscope of vivid colors.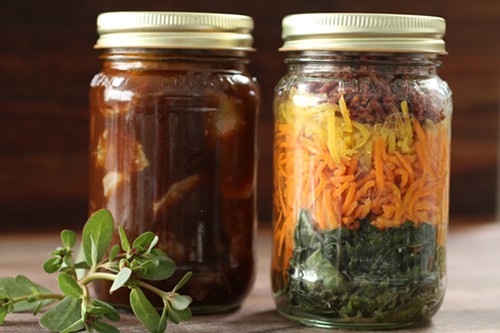 Mission Heirloom
Dish components are stored in individual jars.
The cafe itself won't have much cooking equipment beyond a hot plate, so the food will be prepped and cooked at a
commissary kitchen in West Berkeley
, with dish components stored in individual jars. The idea, Barroeta said, is to allow diners to customize their meal according to their individual food sensitivities.
Mission Heirloom will be a casual, order-at-the-counter type of place, with most of the seating located in a 2,000-square-foot outdoor garden. In addition, to the weekly selection of gluten-free and grain-free dishes, the cafe will also serve Intelligentsia coffee and offer an option for "bulletproof coffee," the latest beverage fad among paleo practitioners and CrossFit zealots: brewed coffee that gets blended with grass-fed butter until it's thick and frothy — "like the creamiest latte ever," Barroeta said.
Construction on the space is underway, and Barroeta said she's hoping the cafe will open by the first week of September. In the meantime, Mission Heirloom is taking a limited number of
online orders
for pickup Tuesday through Friday at its West Berkeley kitchen commissary. Typical prices are $16-$20 for entrées and $8-$12 for soups and salads.