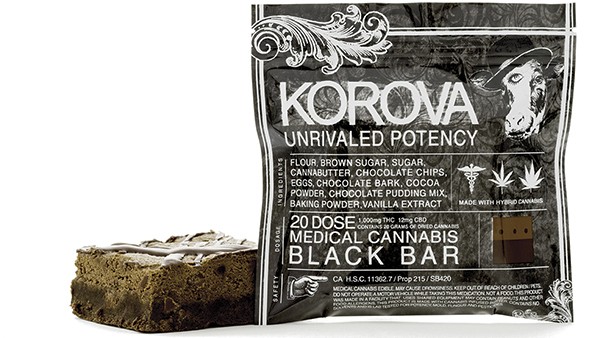 Jerry has long suffered from generalized anxiety disorder. He said the condition kills his appetite and makes it difficult to sleep. The only way he's able to eat a full meal and get a good night's rest is by taking 125 mg of THC, which he does by eating one-quarter of a high-dose edible made by Oakland company Korova.
When Jerry's wife died in a tragic accident a couple years ago, the Oakland resident's anxiety tightened its grip. "I stopped eating altogether, I was not able to sleep," said Jerry, who asked to use a pseudonym because he fears revealing his cannabis use will jeopardize his employment. It was all the more reason why he continued to rely on Korova's Fifty One Fifty bar — a half-cookie, half-brownie concoction that contains 500 mg of THC.
"I was suicidal the first six months after my wife died," he said. "I don't know where I would've ended up after she died without those brownies. They really were a lifesaver."
But in a few months, such high dose products will no longer be available. That's because as of Jan. 1, strict regulations on cannabis edibles went into effect. After 20-plus years of an unregulated medical marijuana market, producers now have to limit edible products to no more than 100 mg total of THC, divided into clearly marked 10 mg doses. (Regulators are allowing producers of high-dose edibles to sell their remaining products until July 1.) To most people, 10 mg of THC is plenty potent, but to medical cannabis patients like Jerry who've developed high tolerances, it's barely noticeable.
"I'm panicking," said Jerry. "It's unfair that they lumped the medicinal into the recreational [market]."
Jerry's predicament may seem easily rectified. But he said he can't smoke marijuana because he has asthma. And due to his trouble eating, he can't just eat more cookies and brownies, which would be a lot of sugar anyway. (Although he's considering cannabis oil.)
Not only do the new regulated edibles contain less THC, but they're also more expensive. "I used to be able to eat 125 mg in a very small quarter piece of a 500 mg Korova brownie for only about $6. Now, I have to spend about $40 and eat more calories and sugar than I can consume without throwing up," he said. "I am desperate and there seems to be no help on the horizon."
Blake Powers, marketing director at Korova, said the company has seen "a lot of broken hearts" over the new dosing restrictions. "People are just really bummed that this is kind of one of the unwanted facets of legalization … [T]hese high-dose edibles are not looked kindly upon by regulators."
Indeed, there's been particular concern about edibles because they look unsuspecting but can hit some users particularly hard, especially those who may not feel any effects at first and then make a mistake by consuming more, which ends up being too much.
In Oregon, medical marijuana patients can buy edibles with a higher potency than recreational customers, and without a total maximum serving size. But California adopted no such exemption, despite intense lobbying by Korova.
So, before the new rules went into effect, the company decided to produce as many of its high-dose products — the 500-mg Fifty One Fifty bar, as well as the 1,000-mg Black Bar — as it could. "What we did was turned our baker on 24/7," said Powers. "We hired 20 temp workers to come in … and we generated about three months of inventory."
Korova also launched a new product — mini cookies, which are dosed at 10 mg each, or 100 mg per bag — and introduce its own top-shelf flower lines, which it hopes will help its high-dose users.
In the meantime, the high-dose edibles continue to remain popular, in part because of the company's reputation for consistent dosing and low price. Now, with supplies dwindling and the July 1 deadline to get rid of remaining product looming, Powers said he's seeing some places on WeedMaps selling the remaining Black Bars for as much as $90 (the suggested retail is $50). "Because the demand is so high, they're gouging," said Powers. "So, that's unfortunate." (He said the overall increase in price for lower-dose edibles is due to the new taxes.)
"It's tough, because what I've seen patients do is get their hands on as much as they can and put it in the freezer, which works. What happens when their supply runs out, it forces somebody that needs that high level of medication into doing it themselves." Powers said Korova is considering putting its recipes online but admits it'll be difficult for people to get consistent dosing and clean product. "To ask a consumer to do it themselves, it's going to set people back," he said. "People who get benefits from high dosages — and believe me, it's thousands and thousands — it forces them to eat twice as much."
Jerry said he has a six-month supply of Korova brownies in his freezer — he consumes one bar per week, mostly on the weekends — but after it runs out, he isn't sure what he'll do. "I'm trying to wean down so when that day comes, I'll find something that works."