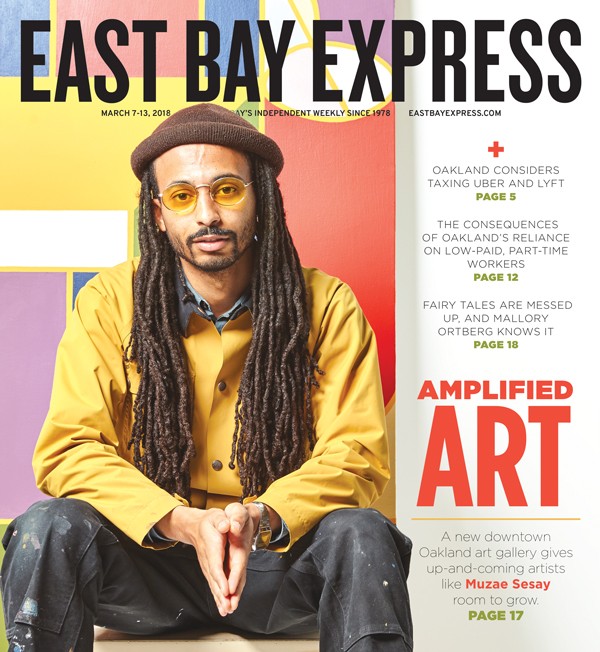 "Oaklanders May Vote on Uber Tax," News, 3/7
Don't Do It
Taxing this service is just wrong. People need an affordable transportation option.
Julia Allen
"Permanently Temporary," News, 3/7
Colleges, Too
I appreciated your article on the use of job-insecure and underpaid part-time workers in the city of Oakland. Their work situation appears to represent a growing characteristic of many employees working in our free market economy.
The use of part-time faculty has definitely been a feature in the ivory towers of higher education. Many classes are now taught by contingent/part-time faculty, many of whom have worked for the same institution for years. Most are significantly underpaid and face ongoing job insecurity, never knowing if they will have work beyond the current term. Many live in poverty.
Using part-time faculty saves colleges millions and results in administrators, whose ranks are swelling, making more money. Unfortunately, adding to the problems of part-timers are faculty unions that do not fight this job scandal that is often detrimental to the education of students.
Another example of the new job market is the use of college students as low-paid or unpaid interns. Often, only more well-off students can afford to do internships, which are becoming a necessity for one seeking a chance at "success" in the job market.
Rick Baum
Nothing New
This is a fight I'm familiar with. I negotiated my TPT [temporary part-time] contract shortly after going to work for then-SEIU 790 in 1987, and several thereafter. We always pushed for more full-time hiring of part-timers, or at least more permanent part-time (which are civil service and get the same benefits as full-timers). We made gains over the years in pay and benefits, less in full-time positions. It looks as if the city is abusing the category more than ever now, which reflects the trend in employment as a whole.
Margaret Cunningham
"Libby's Moment," Seven Days, 3/7
Not Fooled by Her Recent Gestures
While many will may find themselves swayed by Mayor Libby Schaaf's recent gestures, I am not fooled. Her failure to hold officers involved with OPD's sex trafficking scandal accountable casts a long shadow and should provide plenty of fodder should anyone decide to challenge her.
Lenard Jones Jr.
Thank You!
Thank you, Mayor Schaaf! Doing the right thing is so important. There are thousands of us who stand behind you!
Sage Feldemeyer
Lock Her Up!
Libby Schaaf is a disgrace and an enemy to the United States of America who should be prosecuted for obstruction of justice.
John Forrester
Four More Years
I'm glad Schaaf finally figured out that doing the right thing takes real guts. It took her a long time, but she learned from her ancestors' experience what courage means.
The Left also taught her a few things during her early battles with them, but timing is everything, and she's got four more years in the bag now.
Kit Vaq
Good Job
Great piece! Spot on analysis and fair.
Beth Trimarco
"G-Eazy at the Fox: A Groove-Less Pileup of Charisma-Free Clichés," Backbeat, 3/7
You Gutted Him
Damn, Sam Lefebvre! That was impressive knife work.
Jeremy Goody via Facebook