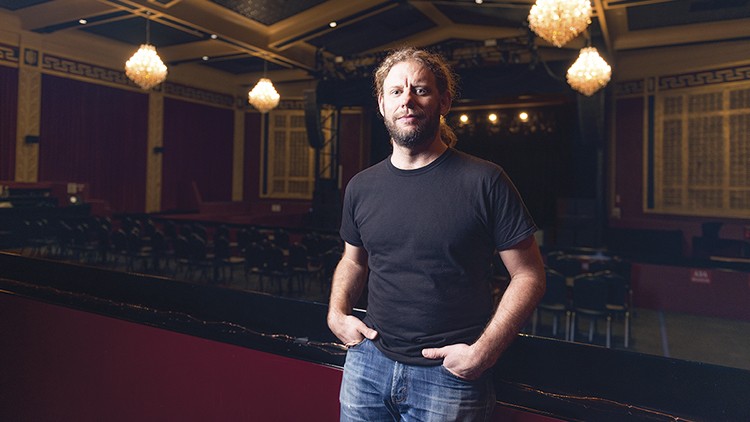 On New Year's Eve in 2011
, Anthony Bedard was walking through San Francisco's Tenderloin district to catch the bus. The longtime booker of the Hemlock Tavern, a storied rocker retreat among the drunken bluster of Polk Street, was about to pass the Great American Music Hall when Dawn Holliday, then the venue's feared and revered talent buyer, beckoned him into the box office for a glass of champagne, and complimented his work at The Hemlock. "I didn't even think she knew about us," he recalled. So, when Holliday remarked that she was about to start booking Hardly Strictly Bluegrass, then 10 months away, he offered to help. "Basically, that led to
me
booking the Great American Music Hall and Slim's."
Bedard has booked the Hemlock since 2002, the same year that the company behind the Boz Scaggs-founded South of Market venue Slim's acquired the Great American Music Hall. Bedard's programming at the Hemlock — generally, punk and rock, with an eye toward emerging or defiantly underground locals — skews several degrees of popularity beneath headliners at Slim's or GAMH. But often he spotlights artists before they graduate to larger venues. Bedard once played Slim's himself. It was 1995, and his cult rock outfit the Icky Boyfriends were mercilessly heckled while opening for Mudhoney — an experience he remembered when, in early 2017, he started booking Slim's and GAMH. "I went from getting booed off the stage at Slim's to booking it."
Bedard spoke from a barstool at the Hemlock. It's the kind of dive where regulars regarded the acceptance of credit cards, introduced just a few years ago, as something just short of betrayal. The songs playing overhead were long and mid-tempo, with only steady tambourine and nimble basslines audible, which lent any conversation a relaxed, slightly sleazy tenor. Smells wafted from the semi-enclosed smoking patio. The entire block is slated for redevelopment, casting some uncertainty on the bar's longevity, so Bedard was thrilled to start booking Slim's and GAMH, a gig he was assured would transition to full-time. But in December, he learned that both venues, among the city's most celebrated independent concert halls, were partnering with entertainment giant Goldenvoice.
"Within a couple weeks, there wasn't really anything left for me to do," he recalled. "I thought maybe they'd keep me around to handle the local bills or something, but no."
Bedard was, of course, disappointed. He'd been honored by the idea of succeeding Holliday (who left to focus on Hardly Strictly Bluegrass in early 2017), whom he called "the iron lady" and "an indomitable force" in the local music industry. But he was also dismayed, as a musician and concertgoer, to see the venues' longtime independence compromised by a partnership with Goldenvoice, an out-of-town subsidiary of Anschutz Entertainment Group, a multibillion-dollar company owned by a prominent right-wing philanthropist. "I'm bummed because it's them, those guys — Goldenvoice," he said. "I wanted to keep working for independent venues."
And Goldenvoice's deal with Slim's and Great American Music Hall isn't the only recent corporate incursion into the Bay Area's concert industry. Goldenvoice also recently announced a festival, Blurry Vision, headlined by Migos and SZA, to be held this May at Middle Harbor Shoreline Park in Oakland. And last year, Live Nation Entertainment, which owns Ticketmaster and the Fillmore as well as dozens of venues across the country, announced the launch of August Hall concert venue in the former site of Ruby Skye near Union Square.
For the first time, the three major players in local concerts — Goldenvoice, Live Nation, and their locally based competitor, Another Planet Entertainment, which runs Outside Lands and Treasure Island music festivals in addition to venues The Fox Theater and the Bill Graham Civic Auditorium — each control everything from a small club to a massive music festival in the Bay Area. While the corporate control of live music might lead to some musicians receiving higher fees, local promoters say it also leads to higher ticket prices, more homogenous booking, and fewer opportunities for local acts. It also threatens independent venues, which often struggle to compete against companies big and diversified enough to consider gigs loss-leaders.
[pullquote-1]
Goldenvoice and Live Nation's tightening grip on gigs in San Francisco has consequences for the East Bay, where venues are independent or run by Another Planet Entertainment. "There's definitely a full-blown consolidation with corporate buyers in San Francisco right now, and they pressure independent buyers really significantly," said UC Theatre manager Matthew "Smitty" Smith, adding that it undermines the establishment of the East Bay as a separate market. Smith continued, "So you'll get people like me saying, 'play both sides of the bay,' but you won't hear Goldenvoice say that because they don't have any interest in the East Bay."
---
When Dawn Holliday helped Boz Scaggs launch Slim's in 1988, Goldenvoice and Live Nation were hardly present in San Francisco, and Another Planet didn't exist. Clubs such as Slim's and Bottom of the Hill, like the Hemlock more recently, were tour destinations as much as they were local haunts — a combination at the core of a healthy music scene. "They're small businesses, so as a talent buyer, it's like you're spending your employees' money, money you all made that week, and you're facing the ticket buyer yourself," she explained. "We were always independent — Slim's and Great American. So, I've thought about this a lot — the Goldenvoice partnership — and it's a great source of a sadness for me."
Holliday has seen the local concert landscape transform: Live Nation took control of the landmark, 1,200-capacity Fillmore in 2007, and reopened the Masonic Auditorium with an increased capacity in 2014. Goldenvoice snared the lease on the 2,300-capacity Warfield in 2004, and in 2008 started managing the 1,400-capacity Regency Ballroom, which now has the smaller Social Hall in its basement. Another Planet (APE), founded by a former Bill Graham Presents executive in 2003, launched the 500-capacity Independent and took over booking The Greek Theatre in 2004. Between 2007 and 2010, APE also assumed control of The Bill Graham Civic Auditorium and reopened the renovated Fox Theater, on top of launching Outside Lands and Treasure Island (with Noise Pop).
Ticket-buyers for Live Nation and Goldenvoice concerts often pay fees through the companies' own ticket outlets, Ticketmaster and AXS, respectively. (A Goldenvoice representative said that Slim's and GAMH won't use AXS.)
Holliday described corporate competition's broader effect on ticket prices with a hypothetical scenario: An artist whose fee has long been set at $10,000, making tickets cost $25, is coming to town. This time Goldenvoice and Live Nation offer $12,000, raising the ticket price to $30. "Then Another Planet figures, 'Huh, if they think $12,000 with a $30 ticket is fine, let's offer $15,000 and we'll do $30 in advance and $35 at the door,'" Holliday said. "Now, forever more the artist costs $15,000, and your market's fucked."
Goldenvoice's booking deal with Slim's and Great American Music Hall, like Live Nation's launch of August Hall, reflects the companies' establishment of what's known as "vertical" club structure. The idea is to maintain relationships with bands as they leap from, say, the Goldenvoice-controlled, 500-capacity Slim's to the Goldenvoice-controlled, 1,400-capacity Regency Center, and then to a Goldenvoice-controlled festival such as Blurry Vision or Coachella.
"Even bands that we've had relationships with, they'll go to the Independent, which is run by Another Planet, instead of Slim's," said Bedard. "And then we see they're playing [Another Planet festival] Treasure Island."
The corporate buyers, as Smith from the UC Theatre pointed out, often overbid for artists because it establishes history with emerging acts in the hopes that, next time, they'll draw larger crowds at a bigger venue controlled by the same company. "They'll outbid someone by $5,000 on the same ticket price and the same room size and just eat it in order to establish their mark," he said, adding that it's also about depriving smaller competitors of high-yielding shows. "So, the big boys have a corporate war chest that locks independents out of the market. We can't spread our expenses across 300 venues and lose money on normally profitable shows just to edge out competitors."
[pullquote-2]
Danny Bell, a Goldenvoice talent-buyer in San Francisco, acknowledged that the company's interest in Slim's and Great American Music Hall is about keeping artists within the company. "You're right that the vertical thing is really important. Now, we can build them up from Slim's to the Regency or the Warfield," he said. Bell also said if bands play Goldenvoice venues, that helps them land Goldenvoice festivals, saying that every act booked for Blurry Vision has recently worked with the company. "But the thing is, man, the owners of Slim's and Great American are big music fans. They want a strong music scene. And that connected with our alignment of loving music — that's what it's about."
No doubt, many artists benefit from remaining loyal to large concert companies. It's worthwhile to play Slim's when you'd rather play The Chapel if it protects your shot at playing Coachella. But independent promoters say that tacit or formal exclusivity agreements backfires locally.
Package tours, wherein an artist plays only venues operated by Goldenvoice or Live Nation, undermine the expertise of local promoters; that's how an artist with little San Francisco draw ends up in a too-big venue, without a well-chosen slate of local support. "So, what happens now is the agencies can push the mid-level acts that suck," said Holliday. "There goes the variety. Here's the same bill in every town."
[pullquote-3]
Why did Holliday first ask Bedard to pitch her bands for Hardly Strictly Bluegrass? "I knew I couldn't book what he could," she said. "And that's the biggest compliment from the one talent-buyer to one another."
In Bedard's brief time at Slim's and Great American Music Hall, he booked several well-attended all-local bills that reflected his deep knowledge of the Bay Area music scene: King Woman with Mane and Plush at the Great American, for instance, or, Cold Beat with Warm Drag, Mall Walk, and Frank Ene at Slim's — all acts, familiar to Bedard from the Hemlock, that wouldn't fill those venues on their own, but cumulatively amounted to must-see events.
Bell, of Goldenvoice, said that company isn't responsible for Bedard losing his job: "It's up to them, the club."
Bedard said that Goldenvoice's agreement with Slim's and GAMH is for more than 200 shows a year at each venue.
Bell declined to comment on the details. But he said little to assuage concerns that the company won't continue Bedard's curatorial vision, or that it'll neglect local music. "SF is a great music town. With any strong local music scene, there's a lot of great local acts," Bell said. "Is it a priority? It's tough to say. I think it just naturally happens. I know that we came on up here with one goal — to do cool shit."
---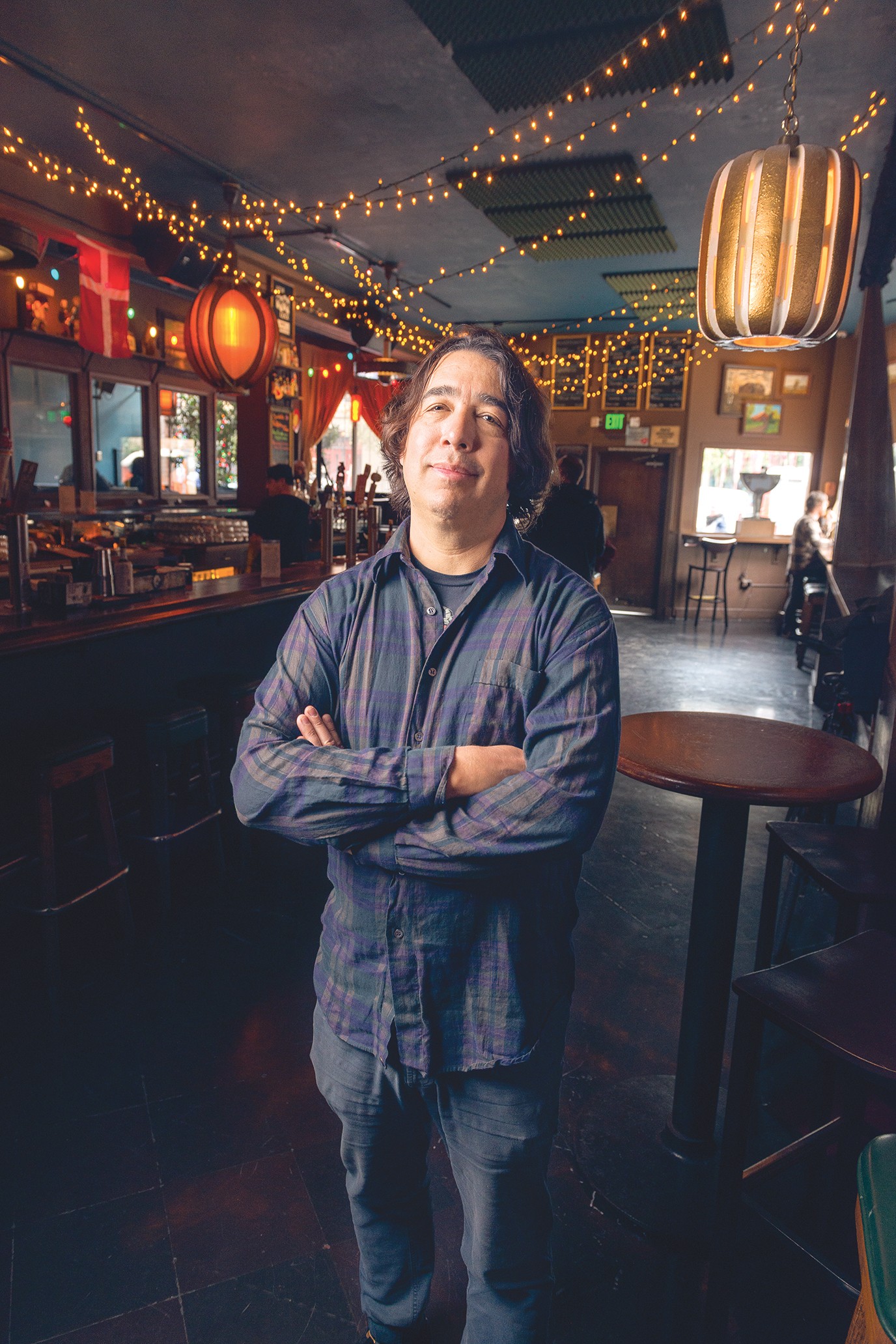 The UC Theatre
launched with the explicit intention, according to Smith, of showing that San Francisco and the East Bay are separate markets for prominent touring outfits. He describes the venue — which opened in 2016 after more than $6 million in renovations, under the umbrella of The Berkeley Music Group, a nonprofit founded by longtime Bill Graham Presents officer David Mayeri — as the counterpart to the Fillmore, which also has a capacity of 1,400.
"Managers and artists want to see them as two plays because the Bay is beautiful, you only go seven miles across a bridge, and you probably keep the same hotel room," he said. "But the corporate buyers don't like it. They don't approve."
As Smith sees it, the East Bay's position is similar to San Francisco before the corporate saturation. He pointed to small rooms such as The Golden Bull and Elbo Room Jack London (formerly the Night Light) as the ground floor of local scenes, with the larger-capacity Starline Social Club and New Parish available to bands rising in popularity. New venues, such as the 500-capacity Cornerstone in Berkeley, are opening. G-Eazy, the breakout East Bay rapper, recently recognized the New Parish for hosting him early on — from the stage of a sold-out show at the Fox Theater.
Smith argued that the East Bay's music ecosystem not only rivals San Francisco, it makes San Francisco look "irrelevant."
He even quipped, "Well, I don't think there are local acts in SF anymore."
Smith, formerly a talent-buyer for Parish Entertainment Group, said he loses 85 to 90 percent of the touring acts he bids on to San Francisco. Radius clauses, long a prickly subject in the local music industry, sometimes prohibit touring artists from playing both sides of the bay. But, he noted, bands have also recently sold-out back-to-back shows at The Fillmore and The UC Theatre. Although corporate buyers in San Francisco are currently willing to outbid independents in the East Bay to such an extent that they undercut their profits, Smith reckons that it won't last, if only because there are more people in the East Bay, with fewer and fewer reasons to cross the bridge. "They can't lose money forever," he said, adding that, "We're good — we've already found our market."
Kevin Arnold, founder of prominent independent booking group Noise Pop, which has close ties to Another Planet, said San Francisco's corporate saturation is part of a national trend. "You can't really deny that it does typically result in costlier tickets (especially fees) and (subjectively) less exciting bills overall," he wrote in email to the Express. But Arnold, like Smith, cited the relative independence of East Bay venues optimistically. He likened it to how, in the record industry, indie labels vie against major labels: "There are always avenues for a small and nimble indie to outmaneuver a big player if you look hard enough for the gaps and opportunities in the market."
[pullquote-4]
To critics, though, Great American Music Hall and Slim's partnership with Goldenvoice looks like capitulation, not a savvy maneuver. Jason Perkins, managing partner of the Parish Entertainment Group, which runs The New Parish and the Brick & Mortar Music Hall, noted that Goldenvoice assumes little risk by contracting to book Slim's and Great American Music Hall — certainly not the risk incurred by buying or developing a new venue. According to Bedard, the agreement expires in a year. (Bell, of Goldenvoice, declined to comment on the deal's details.) If for some reason it flops, or is rendered obsolete by another acquisition, Goldenvoice walks away relatively unscathed, but the venues are set back dramatically. "One of them is getting a great deal here," Perkins said.
Holliday recently announced her departure from Hardly Strictly Bluegrass, the free, multiday festival that's drawn hundreds of thousands of people each year to Golden Gate Park since it was founded by venture capitalist Warren Hellman in 2001. She referred cryptically to soon-to-be-revealed projects. Though she hasn't operated much in the East Bay, she echoed Smith's insistence that it's a separate market from San Francisco.
"It's not good to have three major promoters buying talent in one region," she said. "It's time for an independent to make a difference again. If I felt competitive, I'd do it myself."
After Holliday accepted Bedard's offer to help her book Hardly Strictly Bluegrass back on New Year's Eve in 2011, the Hemlock booker proposed more than 20 local bands to her. He burned CDs for each one, packaging them in biographical information. Among her selections were Conspiracy of Beards, the a capella Leonard Cohen covers choir, and, more surprisingly, the experimental guitarist Bill Orcutt, who's known for his lashing improvisations. Orcutt happened to also be playing at The Hemlock the night Bedard and I spoke, a sold-out weeknight gig. And when the big red arrow on the wall flashed, signaling the start of his set, Bedard rose from his barstool and walked inside to watch.