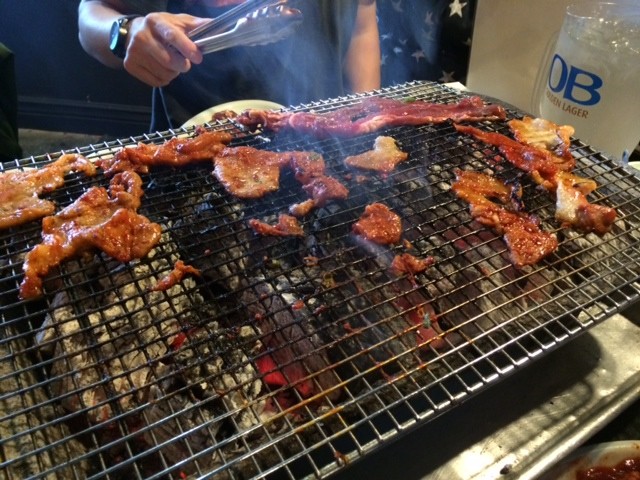 What's Eating You is a semi-regular feature wherein I provide answers to your most pressing East Bay-centric food questions. Send questions to Luke (dot) Tsai (at) EastBayExpress (dot) com, with the subject line "What's Eating You."
Dear Luke,

As a Yelp-addicted wannabe foodie I'm constantly looking for new spots to eat. I've been feeling lately that my Instagram could use a little more color and excitement and, as a resident of north-ish Oakland, I've become more and more intrigued by the bountiful Korean BBQ spots that line Telegraph. To be clear, I appreciate taste, texture, and atmosphere just as much as perfect lighting for a picture. If you could give me a breakdown of where to get some dank KBBQ it would be much appreciated.

Much love,
@kimchi_kraver_92
[jump] Dear KK,
Are you looking for that classic gut-busting, grill-it-yourself Korean barbecue experience? If so, the best I've had in recent memory was at
Gogi Time
(2600 Telegraph Ave.), a newish spot in Uptown that is especially great if you can wrangle together a group of five or more — at which point you can opt for all-you-can-eat barbecue and hot pot for the same relatively low (considering how much food you get) price. Gogi Time is one of only a handful of places in the East Bay that does wood-charcoal grilling, and you can taste the difference — that smoky-as-all-get-out, charred-meat flavor is hard to top. In fact, Gogi Time might be the smokiest restaurant in all of Oakland. You'll definitely smell it on your clothes for days.
See also:
What's Eating You: A Wish List
Best Cheap Date
Meanwhile, I'm still mourning the loss of
Sura
(4869 Telegraph Ave.), which had been my go-to all-purpose Korean restaurant in Temescal. The restaurant that replaced it,
Bowl'd BBQ
, is a solid (and very accessible) bet for
bibimbap
and excellent house-made kimchi. But if you're willing to travel a little bit outside of Telegraph Avenue's so-called Kimchi Row, my current all-purpose favorite — for when one dining companion demands
kalbi
, but another is craving tofu casserole — is
Jong Ga House
(372 Grand Ave.), which does a pretty good job with all of the Korean standards. Jong Ga House is also the probable successor to Sura for the title of
most sumptuous spread of banchan
(i.e., free side dishes) in town, and I love the complimentary, and bracingly cold, sour kimchi soup that starts your meal.
Finally, if it's ambience you're after, my pick would be
Kang Tong Degi
(6101 Telegraph Ave.), the coolest and most delicious of
Oakland's hidden-away Korean pubs
. You can grill your own meats here, but the main focus at Kang Tong Degi is on drinking food, including a number of dishes you'll rarely find at a traditional sit-down Korean restaurant: sautéed chicken gizzards, "cheese corn" (an addictively sweet dish involving lots of condensed milk), and the everything-but-the-kitchen-sink one-pot meal known as "army stew." Besides, what self-respecting foodie Instagram doesn't include a close-up of
chrysalis (i.e., silkworm pupae) soup
?