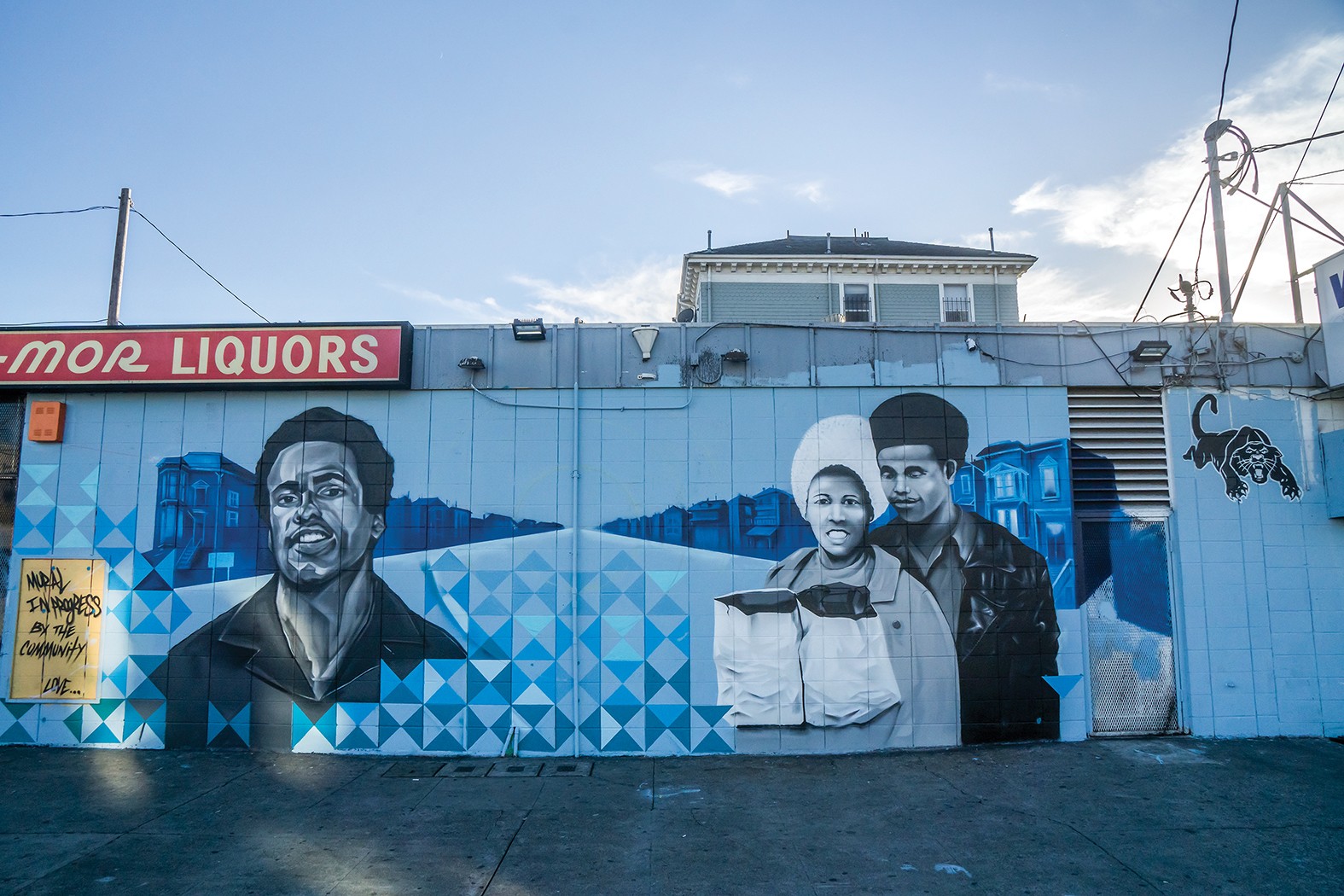 On a sunny yet hazy Tuesday in October, artists Refa Senay and Batsh Lo were showing students from the African Children's Advance Learning Center how to mask off geometric sections of a mural.
"This is the mathematics of real life," explained Senay, who goes by the name Refa 1. "They build buildings with math. So, who's going to help me with the vertical triangle?"
A student crouched down holding a can of teal spray paint and carefully filled in one of dozens of triangles.
The mural in progress on the corner of 14th and Peralta streets is historic: It's the first Black Panther Party mural in Oakland to be painted by Black people.
West Oakland is the historic home of the Black Panther Party. Not only did the group's free breakfast program start there, but at one point it was also home to the party's headquarters. Many of the organization's activities were held in DeFremery Park, which is known as Lil' Bobby Hutton Memorial Park, after the Panthers' treasurer and first member.
Yet there are few visual reminders of this legacy. That bothered Senay.
"Some folks weren't as privileged to have that experience or able to get the knowledge that the Black Panther Party was sharing with the community," Senay said. "And so, creating a mural like this opens up the dialogue where we can have a conversation about what that legacy is."
Senay said it was crucial for Black artists to paint the mural. "It's important for African people to control their visual landscape in their neighborhoods," he said. "Anything that we do not control can be used as a weapon against us."
The mural is located between Sav Mor Liquors and Sunrise Laundry, two businesses owned by a Yemeni family. Senay said he dislikes that Sav Mor sells liquor, tobacco products, and "bad food" to the community, rather than healthier products.
"People have been murdered in front of this wall, shot at, a lot of drug dealing, and all type of other nefarious criminal activity," Senay said. "And so, changing up the energy here is important for the community."
According to Senay, whose parents were Black Panthers and who lives in West Oakland, getting permission to paint the wall took nearly a decade of negotiating. He said he first approached the shop owners about the mural in 2008. "They blew us off and just kind of acted like we don't know, we don't control it," Senay said. "We kept pressing them about it."
Owner Kaiyd Al-Jemal said he does not remember if Senay approached him before 2014. Al-Jemal said that at the time, Oakland had an ordinance that did not allow businesses with liquor licenses to have anything on their walls. (The Express was unable to confirm this claim.)
Senay went on to paint other murals in the Lower Bottoms neighborhood, including one on 14th and Campbell streets in honor of Cedric "Sedi" Bo, a well-known figure in the neighborhood who was shot and killed in 2009. For decades, that corner was a notorious site for drug dealing and activity. After Bo's death, the corner became and remains drug-free. Painting that mural created a shift in energy, Senay said, and he hopes the Black Panther mural will do the same thing.
Senay said Al-Jemal previously let two different groups of white people paint the wall. The first group "painted something on the wall that the community would deem as demonic" — a group of dogs with spiked collars, some red-eyed, others crucified. "It didn't fly with the neighborhood," he said.
Senay said he approached Al-Jemal again in late 2016, questioning why outsiders with no connection or stake in the community were allowed to paint the wall. Last spring, Al-Jemal finally acquiesced, but in the time Senay and artists from his collective, AeroSoul Art, spent creating a design, Al-Jemal allowed other white people to paint the wall. This time, they painted a Black woman laying on her back, talking on the phone, with the words "LOWER BOTTOM" stretched across it.
"I guess they were trying to speak in the vernacular of the neighborhood, using its street affiliation, which is Lower Bottoms with an S," Senay said. "The community was enraged, nobody was feeling what they were doing."
Al-Jemal said he let the other artists paint the wall because he hadn't seen Senay for a few months and thought he was no longer interested. He added that the artist who painted the dogs initially told him that the mural was going to represent the history of the neighborhood, but when he finished, it wasn't exactly what Al-Jemal had in mind.
Set atop a light blue background, a black, gray, and white portrait of Huey P. Newton, co-founder and Minister of Defense of the Black Panther Party, flanks the left side of the mural. In the center, a series of blue-toned triangles rises from the ground, and on the right side is a portrait of two rank-and-file Panther members, one who holds paper grocery bags, emblematic of the party's free breakfast program. A series of houses, identical to those in the neighborhood, sit behind the Panthers. Recently, the phrase "Serve the People" was added.
Lo, a Senegalese artist, said he first heard about the Black Panthers in 1987 as a 12-year-old living in Saint-Dizier, a city east of Paris, from his father. He was curious about Black life in America during an age when the internet didn't yet exist.
He met Senay at an international graffiti festival in Dakar in 2014. Last year, Lo flew in from Paris for the 50th anniversary of the Black Panther Party. Meeting Emory Douglas, the graphic artist responsible for the art of the Black Panthers, sparked Lo's desire to learn more about the group. Senay and Lo then painted a vibrant mural on 8th and Campbell that features abolitionist Harriet Tubman, a black-and-white portrait of a young Black girl, and the kingdom of Timbuktu.
"Back in the days, U.S.A. used to be a model for me," Lo said, "but when I know what is going on in this country, I say, 'Oh, fuck, there is something wrong, there is something wrong.'"
Lo said he's noticed West Oakland has changed since he was here last fall. New condos and housing developments are popping up, as well as new businesses.
"The reference for me is not the white people in U.S.A., it's the Black people," Lo said. "How they overcome all the difficulties. There is a strong community here."
"Our struggle is worldwide: Africans in the diaspora are suffering from the same enemies and capitalism that we are," Senay said, "and so as we tie our struggles together politically, it's important for us to do that work together, to bridge those gaps that the enemies have created to keep us separate."
The mural has quickly become a place for dialogue. Some folks stop by and ask questions, other share stories of how the Black Panthers impacted their lives. One day, a UPS driver pulled up to snap pictures of the mural.
"It makes my heart happy to see this," the driver told Senay. "Everybody don't know. It's needed, especially with the neighborhood changing."
Senay speaks often about self-determination, a nod to the first point of the Black Panthers' Ten-Point Program.
"Black self-determination is more critical now than ever because that is what is being attacked and also that is the key to our success," Senay said. "In order for us to defeat the system of this white inferiority complex they call white supremacy, it will require African people coming together in the name of love and our culture and working together harmoniously to make change."