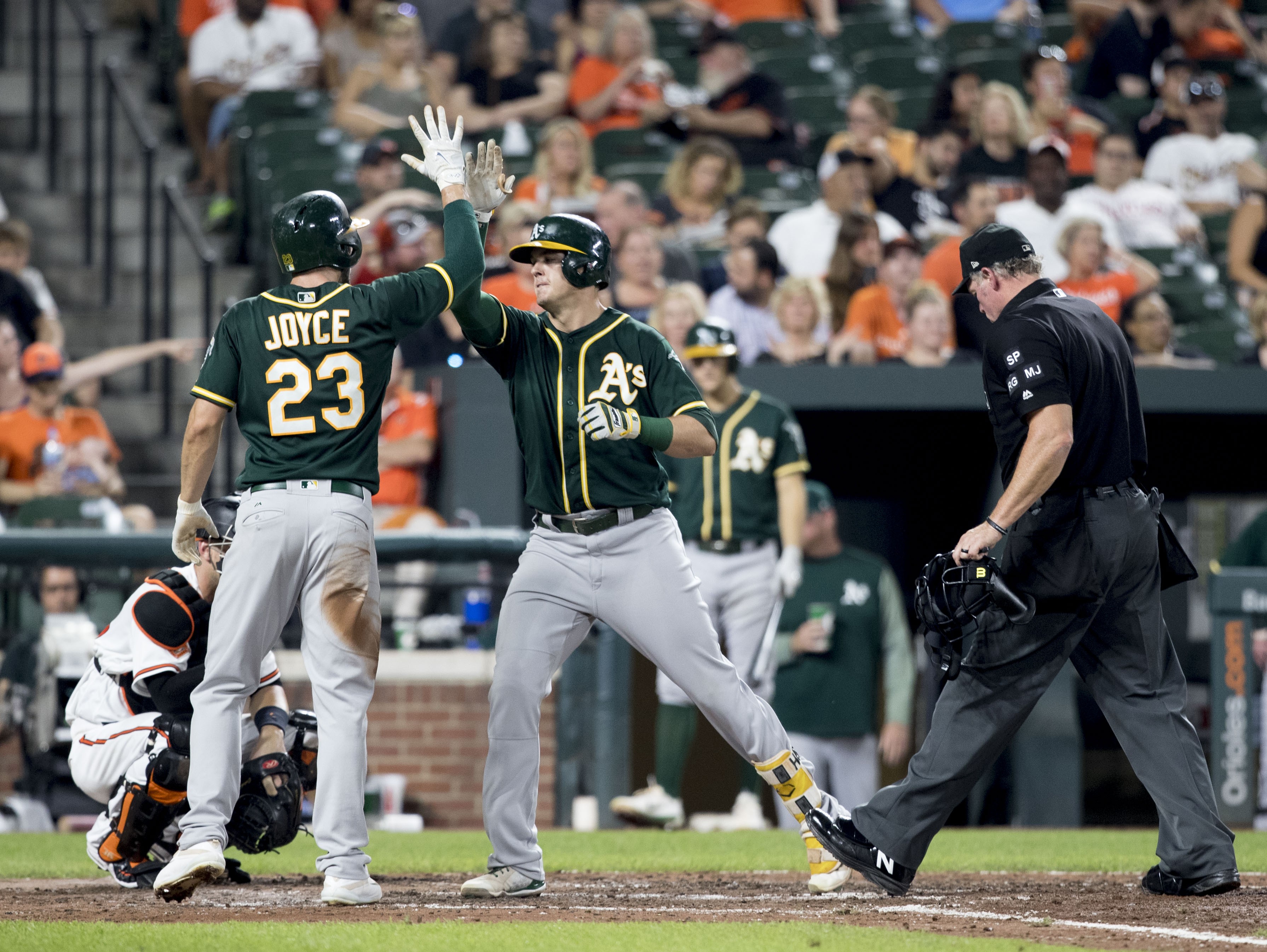 After midsummer deals that sent A's players (Sonny Gray, Sean Doolittle, Ryan Madson, and others) to playoff contenders, team exec Billy Beane acknowledged that the ball club's habit of trading fan favorites had to change, especially as the franchise inches forward each day toward building a new ballpark. Beane's self-reflection was atypical for him, and it was encouraging to A's fans enthused by the strong late-season output of youngsters Matt Olson, Matt Chapman, and Ryon Healy.
Change was the hopeful theme. As in, Beane and General Manager David Forst (finally!) are going to change their ways by building — and this time keeping — a strong roster. Despite another last place finish, A's fans would no longer need hallucinogens to envision an Oakland playoff contender in a few years, right?
But a few months later, here's the depressing reality: Maybe nothing's changed.
How else to explain the rumors of Healy as offseason trade bait before the World Series had even ended?
It all started on Oct. 30 with a brief item that sportswriter Susan Slusser tucked deep into the bottom of a San Francisco Chronicle article. Slusser wrote that scouts from several MLB teams said the A's had made it known that Healy is on the trading block.
I'll pause here to allow A's fans a minute to bang their heads against a wall.
C'mon … Trade Ryon Healy? The same Ryon Healy, 25, who mashed 25 homers and 78 RBIs in his first full season? Yep, the same likable, swaggering kid who quietly plays anywhere Manager Bob Melvin sticks him and, not incidentally, won't be a free agent until 2023 — the same year A's President Dave Kaval wants to open the team's new Oakland ballpark.
Isn't Healy exactly the kind of young player Beane and Kaval need to keep around to build trust with a wary, weary fan base?
But wait, there's more. Slusser, one of the best beat writers around, also reported the A's are seeking "much-needed relief help" in return. More relief pitching indeed is a need in Oakland. Then again, relief wasn't so much an A's issue when they had arms like Sean Doolittle and Ryan Madson, but Beane and Forst traded the pair to Washington in July. Among the trio the A's got in return are stud prospects Sheldon Neuse and Jesus Luzardo. If those two stay healthy and keep progressing, one day Neuse (an infielder) and Luzardo (a pitcher) might produce in the big leagues like Healy and since-traded Sonny Gray have.
But then, A's fans might note while pulling out their hair, what's to stop Beane and Forst from trading those young players too soon, too? It's all a vicious circle where young talent gets shipped in and, as soon as it has trade value, it gets shipped out.
Rinse and repeat. Repeat and rinse. (Did I mention the one about A's fans banging their heads against the wall?)
For those devoted worshippers in the Cult of Billy, a club whose membership is both dwindling but ever-zealous, there is a logic to the trade rumors. Healy is no Gold Glove candidate and has already begun DH'ing in his mid-20s. Also, so goes the argument, the A's have a ton of position-player prospects who are almost ready to replace Healy's bat — guys like Renato Nunez (32 homers in 126 games in AAA ball last year). Peach-fuzzed kids who are very green and won't cost much gold. Plus, purveyors of Beane Ball will tell you, moving Healy makes room for Khris Davis, the poorly fielding outfielder who hit a combined 85 homers and 212 RBIs in '16 and '17, to replace Healy at designated hitter.
Hey, Khris Davis, how do you feel about that?
"I see myself year by year," Davis said last month on MLB.com's Newsmakers podcast, according to MLBtraderumors.com. "I don't know what the longest streak for a player to be in Oakland is, but I know that it's a business, and one day I'll have to leave."
That probably won't be the pull quote in the A's season ticket brochure.
To be fair, the A's do need help at pitching. But Healy is one of the league's best bargains. He's at worst the team's third-best hitter and earns the MLB minimum salary. On a team obsessed with finances and with a below-average offense — 17th in MLB in runs scored, 20th in on-base percentage, and 25th in batting average — couldn't they use more Ryon Healys, not less?
This offseason, the revenue that MLB owners give the A's will shrink by 25 percent. This gives Beane and Forst one more reason to save some cash. The good news? They have options for achieving this that don't have to involve Healy.
After years of getting knocked for his trades, the A's would be forgiven for wanting to keep infielder Jed Lowrie, who had a great 2017 campaign. But nobody would complain if they traded the 33-year-old and his $6 million contract for a middle reliever or even a middling prospect. Potential suitors might include the well-heeled Red Sox, who'll need a second baseman next year until injured Dustin Pedroia returns a few months into the season.
Plus, the A's have several young infielders who should get a chance to play — guys like Chad Pinder or Joey Wendle — who can field second base until prospect Franklin Barreto is truly ready to take over. The A's could also shop veteran outfielder Matt Joyce, who'll earn $6 million in 2018. Joyce, 33, rebounded from a dreadful first half last year to finish with a career-high 25 home runs and his second-best OPS (.808) since 2011. He could have some trade value, and the A's would come out ahead in a deal just by getting rid of his salary.
In short, if you're going to rebuild with youngsters in advance of the new Oakland ballpark, then go all in and go all-young.
This is a young, talented Athletics team that, even with its uneven pitching staff, could surprise a lot of people next year and contend for a playoff spot. That is, if the team's best pieces aren't prematurely traded away — again.
Chris De Benedetti, a co-founding member of Baseball Oakland, writes a regular sports column for the Express.