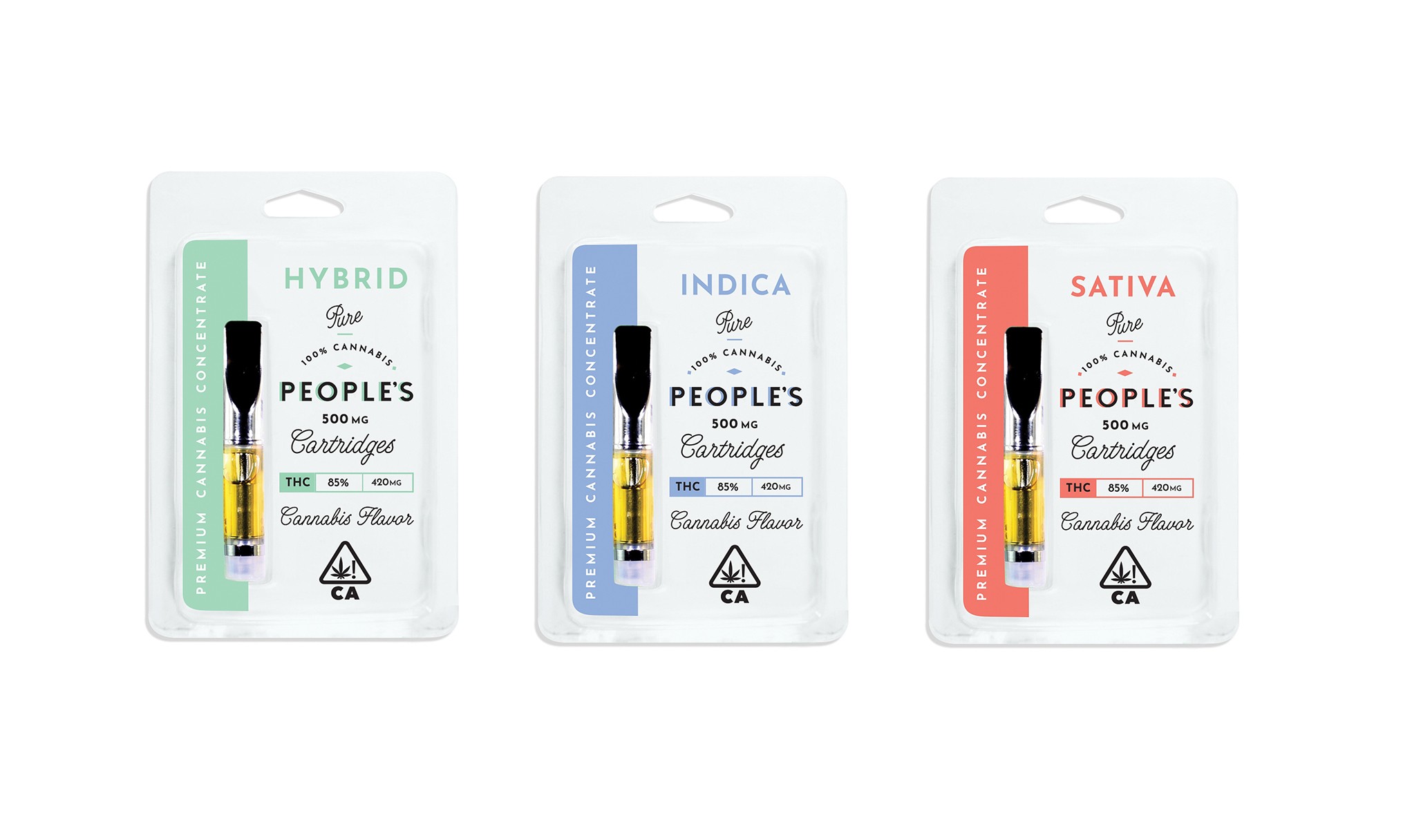 If you've walked into a pot store since Jan. 1, you've perhaps experienced a bit of sticker shock. It's true: Cannabis products have gotten more expensive as the new regulated industry copes with more taxes and higher costs related to compliance.
Elvis McGovern and Abram Yocom hope to provide a bit of relief. The founders of Berkeley-based Weird Science Labs are launching a new line of cannabis products that aim to be both potent and affordable.
Appropriately called People's Cannabis, the brand will include a line of proprietary cartridges of cannabis distillate — extracted and distilled cannabis oil — in several formulas: indica, sativa, hybrid indica/sativa, and CBD. Unlike many concentrates, People's distillate is 100-percent cannabis, with no added fillers or foreign terpenes. As a result, it's about 85-percent THC.
While such a potent product might normally retail for upwards of $50 or higher, McGovern and Yocom are shooting for their cartridges to be around $20. (They acknowledged that state and local taxes may raise the price.)
"We're striving to be the lowest-cost cartridge on the market, and especially the lowest-cost cartridge in the quality category," said McGovern.
How are they able do it? The secret is in their proprietary extraction process.
McGovern, who has a background in chemical engineering and used to distill animal fat into biofuel for a living, and Yocom, who formerly worked for a cannabis cultivator doing extraction, figured out that they could reduce the cost of distilling cannabis oil by using industrial practices. "We started down the road of: We wanted to bring real industrial practices to the cannabis industry," said McGovern. "At the time, and still to this day, what's happening in the cannabis world is people are taking laboratory practices and scaling up. And so what we've done, we've scaled down the industrial side, which makes it more efficient and easier to process than the laboratory systems."
McGovern and Yocom also save on costs because they've designed and built everything themselves. "We built everything to our specification and needs to do it our way," said McGovern. "It made it easier to scale up in the earlier days."
In 2015, they launched Weird Science Labs, primarily producing wholesale cannabis oils and doing packaging for other companies. But they decided it was time to bring their industrial efficiency and potency directly to the customer.
In addition to the cartridges, which will be usable in most vape pens, People's Cannabis also plans to release a cannabis-infused beverage, a cannabis "tablet" (i.e., microdosed edible), pre-rolls, and strain-specific cartridges. McGovern and Yocom said they're aiming for the tablet to be the lowest cost per milligram of cannabis to hit the market.
The legal market, that is. McGovern and Yocom said the new taxes have made producing their distillate much more expensive. "The state cultivation tax is the main one," said McGovern. "You're taxed $44 per pound for trim. That for us, that's between 50- and 80-percent tax on our raw material. We had to raise our price 20 percent — and that's not one single dollar extra to us. That's actually us losing some to taxes. So we have to jack up our prices."
McGovern said taxes account for roughly 50 percent of the cost of cannabis, so it's not surprising that people are turning back to the illicit market.
Still, he and Yocom hope their products will ease the financial burden for those who use cannabis regularly. "Now, when you go into dispensaries, I see a lot of people turned away by these high prices," said McGovern. "We don't make [our products] so people walk away."
People's Cannabis will host its launch party on Thursday, Apr. 12, 8 p.m., at 4&20 Blackbirds, 2606 Mandela Parkway, Oakland. 21+. RSVP to [email protected].