Happy Friday East Bay! Listen to this epic mashup of the most popular songs of 2013 as you read our round-up of the five best things to do with yourself this weekend:
Queens of the Stone Age
Josh Homme may have started off his career as an excavator of desert-rock riffs, but he soon made it clear that he's a far more versatile and appealing songwriter, not to mention a controlled-yet-slightly-unhinged performer. (I once saw him encourage a member of the audience — who he claimed was his brother — to grab his crotch.) Queens of the Stone Age, his primary vehicle of the past seventeen years, has included a rotating cast of players and guest performers, and has fearlessly taken his distinct brand of riff rock into conceptual, experimental, and melodic places. …Like Clockwork, the band's latest (and its first release since 2007's Era Vulgaris), shows Homme continuing to stray from the potent riffs on which he built his early career. Still, there's a bombastic art-rock scale to songs like "If I Had a Tail" and "Kalopsia," the latter of which is balanced with doo-wop dreaminess. The dirty bluesy riff of "Smooth Sailing," meanwhile, sounds like an outtake from Eagles of Death Metal (Homme's other outfit). Throughout, Homme is helped along with an even bigger roster of guests, including former collaborators Mark Lanegan, Nick Oliveri, and Dave Grohl, as well as Elton John, Scissor Sisters' Jake Shears, Nine Inch Nails' Trent Reznor, and others. Sadly, those guests won't perform with the band when it stops by the Oracle Arena on Friday as part of LIVE105's Not So Silent Night, but count on Homme to be plenty engaging — even from the nosebleed section. Friday, Dec. 6. 5:30 p.m., $37.50-$50. Ticketmaster.com — Kathleen Richards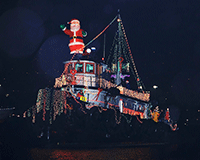 37th Annual Lighted Yacht Parade
This year, Oakland's annual holiday yacht parade rings in the season with a global theme. Stake out a spot at Jack London Square, the
Oakland Yacht Club
, the
Encinal Yacht Club
, or any waterside restaurant along the Oakland/Alameda estuary and watch boats adorned with lights and festive decorations — such as giant inflatable Santas, lit-up reindeer and snowmen, holiday bands, and symbols representing holidays around the world — glide by. Owners of vessels from canoes to sailboats will go all out to compete for the "best decorations" distinction. If you'd like a closer look at the craftsmanship, you can participate in the parade yourself by donating a toy and earning a ride on the San Francisco Bay ferry for free. All proceeds will go toward the Oakland Firefighters Random Acts and the Alameda County Community Food Bank. Saturday, Dec. 7. 4:30 p.m., free.
LightedYachtParade.com
—
Zaineb Mohammed
[jump]
East Bay Alternative Book and Zine Festival
Hang out with fellow literary nerds at the fourth annual Alternative Book and Zine Fest, which happens this Saturday at Berkeley City College. With more than sixty local writers and artists selling their work, chances are you'll find something to your liking, whether you're a comic-book fiend, graffiti-art enthusiast, or a seeker of radical polemics. Don't miss the performance by the local all-girl literary spoken-word group Sister Spit, hosted by Michelle Tea, and the reading by New York Times bestselling author Steve Almond. Get crafty at workshops on book- and 'zine-making, cartooning, and screen-printing, or do some holiday shopping and find local treasures for your bookworm friends. Saturday, Dec. 7. 10 a.m.-5 p.m., free. EastBayAlternativeBookandZineFest.com — Z.M.
Urban Outskirts
The exhibit
Urban Outskirts
is remarkably representative of the gallery that is housing it. Nestled in Jack London's warehouse district,
Blackball Universe
is a music, art, and film collective that hosts an eclectic variety of art shows — among many other things. To visit, ring the doorbell, ascend the narrow staircase, and enter into a disorienting, bohemian maze of varying texture, color, and lighting. The creative fun house is in perfect tune with the paintings by Seren Moran, Lorna Strotz, and Lauren Scherf-Srivastava that currently hang in its gallery. Each artist offers her own wild, architectural impressions of urban landscapes in varying degrees of abstraction. Influenced by Brazilian cityscapes, Berkeley native Moran reimagines conventional depth perspective with rebellious, jutting angles in vibrant, parrot-feather hues of acrylic. Meanwhile, Strotz's abstract watercolors depict forms reminiscent of boats and spaceships with a romantic blend of bleeding colors. Altogether, the experience of the show pushes the possibilities for urban spaces to take on unconventional beauty. Through December 29.
BlackballUniverse.com
—
Sarah Burke
Winter Cookbook Extravaganza
Sure, presents are great, but what really makes the holidays a shared experience is food. But don't just settle for the typical green-bean casserole and eggnog. On Sunday, Diesel Bookstore will host a Winter Cookbook Extravaganza to help you add some gastronomic creativity into your holiday festivities. Cookbook authors Lauri Pastrone, Allison Arevalo, Erin Wade, and Emma Christensen will be dropping by to share some of their recipes, including those for home-brewed kombucha, Kosovan sticky donuts, mac 'n' cheese, and more. Join these Bay Area chefs to see how you can spice up your holiday this year. Sunday, Dec. 8, 2 p.m., free. DieselBookstore.com — Ivy Kim
Plus… Get your cheapskate on: This is how much we love you guys: Here are our searchable listings of every single free event happening in the East Bay this weekend.
Feed Us: Got any East Bay news, events, video, or miscellany we should know about? Holler at us at [email protected]