Hey party people, you made it through the week! Time to celebrate by watching this fake, zombie-filled trailer for a Love Actually sequel and reading our list of the five best activities to partake in over the weekend:
2nd Annual 'Hobbit' After-Party and Costume Contest
If you're eagerly awaiting the release of the second installment of The Hobbit trilogy, fear not: Your appreciation of all things LOTR need not end after the film does, because the Stork Club is hosting a night of fantasy-themed music. Performers include Bryaugh, a Tolkien-tribute lore-core band that plays punk and metal covers of songs from Tolkien movies; thrash metal band Dizastor; heavy punk band Agata, who wrote a song about Games of Thrones in sword and dragon solidarity; Limbs, a death metal group; and Thee Hobo Gobbelins, a quintet who describe themselves as "the green-skinned child of punk rock, avant-garde performance art and hobo soul." Dress to impress. Friday, Dec. 13. 9 p.m., $5. StorkClubOakland.com — Madeleine Key
A Funkadelic Holiday Show: Tribute to Teena Marie
There is no shortage of solemn, classical music events with religious undertones in the Bay Area this holiday season. But sometimes, properly celebrating the season of joy demands a little bit of lighter fare. Get loose while you hold friends and family close with the help of Carmen Jones and the DejaVu Band which will pay homage to legendary R&B and soul singer Teena Marie at Rhythmix Cultural Works for the third year in a row. Marie was the protégée of Rick James and arguably the most famous white Motown artist: Over the course of her decade-spanning career, she received multiple Grammy nominations, released fourteen albums, and had many light-hearted, groovy hit songs. With commanding stage presence and impressive range, Jones (who met and recorded with Marie when she was a young girl) is an adept stand-in. She'll also sing some of her own funk and R&B songs, as well as "funkadelic" versions of holiday favorites. Saturday, Dec. 14. 7 p.m., $25-$30. Rhythmix.org — M.K.
[jump]
SambaFunk! Joy III
Carnaval happens in March, but this week, Oakland's SambaFunk! will bring its Brazilian warmth to the holidays with the third annual JOY dance party and samba competition at
Shadow Ultra Lounge
. Newbies can learn the basics of samba during a demo, then join in the all-night, hip-shaking, life-affirming, funk-tastic free-for-all, with live performances by Funkternal, FunkTyme Playahs, Queens of SambaFunk! and Daughters of Funkquaria, plus DJ EPIC, who will spin soul, funk,
cumbía
, and R&B. The main event is the
alegria de samba
("joy of samba") competition at 8 p.m.: After answering a "JOY-ful" question, contestants will dance in their own style for three minutes, backed by live drums, in true samba style. Created by Oakland's own samba king Theo Aytchan Williams, the evening raises funds for SambaFunk!'s dance and drumming classes for low-income families and youth, so strap on some sequins, shake a tail feather, and share the joy. Saturday, Dec. 14. 7:30 p.m.-2 a.m., $10-$15.
SambaFunk.com
—
Claudia Bauer
Foodie Gift Faire
Having grown up in a Portuguese winemaking family in the Sacramento Delta region, vintner David Teixeira brings the tradition and expertise of many generations to the Zinfandel, Sangiovese, and other wines he makes and sells at Lusu Cellars, which is named after the Roman god who the ancients believed brought winemaking to the Iberian peninsula. The Foodie Gift Faire at Lusu Cellars on Saturday will feature tastings of wines from Lusu as well as from boutique winery Eno Wines (which is housed in the same building), along with items for sale from artisanal producers of honey, olive oil, organic produce, and more. Saturday, Dec. 14. 1-4 p.m., $5. LusuCellars.com — Anneli Rufus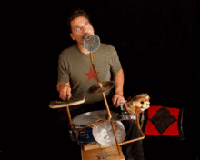 Amy Snyder
Bernie Jungle and Shirly
Shirly's Variety Show Extraordinaire
With clown performances, wistful pop songs, and Hawaiian kitsch music,
Studio Quercus'
third and final variety act of the year doesn't sound like the typical holiday show. Take a break from tradition and enjoy stories and songs from pastor, professor, and former cabbie Ray Halliday; watch the trio Clowns on a Stick explode small bombs; and listen to Karry Walker and Myles Boisen rock out on the ukulele and acoustic slide guitar, performing tunes about topics such as pregnancy tests and criminal tendencies. Bernie Jungle will emcee the whole extravaganza while playing the drum kit he built (named Shirly). Watch out for any flying rubber chickens. Saturday, Dec. 14. 8 p.m., $12.
StudioQuercus.com
—
Zaineb Mohammed
Plus… Get your cheapskate on: This is how much we love you guys: Here are our searchable listings of every single free event happening in the East Bay this weekend.
Feed Us: Got any East Bay news, events, video, or miscellany we should know about? Holler at us at [email protected]