It's Friday! Time to get on top of your desk and dance. Here are the five best ways to spend your weekend:
East Bay Bike Party
The East Bay Bike Party is riding again on Friday. The mobile party, which occurs on the second Friday of every month, welcomes riders of all ages and experience levels to meet up and bike together from the Coliseum BART Station (7200 San Leandro Ave.) into the streets of Oakland. This month's theme is Twisted Carnival, so break out your face paint, clown costume, or fortune-telling outfit and head out for an adventure. Feel free to bring your friends along, but organizers ask that you make sure they think "safety is sexy," as the party's code instructs riders to obey traffic rules, bring lights, and not get smashed. Second Friday of every month, free. EastBayBikeParty.Wordpress.com — Zaineb Mohammed
Stranded Records 1st Birthday Party
Since opening a year ago, Stranded Records has established itself as one of the East Bay's best spots to discover music — thanks to both its inventory and its live shows. Co-owner Steve Viaduct, who also runs the label Superior Viaduct, has booked performances by such musical luminaries as Bonnie "Prince" Billy and readings by legendary rock critics like Greil Marcus and Joe Carducci. For its first birthday, the store will host venerable Los Angeles punk trio The Urinals, local songwriter Meg Baird (formerly of Espers), and, most noteworthy, Oakland guitarist Ava Mendoza, whose performance will mark her last show before she moves to Brooklyn. Mendoza is one of the most gifted and versatile guitarists in the Bay, whether she's collaborating with Merrill Garbus of tUnE-yArDs or sitting in at Bar 355's Improvised Music Session. At Stranded, Mendoza will be joined by her Unnatural Ways bandmate Dominique Leone; they'll play both Mendoza's solo work and new music from the band's forthcoming full-length. And, in a fairly new turn for the guitarist, Mendoza said she plans to sing on some of the songs. See her before Brooklyn starts claiming her as its own. Saturday, Sept. 14. 3 p.m., free. StrandedInOakland.com — Whitney Phaneuf
[jump]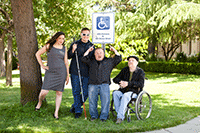 Comedians With Disabilities Act
Made up of comedians with different disabilities, including Emery-Dreifuss muscular dystrophy and stuttering, the Comedians With Disabilities Act aims to educate and entertain at the same time. In 2010, comedian Michael O'Connell met visually impaired comic Eric Mee and comedian and self-identified "little person" Steve Danner through the comedy club circuit; together they decided to form a troupe in which they could make fun of the way people react to their disabilities instead of just making fun of themselves. Stuttering comic Nina G. joined the next year and the hilarious quartet has been touring together ever since. Joined by special guests Queenie TT and Steve Lee, the troupe will be performing in a benefit for the
Pacific Pinball Museum
this weekend. Following the show will be a dance party DJed by Darren Brown. Saturday, Sept. 14. 8 p.m., $15.
PacificPinballMuseum.Eventbrite.com
—
Z.M.
Agalloch
Since forming in 1995, Agalloch has put out just four full-length albums (with a handful of EPs sprinkled in between), and yet, while such a sporadic release schedule (and equally sporadic touring routine) might be seen as a detriment to a band's career, it has had the opposite effect on this Portland outfit. Led by John Haughm (and now featuring San Francisco drummer Aesop Dekker, formerly of Ludicra and currently also of Worm Ouroboros), Agalloch plays contemplative, cinematic "folkish" black metal with progressive elements. It's far more thoughtful than 99.99 percent of metal these days, and is crafted with equal attention to melody and heaviness — which explains why NPR covers it and fans obsess over it. The band is still supporting last year's twenty-minute-plus single-song EP, Faustian Echoes, and will stop by the Oakland Metro this week as part of a brief, four-stop West Coast tour. It's a rare opportunity, so don't miss it. With Worm Ouroboros and Lycus. Saturday, Sept. 14, 8 p.m., $12, $15. OaklandMetro.org — Kathleen Richards
Tamale Cook-Off
Making tamales is
mucho más dificil
than making burritos. Observe master masa-manipulating skills in action at Viva Tamales, a tamale cook-off and Mexican Independence Day celebration at
La Borinqueña Mexicatessen
. Many local artisans will make tamales of various types — sweet and savory, meatless and fully fleshed — which participants can then sample and judge, with beer and sangria on hand to enhance la fiesta. All proceeds benefit La Clinica de la Raza's educational programs. Sunday, Sept. 15. 12-4 p.m., $15.
TamaleGirl.com
—
Anneli Rufus
Plus… Get your cheapskate on: This is how much we love you guys: Here are our searchable listings of every single free event happening in the East Bay this weekend.
Feed Us: Got any East Bay news, events, video, or miscellany we should know about? Holler at us at [email protected]