Bummed you didn't snag a ticket to Outside Lands? Console yourself with these excellent weekend festivities happening right here in the East Bay:
Lip Service West: True Stories
There's your run-of-the-mill reading, and then there's Lip Service West. Led by Joe Clifford, a heavily inked former heroin addict with a self-professed weakness for Jack Kerouac, Lip Service West showcases the less-than-rosy lives of writers. Thriving off a certain brand of gritty stories that can only come from the day-to-day lives of the creative and occasionally downtrodden, the event features writers — professional and otherwise — baring it all, to hilarious and heartbreaking effect. Join Clifford and his cast of five featured readers this Friday at Pegasus Books for the next iteration of the bi-monthly literary spectacle. Fri., Aug. 9, 7:30 p.m., free. PegasusBookstore.com — Azeen Ghorayshi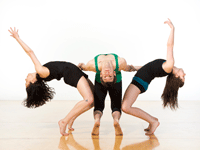 Release Your Quest
Since its founding in 1958,
Shawl-Anderson Dance Center
has lovingly nurtured modern-dance artists — perhaps a fitting role for a school located in a century-old family home. This weekend the cozy studios are the venue for the emerging talent of Shawl modern-dance teacher and artist-in-residence Troy Macklin, a Juilliard graduate who will present his first evening-length production, Release Your Quest. Created by Macklin in collaboration with Leah Curran, Rebecca Demotte, Jerry Christopher Lin, and Vera Schwegler, the contemporary solos, duets, and trios comprise theatrical and lighthearted themes, with music that ranges from the electronic explorations of Matmos to live vocals with piano accompaniment. What the pieces share is the intimacy and inspiration that Shawl-Anderson cultivates in dancers and choreographers alike, and the risk-taking that results when artists are given a place to call home. Aug. 9-11, 8 p.m., $15, $20.
Shawl-Anderson.org
—
Claudia Bauer