Woo hoo it's the weekend! Watch this video of a
piglet and a pitbull becoming friends
and then read our list of the five best events that are happening in the East Bay for the next three days:
Talkies
Comedy shows and museum-going don't often go together, but George Chen is changing that notion for 
Berkeley Art Museum and Pacific Film Archive's
 next L@TE event, Talkies. The comedian and musician has recently noticed more crossover between the worlds of art and comedy, and in order to celebrate that trend, he is bringing his monthly comedy/multimedia show to the East Bay for the first time, as part of the museum's L@TE programming. Chen's monthly variety shows typically feature comedians using PowerPoint presentations and video in their sets instead of doing traditional stand-up routines. For the L@TE show, veteran comedian Ron Lynch (well known from his role on the animated series
Adventure Time
) will do a series of character performances involving audio elements, and musical and physical comedy duo Sad Vicious and Talkies collaborators Kyle Mizono and Land Smith will also perform. Friday, July 18. 7:30 p.m., $7, free for members, Cal faculty, staff, and students, and children 12 and under. 
BAMPFA.Berkeley.edu
 —
Zaineb Mohammed

Berkeley Spark
If you ask someone who has been to Burning Man to explain it, they'll often say that you can't
fully
understand the magnificence of the experience until you go. But for those who aren't up for the trek (or the dust), there's now a way to grasp the event without leaving the safety of the Berkeley bubble: Berkeley Spark. Described as a "community-driven art, innovation, science, and technology festival," the second annual Berkeley Spark will happen in 
Civic Center Park
 this Saturday. It will feature a market with items that those going to Burning Man may need on the playa, interactive art sculptures, Burning Man theme camps, workshops, food, a beer and wine garden, and a hip-hop open mic, a musical performance by Laura Inserra from the multidisciplinary performing art and music organization Samavesha. While the festival does offer resources for those preparing for a trip to the playa in August, organizers emphasized that the event is intended for the whole community. Saturday, July 19. 11 a.m.-9 p.m., free. 
BerkeleySpark.org
 —
Z.M.
[jump]
Meet Your Maker
The phrase "locally produced" has a lot of cachet right now in the Bay Area, but the local economy movement is more than just a trend. In order to celebrate the important role that local businesses play in creating an alternative, sustainable economy, the 
David Brower Center
 is hosting a Meet Your Maker event at which attendees can fully immerse themselves in maker culture by browsing crafts as well as participating in activities and workshops. For the festival, Treasure Island Flea and the Jack of All Trades Market have combined forces to create a local craft market selling items such as furniture, live art, and jewelry. In addition to the opportunities for shopping, attendees can learn how to scavenge from the folks at Urban Ore, find out about in-home fermentation techniques from the Institute of Urban Homesteading, and discuss time banking (building supportive networks) with organizers from the Bay Area Community Exchange. And those who want a more hands-on experience can swap items with strangers during Kathryn Kenworth's INSTA-TRADE project and compose a Yelp love letter to their favorite locally owned business. Saturday, July 19. Noon-6 p.m., free. 
BrowerCenter.org
 —
Z.M.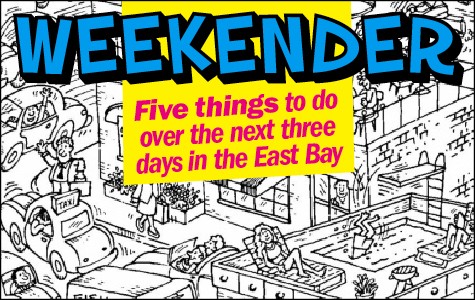 Chop Bar Pig Roast
Having firmly established its reputation as one of the OGs of Oakland's food renaissance, Chop Bar returns to its roots each summer, continuing a long-held tradition that dates back to the restaurant's Eat Real Festival debut: an outdoor block party centered on a whole pig (or two or three), roasted to crisp-skinned perfection inside a wooden box. For this Sunday's pig roast, held at the 
Linden Street Brewery
, each $20 ticket pays for the pork, plus an assortment of sides: green beans, potato salad, tomato and arugula salad, cornbread, and three sauces. Wash it all down with $4 Linden Street beers and $5 Fernet Brancas. The food is all-you-can-eat for as long as it lasts. According to chef Lev Delany, there is usually plenty for those with large appetites to have seconds and even thirds. Sunday, July 20. 4-8 p.m. 
OaklandChopBar.com
 —
Luke Tsai
Some Ember

Following a string of cassette-only releases, Northern California duo Some Ember released its eponymous debut album last month. On it, punishing drum machines underpin percolating synthesizers and the alternately woeful and menacing vocals of Dylan Travis and Nina Chase. For contemporary acts channeling industrial techno and EBM, tone is integral. Some Ember appreciates that production is more than form — it's practically musical content. Percussive elements are honed to trenchant strikes and gauzy electronic textures are carefully wrapped in order to fully immerse listeners. Every sound is impeccably balanced in the mix.
Some Ember
also took the vinyl format into consideration. The A-side is assaultive and fierce; the B-side flirts with ambient house and synth-pop balladry. Production is so crucial to
Some Ember
that imagining the duo cast adrift on stage without the tools of a home studio is worrisome, but the group's strength on record warrants investigating its live show at 
the Night Light
 nonetheless. Sunday, July 20. 9 p.m., $7. 
TheNightLightOakland.com
—
Sam Lefebvre


Plus… Get your cheapskate on: This is how much we love you guys: Here are our searchable listings of 
every single free event
 happening in the East Bay this weekend.
Feed Us: Got any East Bay news, events, video, or miscellany we should know about? Holler at us at
[email protected]
.