It's first Friday! If you're trying to make some exciting weekend plans, read our list of the five best events to check out in the East Bay:
Honeydrop Hometown Throwdown
The California Honeydrops have come a long way from the days when Lech Wierzynkski and Ben Malament played obscure, old-timey, handmade instruments at local BART stations. Since then, the band — which now also includes Johnny Bones on tenor sax and clarinet, Lorenzo Loera on keyboards, and Beau Bradbury on bass — has completed nine European tours, performed at major festivals such as Outside Lands, and released four albums. But the self-described "party band" still sounds as humble, down-to-earth, and dedicated to exploring the vast spectrum of American roots music — a unique blend of New Orleans second-line, soul, funk, and Americana — as ever. This week, the group will play two shows at 
The New Parish
; Cajun blues band Tri Tip Trio and New Orleans-style brass band MJ's Brass Boppers will open the show, and the food truck Roderick's BBQ will be selling Southern food. Friday, June 6. 7:30 p.m., $15, $20. 
TheNewParish.com 
—
Madeleine Key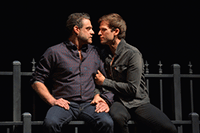 Urban Palette
What's more awe-inspiring: 
Rock Wall Winery's
 incomparable views of San Francisco or the work of fifty-plus local artists and crafters being exhibited during its Urban Palette party on Saturday? Judge for yourself while sipping more than 25 wines; visiting food trucks and booths (Munch India, Whip Out, The Melt, Cocotutti, Fist of Flour, Bombzie's BBQ, and many more); and listening to DJ Riktor, Gypsy Fire, and other performers. Saturday, June 7. 1-5 p.m., $10. 
RockWallWines.com
 —
Anneli Rufus
[jump]
Oakland Vegan Beer & Food Festival
Hey vegans, this Saturday, there's a food and beer festival especially for you: The 
Oakland Vegan Beer & Food Festival
 will take place at 
Classic Cars West.
 Featured vendors include the Hella Vegan Eats food truck, Timeless Coffee, and the aforementioned Curbside Creamery (with its selection of cashew-based vegan ice creams), plus beer and cider from Commonwealth Cafe and Public House. A portion of food sales will benefit Rocket Dog Rescue. Saturday, June 7. 11 a.m.-5 p.m., free. —
Luke Tsai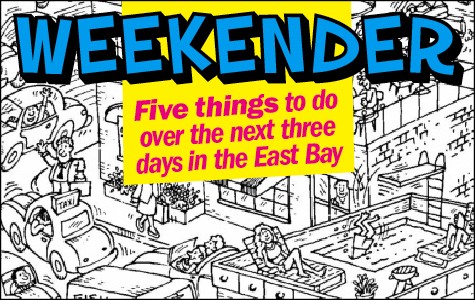 The Intelligent Homosexual's Guide to Capitalism and Socialism with a Key to the Scriptures
The Intelligent Homosexual's Guide to Capitalism and Socialism with a Key to the Scriptures, written by Tony Kushner, takes place in a Brooklyn brownstone where Gus (Mark Margolis), a retired longshoreman and union organizer, has decided to kill himself. His grown children — Pill (Lou Liberatore), Empty (Deirdre Lovejoy), and Vito (Joseph J. Parks) — and his sister Clio (Randy Danson) are not too keen on the idea, as you can imagine, and all gather in Gus' Carroll Gardens home to try to change his mind. As you might suspect from the "intelligent" in the title, much of the play's dialogue is peppered with philosophy, Marxist creeds, and theology — even the sex scenes are remarkably heady — but the central force behind the familial struggle requires no outside reading on dialectics or tracts on the history of labor. It's decidedly animalistic. Kushner's commitment to the visceral and dramatic remains intact, and the humor is abundant, even if it is decidedly gallows-based. Runs through June 29. $29-$99. 
BerkeleyRep.org
 —
Anna Pulley


Urban Farm Tours
If you've been trying to figure out how to set up an aquaponics system or a goat dairy operation in your backyard, the upcoming Urban Farm Tour, hosted by the Institute for Urban Homesteading, is your chance to learn from the experts. Happening this Saturday in Berkeley and Oakland, the tour includes eight farms with a variety of different features, and participants can choose which sites to check out based on their interests. Novice and experienced urban farmers alike can pick up tips on how to implement a low-water-use system from the owners of Earthly Arts Farm, or learn how to make the most efficient use of a tiny amount of space from the folks at Lower Bottom Strange Grange. Tours at each site start every hour. Questions are encouraged and sampling is generally welcomed. Saturday, June 7. 10 a.m.-4 p.m., $5 per site, $3 for kids under 12; $30 for a full day pass. Email
[email protected]
to register and receie addresses for farm locations or visit 
IUHOakland.com
.  —
Zaineb Mohammed