It's the weekend and we're finally getting some much needed rain—time to celebrate! Check out the five best events happening this Friday through Sunday:
Last Nite: A 2000s Indie Dance Party
There's nothing quite like the feeling of nostalgia to fire up one's desire to dance. That was the thinking behind the long-running Nineties-themed party "Debaser," which was hosted by DJs Emdee and Jamie Jams at The Knockout in San Francisco. But earlier this year, they called it quits, and instead decided to "apply the same intellectual rigor, commitment to period accuracy, and creative selection" to the Aughts, Jamie Jams wrote in an email. Expect to hear songs from bands such as Interpol, Yeah Yeah Yeahs, MIA, Hot Chip, Simian Mobile Disco, Arcade Fire, Daft Punk, and Basement Jaxx. To kick off the party — which will take place at 
The Night Light
 every fourth Friday, beginning this month ­— the LCD Soundsystem tribute band North American Scum will perform. Friday, Mar. 28. 10 p.m., $5 before 11 p.m., $10. 
TheNightLightOakland.com
 —
Madeleine Key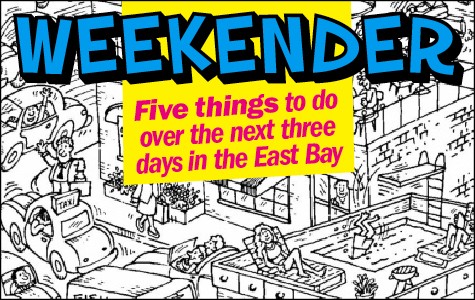 Noothgrush
It's safe to say that only in Oakland could one attend a metal show at an Eritrean/gluten-free pizza parlor/sports bar. Perhaps this says something about the lack of small local venues for metal bands, or the cross-cultural transactions that naturally occur in diverse communities. Regardless, there are plenty of other reasons to attend Saturday's show at 
MLK Cafe
 — first and foremost is headliner Noothgrush, a South Bay band that began two decades ago, took a ten-year hiatus, and reformed in 2011. Since, it has played major festivals and toured internationally, and its most recent release — a split with Japanese doom outfit Coffins — finds the foursome (now featuring Dystopia's Dino Somesse on vocals) as caustically sludgy as ever. Also on the bill are death metal/crust band Necrot, which features Saviours' Sonny Reinhardt on guitar; hardcore outfit Blown to Bits; and Baltimore's experimental ambient duo Darsomba. Saturday, Mar. 29. 7 p.m., $7. —
Kathleen Richards
[jump]
J. Mitchell, Aima the Dreamer, Holly Saucy, and Queens D. Light
There's a depressing dearth of well known female emcees in hip-hop. However, that's not for a lack of talent, especially in the Bay Area: J. Mitchell, Aima the Dreamer, Holly Saucy, and Queens D. Light are among the many talented local women who can rock the mic, and they'll all be performing at 
Legionnaire Saloon
 on Saturday. Each one brings something different to the table: J. Mitchell has a soulful, jazzy voice; Aima the Dreamer flows sexily and confidently; Holly Saucy delivers rapid-fire lyrics in a deep voice (and on her new album,
Death of Mermaid
, she proves she can sing, too); and Queens D. Light combines silky rhythms with dark rhymes. Saturday, Mar. 29. 9 p.m., $5. 
LegionnaireSaloon.com
 —
M.K.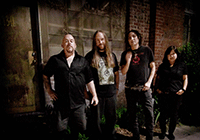 Three Acts, Two Dancers, One Radio Host
This American Life
host Ira Glass combines the often-misunderstood medium of dance with radio for his latest show,
Three Acts, Two Dancers, One Radio Host
. "I'm touring with [members of] a dance company," he said, referring to dancers Monica Bill Barnes and Anna Bass. "I tell stories, they dance, which I know sounds awful, but I swear is good." The show — which premiered in Philadelphia last April and stops by 
Zellerbach Hall
 on Saturday — is similar in structure to a
This American Life
episode. There are three stories: The first is about show business, the second is about love, and the last is about losing what you love. in one story about a husband taking care of his wife during the last few days of her life, Barnes and Bass stand atop a dining table and move very slowly, holding each other in their arms. When asked whether he busts out any dance moves of his own during the show, Glass was mum. "I don't talk about that," he said. Looks like you'll have to find out for yourself. Saturday, Mar. 29. 8 p.m., sold out, but a limited number of tickets may become available. Go to 
CalPerformances.org
 to get on the list. —
Zaineb Mohammed
Beat Swap Meet
Vinyl's continued popularity proves that physical formats aren't dead (yet): In 2012, Nielsen Soundscan recorded the highest vinyl sales ($177 million) since 1997. Locally, the growing presence of record stores — most notably 1-2-3-4 Go! Records, which is not only expanding but also phasing out its CD stock — also indicates a small push against the digital trend. Now comes Beat Swap Meet, a Los Angeles-based traveling swap meet featuring dealers and collectors from all over the United States, which will stop by Berkeley's 
La Peña Cultural Center
 and 
Starry Plough
 on Sunday. Organizers promise a variety of genres for sale/swap; DJ sets by Platurn, Davey D, and others; music by Brian Oblivion, EarDr.Umz, Rokem, and Sk.ill; a live performance by jazz-sampling rapper Dr. Oop; and much more. Sunday, Mar. 30. Noon-6 p.m., $5 with canned food donation. 
BeatSwapMeet.com
 —
K.R.