On Sunday night, Grammy-winning singer/song-writer John Legend gave a soulful performance at Zellerbach Hall at UC Berkeley. It was the second Bay Area stop on his "All of Me" tour. From behind the piano, the multi-talented R&B artist entertained the excited crowd with a four-person orchestra and electrical guitarist. The absence of backup singers and dancers was hardly noticeable because Legend completely captivated the audience through his deep melodies and talent on the piano. What sets Legend apart as a performer, beyond the impressive set list and wide vocal range, is his ability to emotionally connect with the audience, making each person feel like he is personally serenading them.
[jump]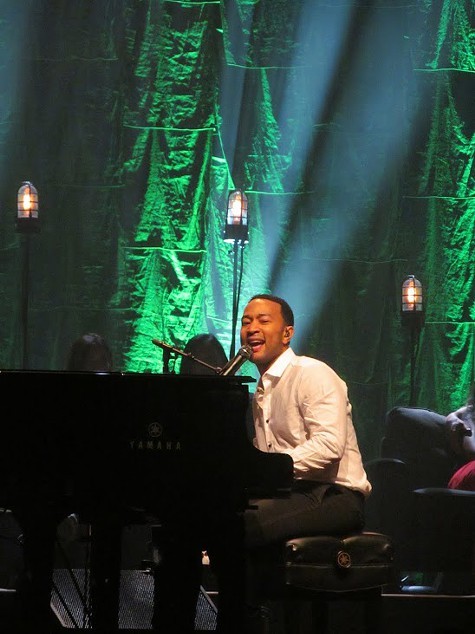 Nadeen Jubran
John Legend at Zellerbach.
Legend kicked off the show with an orchestral medley of his best songs from his new album,
Love in the Future
, followed by a dazzling performance of "Made for Love," and then by "Tonight." Legend then treated his fans to some of his classics, including "Get Lifted," "Stay With You," and "Cloud Nine."
Legend also sang a deep rendition of Simon and Garfunkel's "Bridge Over Troubled Water" that brought many audience members to tears. He also sang a jazz cover of Bruce Springsteen's "Dancing in the Dark" that he first performed on Late Night with Jimmy Fallon and later at the Grammys as part of a tribute to Springsteen. Songs from his Evolver album included "Green Light" and "Everybody Knows," and he wrapped the show with more new songs like "Caught Up," "Who Do We Think We Are," and even dedicated "All of Me" to the couple sitting on stage with him.
Legend revealed bits about his personal life through anecdotes he shared with the crowd in between his songs. After telling the audience how much he loves Berkeley and the Bay Area, he told a story about his childhood, growing up in Springfield, Ohio. His father, Ronald Stephens, worked at an auto factory, often doing double and triple shifts. "But when he was feeling extra romantic," Legend said, "that's when he called the babysitter. He told my mother, 'Baby! We're going to Red Lobster!" He then explained that his father taught him to be a gentleman, and Legend soon realized that "the way to a woman's heart is just a little shrimp."
He also spoke of his humble beginnings and struggles to get a record deal. Before getting signed with the help of Kanye West, Legend said Clive Davis and many other big music producers rejected him. Before his big break, he performed at the Living Room in New York City. But his time slot wasn't so great, Legend explained. "They had me at 5:30 on a Friday afternoon … and no one was there."
Before singing "Used to Love U" last night, he explained that the lyrics to his first single came from constantly being broke. But that type of song will only really work the first time, Legend said. "It's like when Lorde sings Royals: 'We'll never be royals'… and now she's rich!"
The connection Legend forms with his audience was clear at Zellerbach. He asked for the house lights to illuminate the crowd several times to see the faces of his fans, asking for song requests and encouraging them to sing with him during "Ordinary People" and "Used to Love U." He also advised his fans to keep reaching for their dreams.
Legend is performing in Santa Rosa tonight.