Huzzah, it's Friday!! Watch this
Game of Thrones recap told through emojis
and read on for the five best events happening this weekend:
Slices of Life
The Bay Area is fertile ground for emerging modern-dance artists, and 
Shawl-Anderson Dance Center
 has a five-decade-long history of nurturing them and providing a forum for sharing their work. The latest company to take the floor at the cozy studio is Angela Demmel & Dancers, whose Slices of Life is the product of three years of choreographic exploration (Shawl-Anderson never rushes its artists). The school's intimate performance is space conducive to deeply felt dancing and suits Demmel's embodied examination of relationships in all their tender, strange, and rich dimensions. To further a visceral appreciation of the work, the audience is invited to sample food (there will be cake) as part of the experience. Seating is limited to sixty people per night, so advance tickets are highly recommended. Fridays and Saturdays, Apr. 4-5 & 11-12. 8 p.m., $20. 
Shawl-Anderson.org
 —
Claudia Bauer

Mary Roach
Bile, spit, and various other digestive byproducts don't exactly call to mind breezy reading — but then again, if anyone could turn the, ah, ins and outs of the digestive tract into delightful narrative, it might be the woman who made a New York Times bestseller out of human cadavers. Indeed, Oakland-based Mary Roach's newish pop-science book, Gulp, from which she reads at 
Pegasus Books Downtown
 finds humor, insight, and drama in the strangest of places: research labs, remote Canadian villages, fecal transplant operating rooms. Gulp is an absolute pleasure, even if it means you'll never be able to think about food the same way again. Friday, Apr. 4. 7:30 p.m., free. 
PegasusBookstore.com
 —
Ellen Cushing
[jump]
Phutureprimitive
Dancing is a natural form of escape, but few DJs embrace electronic dance music's capacity for catharsis as much as longtime Bay Area producer and songwriter Rain, who performs under the name Phutureprimitive. On his last tour, he encouraged concertgoers to exorcise their fears on the dance floor by writing what they wanted to rid themselves of on a piece of paper, taping it to the bottom of their shoe, and dancing out their "demons." By mixing down-tempo, glitch hop, dub, breaks, psychedelic rock, and soothing female vocals, Rain creates bass-heavy tracks that are mystical, hypnotic, and, at times, mind-melting. He'll perform this week at 
The Uptown Nightclub
, with Sixis, Bird of Prey, DJ Edi, and VGNX. Saturday, Apr. 5. 9 p.m., $10, $20. 
UptownNightClub.com
 —
Madeleine Key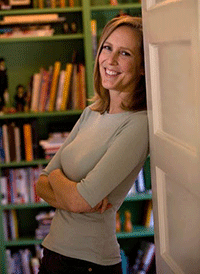 Rhone Rangers Grand Tasting
You'd need a lot of space to have more than one hundred winemakers pour more than four hundred American Rhone-varietal wines. That's why the Rhone Rangers' seventeenth annual Grand Tasting is being held in the capacious 
Craneway Pavilion
 on Sunday. As the nation's leading Rhone-related nonprofit, the Rhone Rangers aim to educate the public via massive samplings of Viognier, Grenache Blanc, Syrah, Carignane, Roussanne, and their elegant ilk. Participants are encouraged to take public transportation; a free shuttle will run from El Cerrito BART to the Craneway. Sunday, Apr. 6. 3 p.m., $75-$275. 
RhoneRangers.org
 —
Anneli Rufus

12th Oakland International Film Festival
Filmmaker David Roach started the Oakland International Film Festival back in 2002 with the goal of supporting Oakland's burgeoning independent filmmaking community. Twelve years later, the festival includes 42 local and international films, and spans four days and three cities, with screenings at 
The Grand Lake Theater
, 
Geoffrey's Inner Circle
, the 
Black Repertory Group Theater
, and the 
Historic BAL Theatre
. The festival kicks off on Thursday with
Toussaint L'Ouverture
, a film about the leader of the Haitian Revolution. Local films focus on both current and historical topics:
A Confused War
documents Richmond's efforts to reduce violence and
Thrown for a Loss: The Story of the 1963 Pittsburg Mallards
tells the story of a youth football team that was on its way to meet President John F. Kennedy when he was assassinated. Emphasizing community development, the festival will also hold a film "market" on Saturday, during which local filmmakers will showcase ten-minute clips of their work to potential funders. Thursday-Sunday, Apr. 3-6. $10-$15.  
OaklandInternationalFilmFestival.com
 —
Zaineb Mohammed