Hey party people, it's Friday! Time to throw a mini dance party at your desk and plan your weekend. Here are our picks for the five best events happening this Friday to Sunday:
Roots and Branches
DJ Crimson views every genre of music he spins as just "a root or a branch on the musical family tree." Roots and Branches, the appropriately titled event he's been hosting every third Friday at 
The Layover
 since October, is "all about showing these connections and having fun with them," he wrote in an email. To achieve his goal, Crimson doesn't just spin hits; he also incorporates live musicians. Last month, he shared the stage with a horn trio, which brought serious flavor to already-energetic hip-hop tracks (including M.O.P.'s "Ante Up" and Notorious B.I.G.'s "Party and Bullshit"), as well as classic funk, Afrobeat, doo-wop, and pop songs. The only thing better than hearing Outkast's "SpottieOttieDopaliscious" on a Friday night is hearing it played with live horns. The party gets started early and doesn't stop until The Layover closes its doors. Friday, Mar. 21. 6 p.m., free. 
OaklandLayover.com
 —
Madeleine Key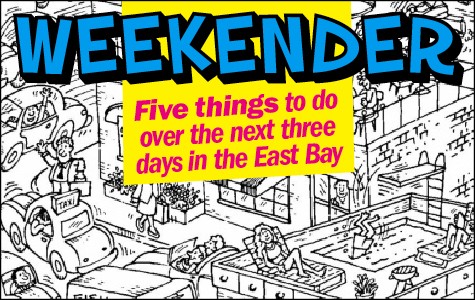 Trey McIntyre Project
Don't blink or you'll miss your last chance to see the Trey McIntyre Project, which has injected fun and freshness into contemporary dance for the past decade. The Boise-based company's tenth-anniversary season is to be its last, as artistic director McIntyre is moving on to work in film (including a collaborative documentary with the Preservation Hall Jazz Band), photography, and writing. For someone who doesn't consider himself a choreographer, he's leaving a notable body of work in his wake, and you can catch two of his more conceptual pieces this weekend, presented by Cal Performances at 
Zellerbach Hall
. Inspired by Edward Gorey,
The Vinegar Works: Four Dances of Moral Instruction
includes puppets by Michael Curry as well as Shostakovich's piano quintet in G minor, while
Mercury Half-Life
pays tribute to Freddie Mercury with exuberant dancing set to sixteen Queen hits. Saturday ticketholders can enjoy a pre-performance talk at 7 p.m. in the hall. Friday and Saturday, Mar. 21-22. 8 p.m., $30-$68. 
CalPerformances.org
 —
Claudia Bauer

[jump]
St. Vincent
St. Vincent, aka multi-instrumentalist Annie Clark, has made a career out of being an eccentric. And on her self-titled fourth album — which was released just a few weeks ago — she's dependably weird as hell, but also incredibly self-possessed.
St. Vincent
is a delightfully bewildering and larger-than-life album, careening between spazzy, reverb-heavy jams ("Rattlesnake") and measured, silky, choir-like ballads ("Prince Johnny"). The entire album sounds otherworldly, but throughout it all, Vincent's dynamic range, lyrical prowess, and killer beats dominate. Catch her show this week at 
The Fox Theater
, which will feature opener Noveller, the solo project of Brooklyn-based guitarist and filmmaker Sarah Lipstate. Saturday, Mar. 22. 8 p.m., $29.50. 
TheFoxOakland.com
—
M.K.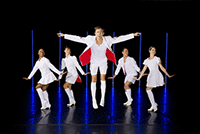 LATE NITE ART: Equinox
There's no shortage of events related to eating food, drinking wine, and making art, but Adam Rosendahl's collaborative workshop LATE NITE ART is one of the few that integrates all three. The series, described as a "social art experience," has quickly grown in popularity since it began in May 2012, selling out each month. Equinox is the theme of the thirtieth event, which will be held at 
Impact Hub Oakland
 after the first official day of spring. Participants can use pencils and paint to illustrate their feelings about sex and new beginnings while drinking wine and dining on a three-course gourmet meal provided by Oakland-based catering company Grace Hearth. Every few minutes, Rosendahl will pose a question to attendees as they rotate around a long table, adding their contributions to works that participants previously created. At the end of the evening, attendees may cut out pieces of the artwork to take with them, although some masterpieces may warrant preservation. Saturday, Mar. 22. 7-10:30 p.m., $40. 
HubOaklandEquinox.Eventbrite.com
 —
Zaineb Mohammed

Oakland Running Festival
In March 2010 Oakland hosted its first marathon in more than twenty years. Just three years later, the race was voted best marathon in the Pacific West region by
Competitor
magazine, in part due to the large spectator turnout (about 20,000 fans watch the race every year). This year, organizers are expecting some 10,000 participants: Runners can choose to participate in the full 26.2-mile marathon, a half marathon, a 5K run, a four-person relay, or a kids' run. For the chance to earn two medals, runners can take on the Run the Town challenge — a 5K run followed by the half marathon. Beginning at 
Snow Park
, the race covers much of the city, winding through Rockridge, Montclair, Fruitvale, Chinatown, West Oakland, Jack London Square, and the Lake Merritt area. An especially scenic view of the bay will be visible near the 
Mormon Temple
. After crossing the finish line back at Snow Park, runners will be able to celebrate by enjoying food and live music. Sunday, Mar. 23. 7:30 a.m.-2:30 p.m., $15-$275. 
OaklandMarathon.com
 —
Z.M.

Plus… Get your cheapskate on: This is how much we love you guys: Here are our searchable listings of 
every single free event
 happening in the East Bay this weekend.
Feed Us: Got any East Bay news, events, video, or miscellany we should know about? Holler at us at
[email protected]