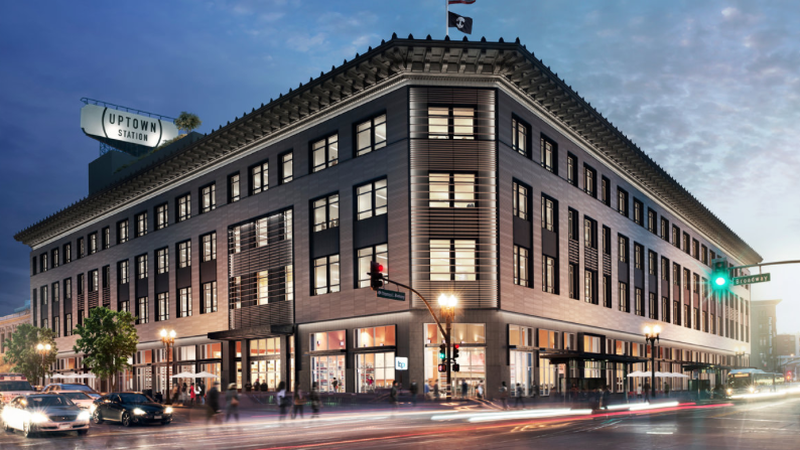 Stories you shouldn't miss for Dec. 20, 2017:
1. Uber
sold the old Sears building in Uptown Oakland for $180 million
— or $56.5 million more than the ride-hailing company paid two years ago, the
San Francisco Business Times
$ reports. CIM Group, which also owns Oakland's Jack London Square, purchased the 356,000-square-foot building and plans to spend about $50 million upgrading it to Class A office space. The value of downtown Oakland commercial space has skyrocketed in recent years.
2. The Alameda City Council
tabled a development proposal for 589 units of housing on the estuary
, reports Laura Casey for the
East Bay Times
$. The Encinal Terminals project by developer Tim Lewis Communities requires four votes to pass on the five-member council because it includes a land swap involving public waterfront property. Councilmembers called for more negotiations with the developer before voting again on the plan.
3. The Berkeley City Council
voted 5-3 to affirm the police department's ability to use pepper spray on violent protesters
, reports Annie Ma of the
San Francisco Chronicle
. The city's Police Review Commission had urged the council to reinstate a ban on pepper spray use. The council voted in September to lift the pepper spray ban after a series of violent protests between neo-Nazis and anti-fascists.
4. The GOP-controlled Congress
is expected to give final approval today to large tax cuts for corporations and the wealthy
,
The New York Times
$ reports. The legislation slashes the tax rate for corporations from 35 percent to 21 percent and reduces the top tax rate for wealthy people from 39.6 percent to 37 percent. The bill also raises taxes for millions of middle-class and low-income Americans, depending on where they live.
5. And UC Berkeley
has agreed to pay $80,000 to settle a claim filed by a doctoral student
who alleged that Nezar AlSayyad, a tenured architecture professor and an internationally recognized Middle East scholar, had sexually harassed her, the
San Francisco Chronicle
reports. AlSayyad remains employed by the campus but is under investigation by the Faculty Senate to determine whether he violated the Faculty Code of Conduct.
$ = news stories that may require payment to read.