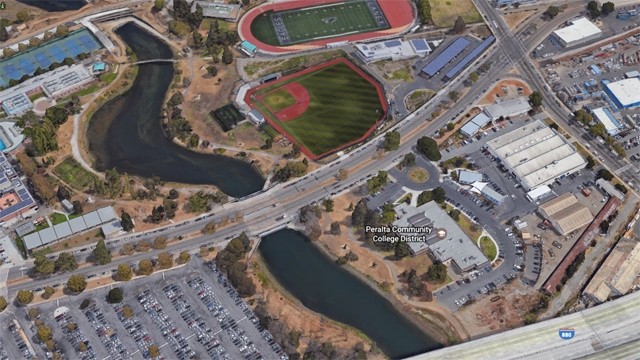 Stories you shouldn't miss for Dec. 6, 2017:
1. The Peralta Community College District Board of Trustees
has halted talks with the Oakland A's
for the team's controversial plans to build a new ballpark next to Laney College, reports Kimberly Veklerov of the
San Francisco Chronicle
. The board's decision indicates that it has no plans to move forward with the A's ballpark proposal. The A's would need the board's OK to build the ballpark because it would be on district land.
2. The Berkeley City Council
voted last night
to greenlight a plan to greatly streamline the construction of affordable housing in the city, Berkeleyside reports on Twitter. The proposal, authored by Councilmember Lori Droste,
would allow affordable housing developers to build in Berkeley without having to go through public hearings
— as long as city staffers approve the projects and they comply with zoning rules.
3. The city of Alameda
unveiled its newest fire station — Station 3 — a 9,000-square-foot facility at 165 Buena Vista Ave
., reports Laura Casey for the
East Bay Times
$. The new station features "two apparatus bays, a conference room, a public lobby, and a large kitchen."
4. The Berkeley school board
is considering a plan to build teacher housing in the city
, reports Natalie Orenstein of Berkeleyside. The board may decide to put a bond measure on the 2018 or 2020 ballot to finance the construction of workforce housing for teachers. The skyrocketing costs of housing in the region have made it difficult for school districts to attract and retain teachers.
5. The city of Oakland and PG&E
are proposing to transform an old power plant in the Jack London district into a solar powered facility
, reports David R. Baker of the
San Francisco Chronicle
$. The 40-year-old plant runs on jet fuel and is used just a few times a year to help meet electricity demand in the downtown area.
6. Wildfires, fueled by strong winds,
are continuing to rage in Southern California with the most recent blaze destroying homes and tearing through brush near the Getty Museum in Los Angeles
, the
LA Times
$ reports. The big Thomas Fire in Ventura County, meanwhile, j
umped Highway 101 and reached the Pacific Ocean
, burning 65,000 acres.
7. About 3,000 city of Oakland workers
went on strike for a second day today
, as libraries, recreation centers, and Head Start programs remained closed, the
San Francisco Chronicle
reports. The employees rejected the city's offer of a 4 percent raise.
8. And 16 Democratic U.S. senators, including Kamala Harris of California,
have called on Sen. Al Franken, D-Minn., to resign
following new allegations that he sexually harassed a woman in 2006, CNN reports. Franken said he plans to make an announcement tomorrow.
$ = news stories that may require payment to read.