Stories you shouldn't miss for Oct. 3, 2018:
1. The city of Oakland is
 opening its third Tuff Shed Shelter for homeless people
, with the newest encampment located next to the old Kaiser Convention Center near Lake Merritt, reports Kimberly Veklerov of the
San Francisco Chronicle
$. The villages of small prefab shelters, which have come under criticism from some activists, are designed as a transition for homeless people to get services and ultimately find more permanent housing. The city plans to build more Tuff Shed shelters in the future
on vacant Caltrans property
, thanks to legislation signed recently by Gov. Jerry Brown, Oakland North reports.
2. A former cook at a Top Dog restaurant in Berkeley
is one of four people charged for inciting violence
at last year's deadly white supremacist rally in Charlottesville, VA, the
San Francisco Chronicle
$ reports. "Federal prosecutors said Cole Evan White, 24, of Clayton and three alleged accomplices were affiliated with the Rise Above Movement, a racist and anti-Semitic organization based in Southern California that trains its members in martial arts for street fighting. Although the charges were related only to Charlottesville, investigators said the group also engaged in violence at demonstrations in Berkeley and Huntington Beach."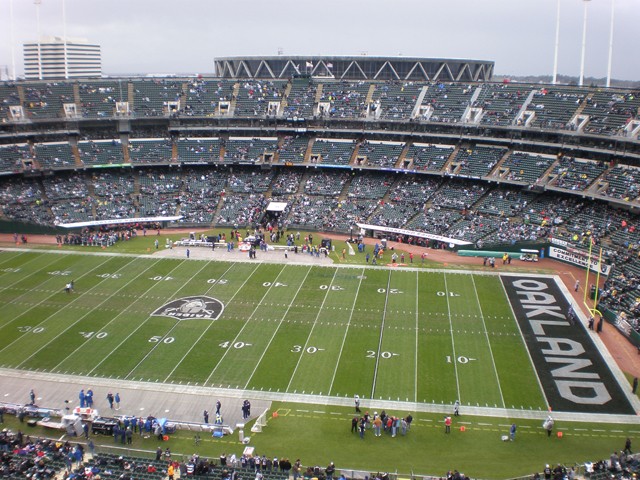 3. It's increasingly
looking like this is the Raiders' final season in Oakland
as the team has been unable to hammer out a lease extension at the Oakland-Alameda County Coliseum while the Raiders' new stadium is being built in Las Vegas, the
Chronicle
$ reports. It's appears unlikely that the Raiders would play anywhere else in the Bay Area next year, as well.
4. The city of Oakland
is expected to pay $1.75 million
to the family of a 16-year-old boy who died in 2015 when he fell when a tree branch broke near Lake Merritt, reports Kimberly Veklerov of the
San Francisco Chronicle
$. The family of Jack Lewis "alleged that city workers knew the Lakeside Park tree, near Fairyland, had decayed but did not mitigate the danger or warn the public."
5. And, in a sweeping investigation,
The New York Times
' reports that
President Donald Trump's claim of being a self-made billionaire is a complete fraud
and that he received more than $400 million from his father in shady transactions, some of which appear to have been illegal.
$ = news stories that may require payment to read.