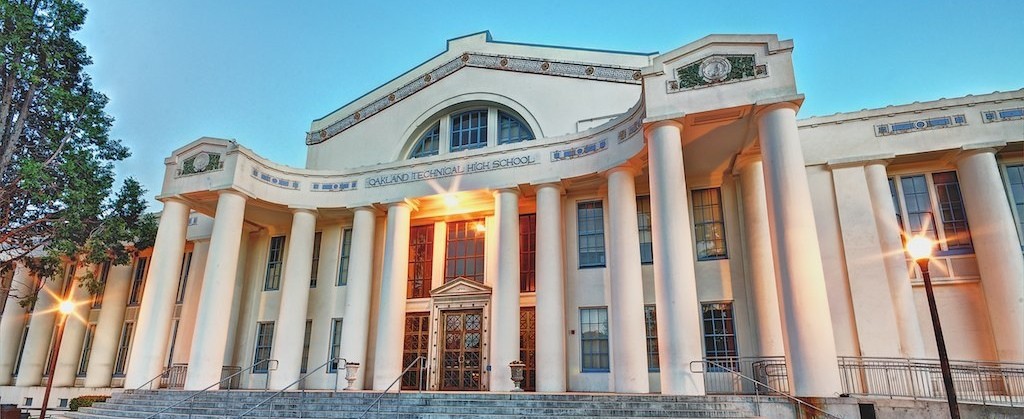 Stories you shouldn't miss for Jan. 9, 2018:
1. The cash-strapped Oakland school district is working on a plan
to close up to 24 schools in the next five years
in order to cope with a massive budget deficit, reports Ali Tadayon of the
East Bay Times
$. The district's plan comes in response to an Alameda County Grand Jury report that strongly criticized Oakland for having far more schools than its enrollment can support. Oakland's enrollment has plummeted from 54,000 to 37,000 students in the past 15 years.
2. Oakland Councilmember Dan Kalb and his former chief of staff Olga Bolotina intervened in a stabbing attack near City Hall and
helped save the victim and nab the suspect
, reports David DeBolt of the
East Bay Times
$. Kalb and Bolotina witnessed a man stabbing a woman, and with the help of another Good Samaritan were able to wrestle the knife away from the suspect, stabilize the victim, and hold the attacker until police arrived. The victim was taken to the hospital with serious injuries. The suspect has been charged with attempted murder.
3. President Trump said on Twitter this morning that he has
ordered FEMA to stop providing relief to California wildfire victims
— until the state changes its forest management practices to allow more tree cutting, the
Washington Post
 reports (via SFGate.com). However, it's not clear whether FEMA will carry out the president's order because of the federal government shutdown. If it does, it will be devastating to tens of thousands of victims of the horrific Camp Fire.
4. Gov. Gavin Newsom is proposing to spend
$305 million on improving the state's preparation and response to destructive wildfires
, reports Paul Rogers of the
Mercury News
$. "With Gov. Jay Inslee of Washington and Kate Brown of Oregon, Newsom also sent a letter to President Trump on Tuesday asking for the federal government to double its funding for fire prevention efforts in national forests in the three states."
5. Three top PG&E executives
are retiring this month
as the embattled utility faces a possible bankruptcy over its responsibility for California's numerous wildfires, reports J.D. Morris of the
San Francisco Chronicle
$. In addition, PG&E's credit rating
has plummeted to junk bond status
, Bloomberg News reports (via the
LA Times
$).
6. And a state appellate court has ruled that California "
is violating the rights of poor defendants
by attaching fees to misdemeanor criminal convictions regardless of their ability to pay," reports Bob Egelko of the
San Francisco Chronicle
$.
$ = news stories that may require payment to read.