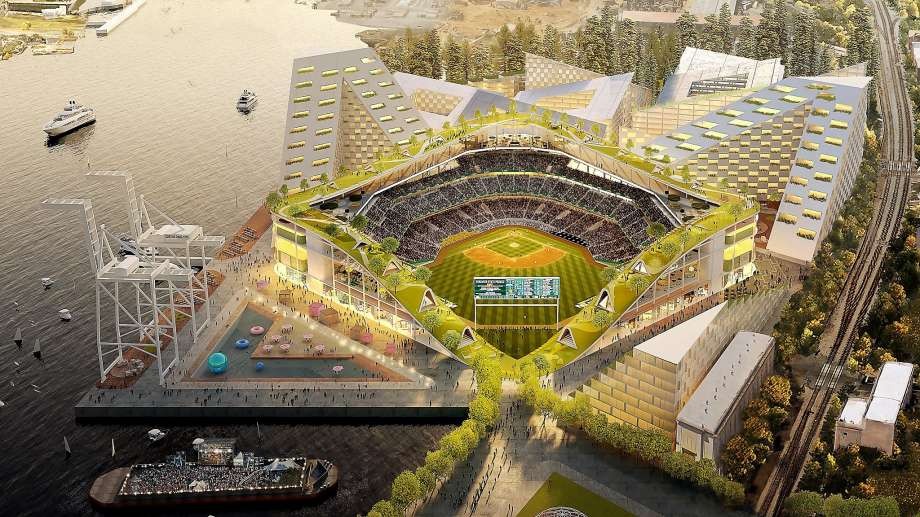 Stories you shouldn't miss for Nov. 28, 2018:
1. The Oakland A's
have unveiled plans to build a state-of-the-art ballpark at Howard Terminal
along the waterfront next to Jack London Square, the
San Francisco Chronicle
$ reports. The A's hope to open the 34,000-seat, distinctive park, which A's president Dave Kaval is calling a "jewel box," by the 2023 season. The team plans to privately finance the park by developing the old Coliseum site into a tech and housing hub, while keeping Oracle Arena in place.
2. The California College of the Arts is proposing to turn its Rockridge campus
into a large housing development featuring a 19-story tower
, reports Emily Hoeven of the
San Francisco Business Times
$. The project at 5212 Broadway would include 589 apartments, 25,000 square feet of arts space, 6,500 square feet of office space, and 1.5 acres of parks, with 35 of the housing units set aside as affordable spaces for artists. The arts school is moving to San Francisco.
3. The chinook salmon run on the Mokelumne River
is surging to near record levels for the second-straight year
, and East Bay MUD is being credited for more "cold water releases from the reservoirs, better management of hatchery fish and habitat improvements in the river," reports Peter Fimrite of the
San Francisco Chronicle
$. "It is expected to be the best two-year run on the river since records started being kept in 1940."
4. A federal judge in San Francisco
is demanding answers from PG&E about its role in a series of wildfires
that have devastated Northern California over the past two years, reports George Avalos of the Bay Area News Group$. The demand by U.S. District Court Judge William Alsup is part of his oversight of PG&E's conviction for the deadly pipeline explosion in San Bruno in 2010.
5. A lawyer for Paul Manafort, the former chair of President Trump's campaign,
has been sharing with Trump's attorneys secret information about the Mueller investigation
— after Manafort agreed to plead guilty and cooperate fully with the special counsel,
The New York Times
$ reports. The highly unusual move raises numerous legal and ethical questions and may provide more evidence of obstruction of justice.
5. And President Trump
is threatening to shut down the federal government in December
unless Democrats agree to fund his controversial, multibillion-dollar plan for a border wall, Politico reports.
$ = news stories that may require payment to read.