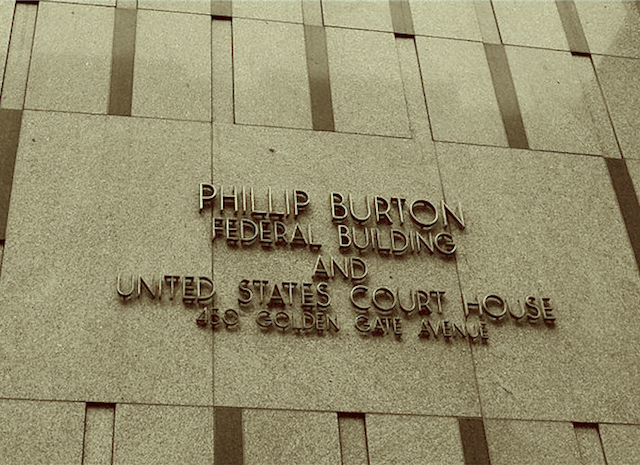 U.S. District Judge William Orrick sharply criticized the Oakland Police Department yesterday during a court hearing that focused on the recently discovered problem of police officers who are underreporting the number of times they use of force, including when they're pointing guns at people.
In response to
new information showing the police department has underreported use of force incidents
, Orrick ordered that three tasks under the Negotiated Settlement Agreement be re-activated so that a court-appointed independent monitor can closely examine whether the city's police are in compliance.
Specifically, Orrick re-opened Tasks
24 and 25
, which govern how the Oakland police keep track of use of force incidents, and
Task 31
, which governs how OPD conducts investigations of officer-involved shootings.
Orrick's decision represents a significant setback for the Oakland police.
"I have a nagging question that the defendants are checking boxes on compliance that will prove ephemeral in time," Orrick said about his concerns.
While he acknowledge that the city has made progress in reducing racial profiling and other unconstitutional forms of policing, he said this progress could be lost without the close supervision of some outside authority.
The underreporting of use of force incidents could involve a willful attempt by some officers and supervisors to obscure the actual reality of how often officers draw guns or strike people and use holds to make an arrest.
"When you are not told the truth on one thing," said Orrick while speculating about the reason for the faulty statistics, "you can assume you are not told the truth on many other things."
Orrick did not say that he believes the department lied, however.
City officials acknowledged that there has been an underreporting of use of force, but they told Orrick that they're not yet certain what caused the problem.
"We don't have conclusions yet," Assistant City Attorney Kimberly Bliss told Orrick.
Bliss said Police Chief Anne Kirkpatrick responded to the discovery by immediately directing officers to be re-trained on one procedure that's clearly become an issue: the "low-ready" position for holding a firearm. Under the city's current policy, if an officer holds a gun in a "low-ready" position, they don't have to report it as a use of force. "Low-ready" is defined, however, as holding a gun at 45 degrees or less toward the ground, and not at a person.
According to reviews of police reports and body camera videos by the independent monitor, some officers drew guns and held the the barrel at a person's lower-extremities, instead of their chest, and didn't report this as a use of force. Instead, they improperly characterized it as the "low-ready" position.
"Reasonable people sometimes disagree on an interpretation of policy," Bliss said, indicating that the problem could be a matter of how officers were trained to report use of force.
OPD's inspector general is currently auditing use of force incidents that occurred in 2018 to determine why use of force was underreported. The audit is expected to be be completed sometime in January or February.
Bliss added a positive note, saying that among the videos that were reviewed by the independent monitor showing an absence of use of force reports when there should have been reporting, there weren't any incidents that appeared to show improper uses of force, including brutality. Bliss said in some situations officers even showed "extreme patience" with people they were arresting.
Civil rights attorney Jim Chanin showed less patience with the police department in court, however. He questioned why OPD hadn't already finished its audit of use of force incidents in time for the yesterday's hearing given that the city's leaders knew about the problem months ago. Chanin called the underreporting a "massive systemic failure" by the department.
"Years of statistics are so problematic," he said, "they may have to be dismissed as worthless."
Chanin said he's especially worried about preliminary results of the monitor's review, which showed that about half of the unreported use of force incidents didn't involve pointing a firearm. Instead, they involved using hand strikes, holds, or other physical means to effectuate an arrest. Chanin said this means that the underreporting is due to something other than a single glitch in firearms training related to the "low-ready" position.
Furthermore, Chanin said that based on the monitor's initial examination of cases, as many as 87 percent of cases in which an officer drew and pointed a gun could have gone unreported.
"The monitor should see if Task 24 was violated," Chanin told Orrick, referring to OPD's requirement to accurately report each use of force.
Still other problems were revealed by the monitor's recent examination of arrest reports and body camera videos. In 6 of 41 reports the monitor has so far reviewed, body camera video footage was not available. While the monitor hasn't concluded why there is no video in some cases, Chanin said he's worried that some officers could have purposefully turned off their cameras or deleted the footage.
John Burris, Chanin's co-counsel in the case, summed up their concerns about the city's faltering steps. "We keep going forward, falling back, going forward," Burris told the judge.
Bliss told Orrick that the city and police department are committed to sustainable reforms. But Orrick, in a marked shift from his tone during earlier hearings in the case, said he's become skeptical of the city's abilities to comply.
"My concerns are not assuaged by anything that's been said," Orrick sternly replied.
Orrick is the second judge to oversee the case, which was filed by Burris and Chanin in 2000. The Negotiated Settlement Agreement was signed by the city in 2003. In 2017, Judge Thelton Henderson, who originally heard the case, retired and handed it over to Orrick.
"I had been more optimistic when I started this case about my tenure" Orrick said about his hope the case could be brought to an end quickly. "What's happened over the past few months has made me less optimistic than I'd like to be."