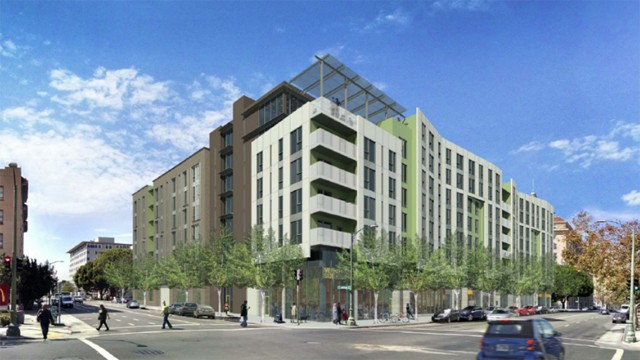 Stories you shouldn't miss for Dec. 12, 2018:
1. An ambitious plan
to build more housing in the Bay Area and create tenant protections
in cities that don't have them is moving toward approval, reports Erin Baldassari of the
East Bay Times
$. The sweeping plan, which has been in the works for 18 months and includes input from numerous stakeholders, includes just cause eviction protections and rent caps in Bay Area cities that don't have rent control and calls for denser housing near transit, along with higher employer and property taxes.
2. The Alameda Planning Board
unanimously approved plans for a five-story hotel
 to be built on waterfront property next to the Harbor Bay ferry terminal despite opposition from neighbors who complain that it will block their views of the bay, KGO reports. Opponents of the Marriott Residence Inn said they plan to appeal the planning board's decision to the Alameda City Council.
3. Alameda County
selected a new private ambulance service — Falck Northern California
— which will take over for Paramedics Plus, the county's current ambulance provider, in July, reports Peter Hegarty of the
East Bay Times
$. Falck is the world's largest provider of emergency medical services.
4. PG&E admitted Tuesday that
a "worm hook" on an electrical transmission tower near Paradise failed
just before the horrific Camp Fire ignited, killing 86 people, reports Jaxon Van Derbeken of NBC Bay Area. PG&E also said that it found bullet holes on a power line near where a second ignition of the fire began.
5. The California Democratic Party
fired its top staffers in the wake of the sexual harassment scandal
involving former chair Eric Bauman, reports Melanie Mason of the
LA Times
$. Bauman resigned over the scandal.
6. A Democratic Assemblymember from Fresno, Joaquin Arambula,
was arrested on child abuse charges
, prompting Republicans to call for his resignation, reports Lewis Griswold of the
Fresno Bee
$ (h/t Rough & Tumble).
7. State regulators
may impose taxes on texting
in order to help fund programs that provide cellphone service to low-income people, reports John Woolfolk of the
Mercury News
$.
8. President Trump's ex-personal lawyer Michael Cohen was
sentenced to three years in prison
for his role in helping Trump pay hush money to women with whom Trump had affairs in violation of federal campaign laws, the
Washington Post
$ reports. "Cohen made a tearful apology during the hearing, but decried what he called a 'blind loyalty' to his former boss 'that led me to choose a path of darkness over light.' At times stopping to gain control of his emotions, Cohen said, 'time and time again, I felt it was my duty to cover up his dirty deeds.'"
9. And Trump threatened again
to shut down the federal government this month unless Democrats agree to fund his controversial border wall
, the
LA Times
$ reports. "I will shut it down for border security," Trump said during a televised meeting with Democratic Congressional leaders Nancy Pelosi and Chuck Schumer.
$ = news stories that may require payment to read.