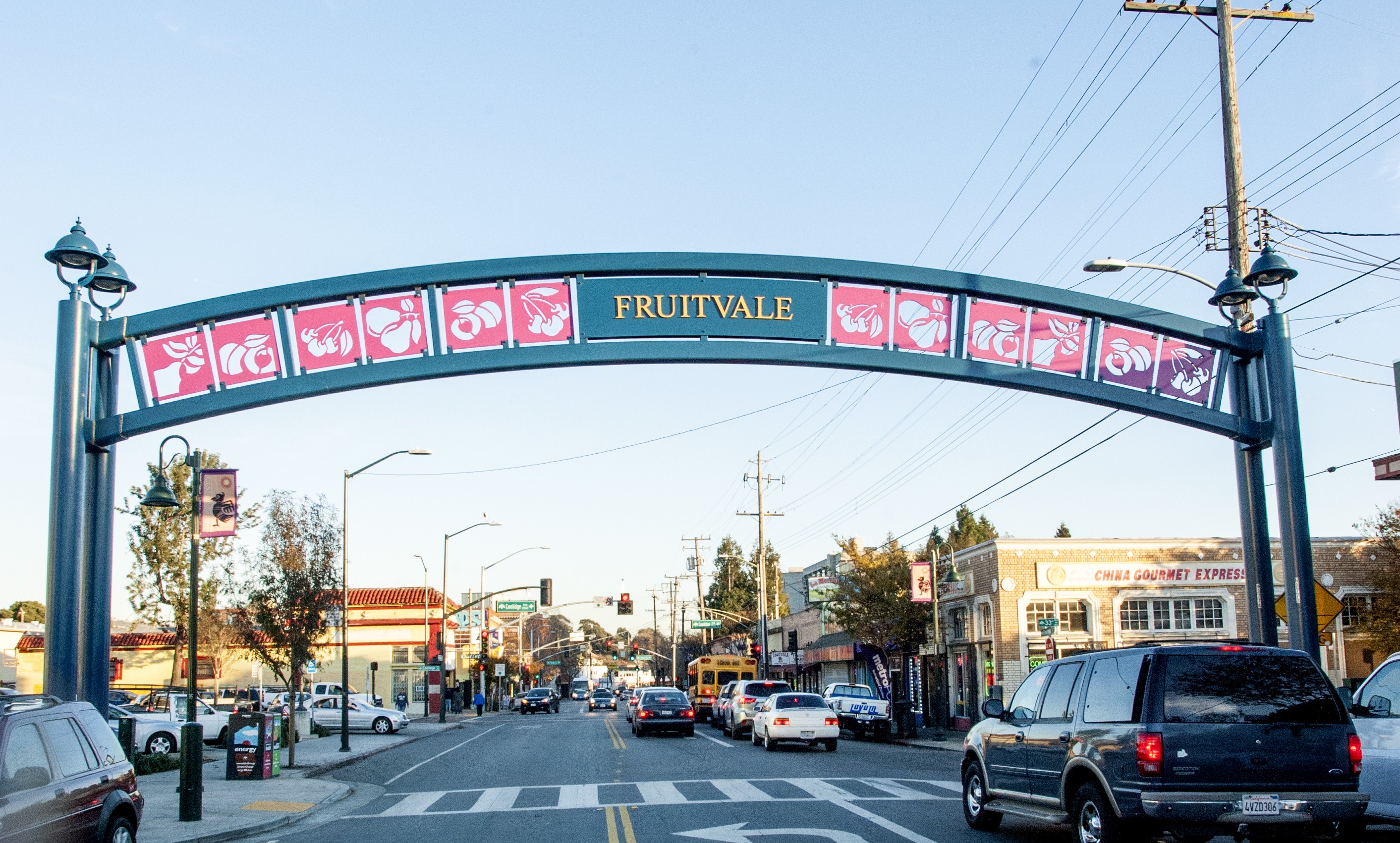 On a Saturday morning in November
, an estimated 100,000 people flocked to Oakland's Fruitvale district along International Boulevard and a section of East 12th Street. The reason for this massive influx of people? The 23rd annual
Día de los Muertos festival.
This year, there was another reason for the organizers to celebrate. The festival, which honors the Day of the Dead with live music, food, and arts and crafts vendors, had moved back to its original larger location, occupying International from Fruitvale to 42nd avenues. From 2010 until last year, the festival was held in a smaller area, within Fruitvale Village on East 12th Street between Fruitvale and 37th avenues. At this year's festival, there were over 350 volunteers, 209 vendors, and 26 altars put together by members of the community.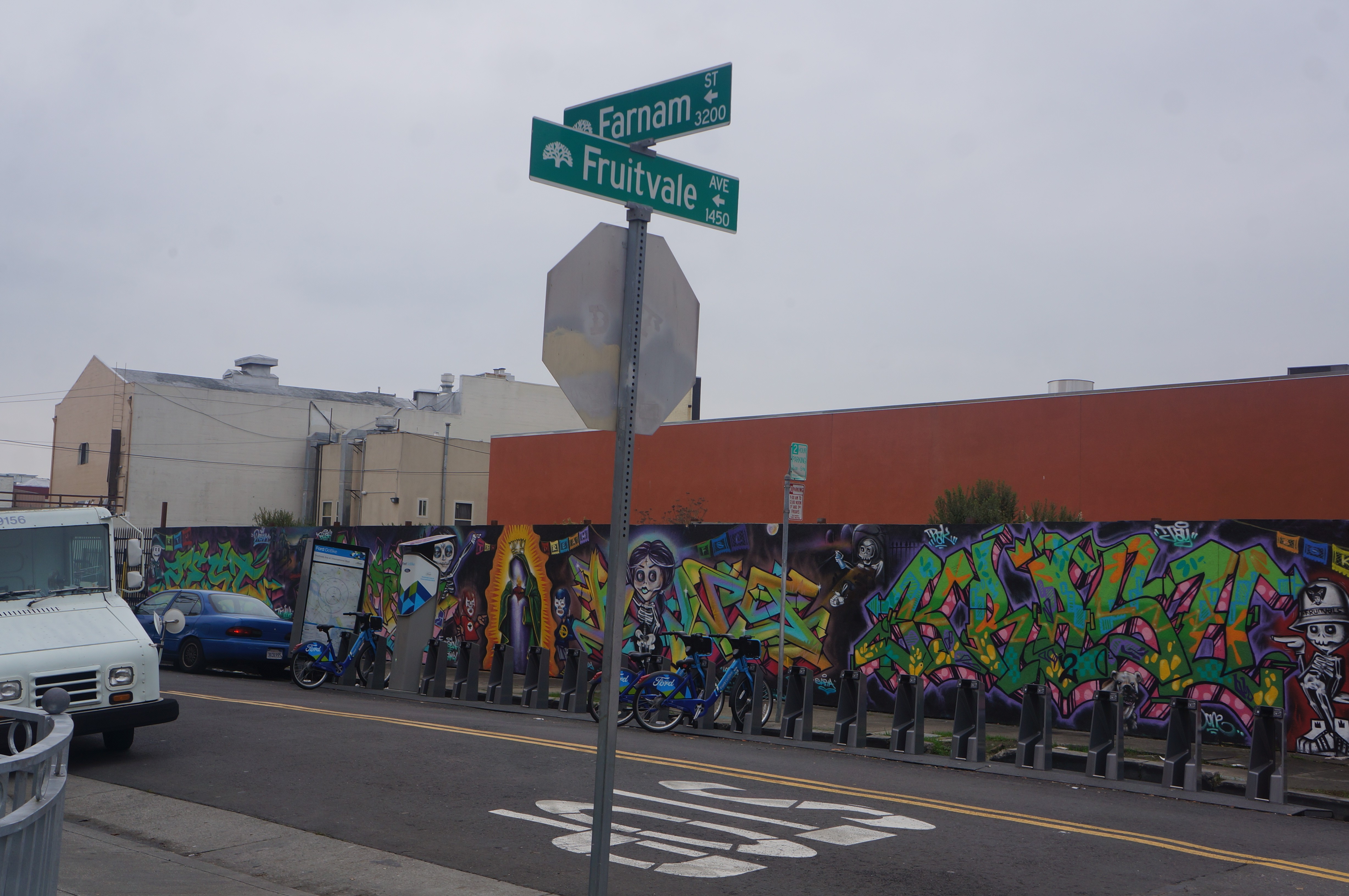 For Chris Iglesias, CEO of the nonprofit Unity Council, the large festival represents what Fruitvale is and has always been: a thriving community. Fruitvale "has been a long-standing community with deep roots," he noted. "It has built a strong identity that's tied to all different types of [immigrant] communities."
As I strolled through the festival (I've attended it yearly since I was a kid), it was clear to me why it is so successful. A walk along International Boulevard feels as if you've traveled to your parents' country.
Year-round, it's a home away from home. On one corner, you'll find the paletero quickly grabbing people's attention as he rings the bell attached to his popsicle cart (especially on a hot summer day). Walk a block, and you will find another vendor selling fresh fruit, and those mouthwatering chicharrones con salsa.
And besides all of the food vendors, bustling on the day of the festival, there are countless restaurants to choose from — all equally as hectic as the vendors, but so worth it. How can you choose between a torta from La Torta Loca or some tacos from Taqueria 16 de Septiembre? As I walked through Fruitvale Village admiring the altars and taking photos, my mind wandered off, and all I wanted was a churro filled with caramel.
The Town has many vibrant neighborhoods and commercial districts, but Fruitvale, in many ways, is quintessentially Oakland. It's diverse, welcoming, family-oriented, community-minded — and too often overlooked. It's long been a place that immigrants, many of whom arrive with nothing and have nowhere else to go, have found a new home and thrived.
And everything you might want or need is here. Camping gear? Bonanza's got it. Craving ceviche? Next door is La Costa to satiate your octopus craving. Need new tires, or perhaps a smog check? Drop off your car at Lopez Tires and Services, and while they work on your vehicle, walk over to Guadalajara and grab a burrito. If you need a caffeine fix instead, walk past the restaurant and you'll find yourself at Red Bay Coffee.
The endless options do not end on International Boulevard or San Leandro Street. Want to try out Mexican pastries? Stop by Peña's Bakery on 34th Avenue and Foothill Boulevard. If you need to buy groceries, cross the street and step into Mi Ranchito Market. Need toiletries? Check out the Walgreens at the corner of Coolidge Avenue and Foothill — a favorite chain among the residents of the neighborhood.
If you need your shoes repaired, drive or walk over to Fruitvale Shoe Repair, located on Fruitvale Avenue, less than a block from International. Like many of the 390 businesses in the neighborhood, Fruitvale Shoe Repair is owned and operated by a Salvadoran family.
Head up closer to I-580, and you can get your taxes done by Jose Dorado at Dorado Tax and Bookkeeping Service. Drop off your paperwork and walk over to Galeria Beso Maya, the only gallery in Fruitvale, run by owner and founder, Yadira Cazares.
Although Fruitvale, like much of Oakland, continues to face intense gentrification pressures, the neighborhood's powerful sense of community is held together by the hundreds of small businesses there — some of which have been rooted in the district for over half a century.

[slideshow-1]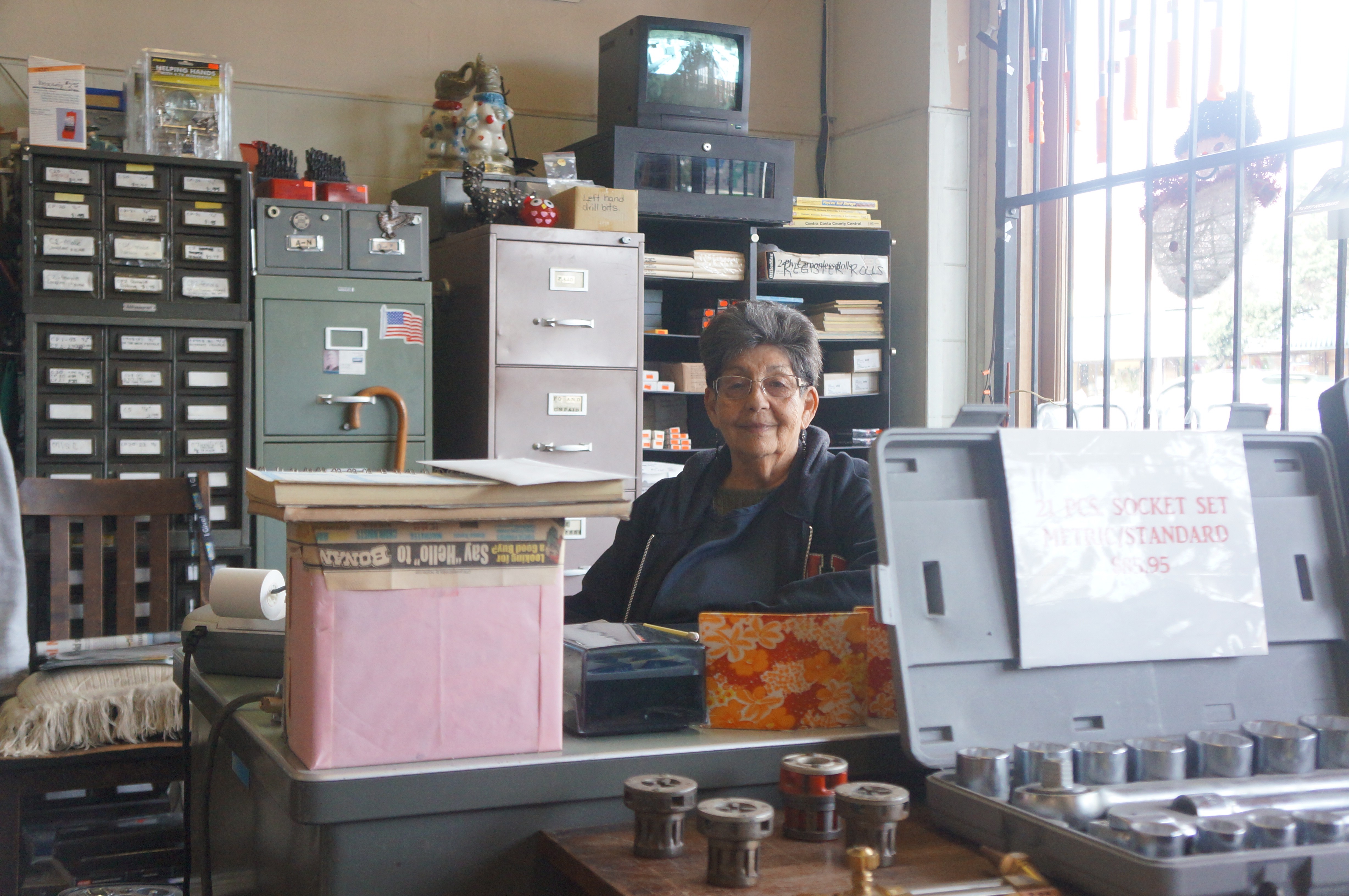 One of the most well-known and longest-running businesses in Fruitvale is Bonanza, a dual store on International at 36th Avenue that sells hardware in the larger portion of the store, and camping, construction, and military goods in the smaller portion. It's been a staple in the neighborhood for over 53 years. Helen Slape, the 87-year-old matriarch of Bonanza who is at the store daily, recalls what Fruitvale was like when she and her husband first opened their business.

"First [the space where the hardware store is located] was a Safeway many, many years ago. The little emblem is still on the roof," Slape recalled. "They had moved, and before we moved in, I believe it was a furniture store."
When Slape opened the store, Fruitvale was largely inhabited by Italian, German, Portuguese, and Irish families. Then Chicanos moved into the neighborhood in the 1960s and 1970s as the Chicano Movement spread nationwide. "When we first moved here, this wasn't a Hispanic community," Slape added. "I was the only Hispanic, along with the fellow across the street" (where Mexican restaurant El Farolito is located).
Being one of the longest-standing business owners in the area, Slape has seen a multitude of changes in the past five decades. During our recent conversation, she talked effusively about many of her regular customers who started as apprentices for someone else and how she got to see their transformation: becoming owners of their own companies. It is the kind of family-like atmosphere that people feel when they shop at Bonanza — and feel about Fruitvale.

Many might not know that Slape's hardware store also used to have a separate warehouse on 37th Avenue and International. "We used to bring in the 40-by-20-foot container — that was before Home Depot, Lowe's, and all of those," Slape recalled. Eventually, they had to forego the warehouse because of competition from larger chain hardware stores.
The secret to staying in business all these years despite competition and changes in the neighborhood? "Hard work. That's it," Slape said. "We used to stay here from seven o'clock in the morning, and at ten o' clock, we were still here. We were here six days a week."
As Fruitvale evolves, Slape worries about the future of long-standing businesses like hers, and how the continuous redevelopment of the area could affect them. One of her biggest concerns is the construction of Bus Rapid Transit (BRT). The light rail on wheels is a new bus service that will run along a 9.5-mile corridor between downtown Oakland and San Leandro BART, along International and a stretch of East 12th. This new system is scheduled to begin service in December 2019 and aims to alleviate traffic congestion, while providing more reliable public transportation in the East Bay.
Slape, however, is worried that the construction phase will disrupt business and that the lack of parking will deter patrons from coming to the area.
Once BRT is completed, residents in Deep East Oakland will have a faster access to Fruitvale and to businesses all along the BRT corridor.
Yet despite her fears about BRT construction, Slape remains hopeful about Fruitvale and proud of what she has achieved all these years with her business. "You know what the secret is, too?" she asked. "We sell service. And we treat people with respect."
---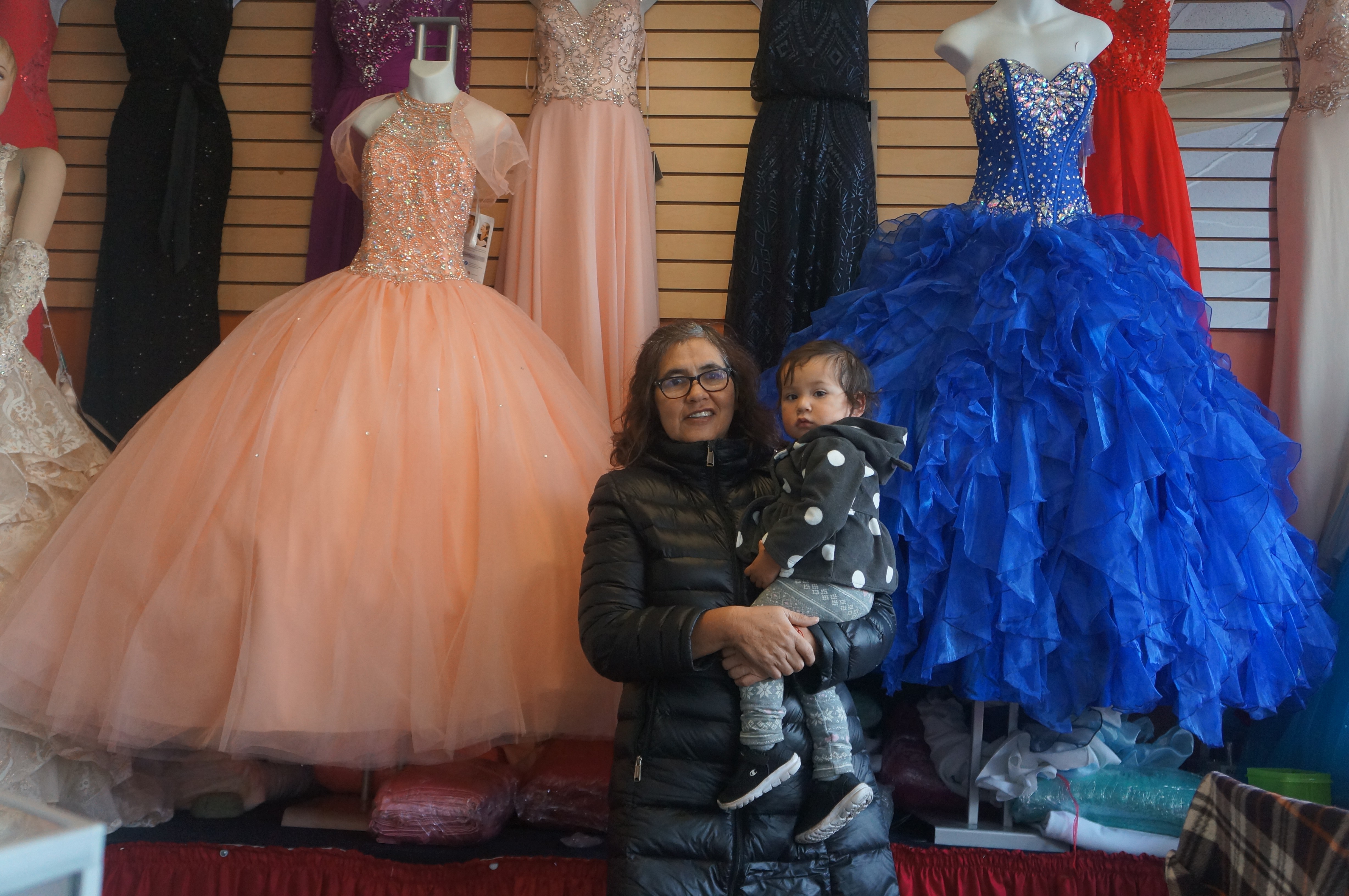 Chris Iglesias
of the Unity Council echoes Slape's feelings about Fruitvale being home to businesses that respect and welcome people regardless of their background. Fruitvale "has built a strong identity that's built not just with the Latino community, but with all types of communities," he noted. "It's a place where people feel like they can come in and start their lives. It's still a place that's accepting with a strong cultural backbone."
New immigrant communities that have found a home in Fruitvale and have opened business there include the Mam community, an indigenous Mayan group based in the inlands of Southern Mexico and Guatemala. As of 2012, 37,663 people of Guatemalan descent resided in the San Francisco Bay Area region, according to a report by the Oakland-based research institute PolicyLink.
"First thing I see in the morning when I come into work are strollers, mothers, fathers, grandmothers bringing their kids to our head start programs," said Iglesias, of how family-oriented Fruitvale is. "It's a sea of humanity."
Fruitvale is also a one-stop shop, a neighborhood where you can find everything you need, and that's what makes it an appealing place to work and live. Fruitvale "is still a place where folks can educate their kids, find services for their families, find retail, food," Iglesias noted. "This is what makes this place special."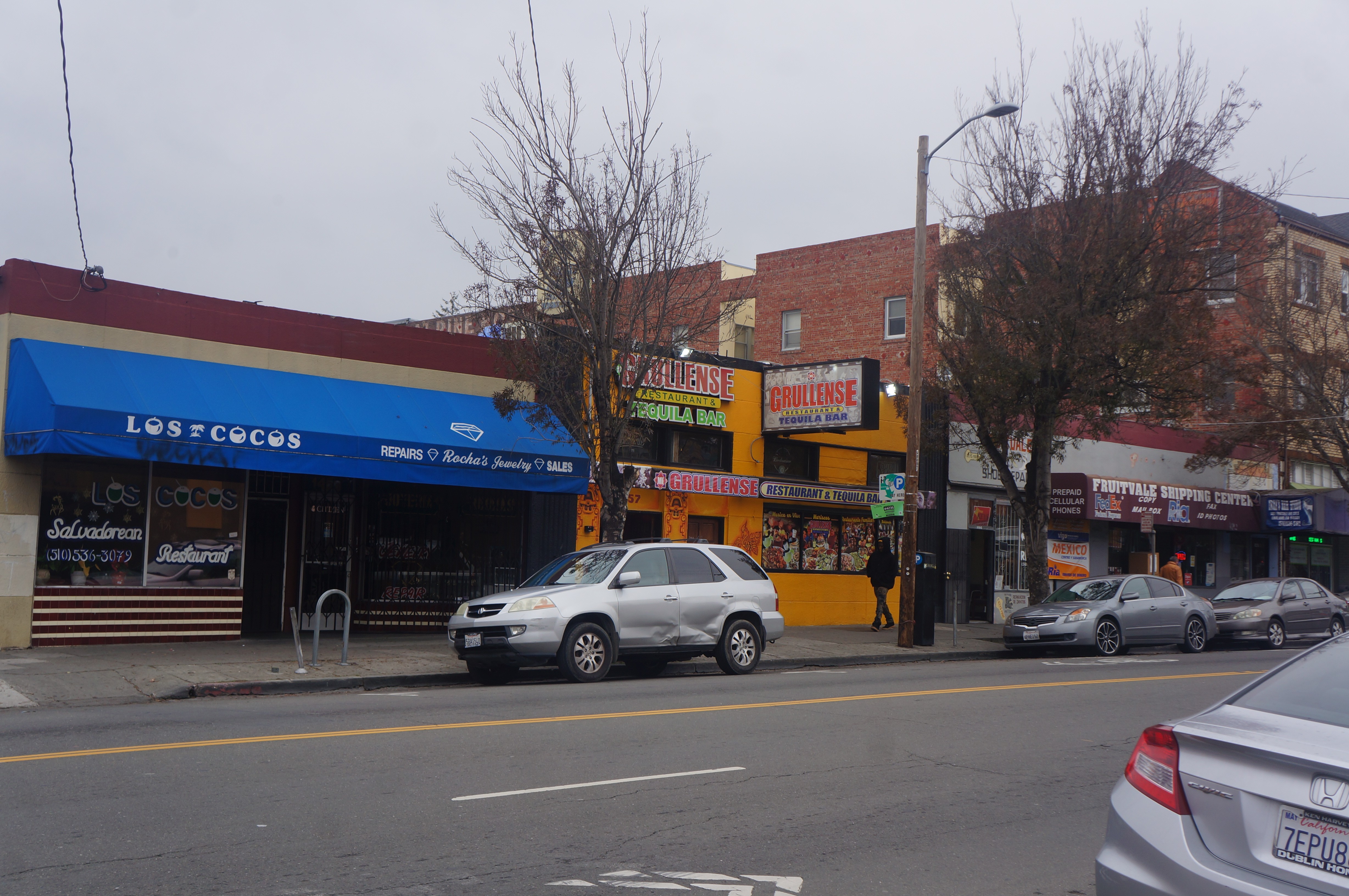 Fruitvale's family-oriented vibe has helped Enriqueta Soriano with her two businesses, both on International Boulevard, roughly a block from each other. Express readers might be familiar with the Soriano family — we published a story on their Tacos Los Michoacanos food truck in our fall 2017 Taste issue. In it, Soriano's son, Enrique described why it was important to carry on his parent's legacy with the food truck as Fruitvale grapples with gentrification.

Soriano has owned and operated El Palacio de Novias y Quinceañeras in the same space since 2000. It's a well-established business in the neighborhood, and it specializes in wedding, bridesmaids, baptisms, and quinceañera dresses and services.
Soriano immigrated to the United States in 1985 and built her business, first by doing cleaning jobs and then selling clothes at the Coliseum flea market before opening a small shop on 31st Avenue. Eventually, she had enough capital to open the space that the store now occupies at 34th Avenue and International.
"I have customers who have gotten their wedding dresses here, and when they have kids, they come and get the outfits for their kids' baptisms," a proud Soriano said in Spanish, while showing off the massive inventory in her store. "They are like family, and it shows how if you provide good customer service, they all come back."
But Soriano is also concerned that with Oakland becoming a prime location to live and work, more longtime residents of Fruitvale will get priced out. "That is one of the changes I've seen," she said, "a lot of people are moving out. I still remain hopeful that people will be able to stay."
Like Iglesias, Soriano described Fruitvale as a community with a strong identity. "I feel like I'm in Mexico," she said, describing what it's like to roam the neighborhood. "If I'm craving Mexican food, there's plenty of restaurants, fresh fruit, delicious ice cream. You feel like you are walking around the country you are from."
In Fruitvale, nobody does ice cream better than Luis Abundis, who owns and operates Nieves Cinco de Mayo at the Public Market in Fruitvale Village. Abundis is one of the original tenants who opened in 2007 when the development was still under construction. His artisanal carafe ice creams cause furor, especially on summer days when people line out the door to buy a mangonada.
Mexican food is, of course, not the only type of cuisine that you'll find in Fruitvale — Los Cocos, located just off Fruitvale Avenue and International, is the oldest Salvadoran restaurant in Oakland, and when it opened in 1985, it was the only Salvadoran eatery in Fruitvale. If you're looking to venture out of the Mexican food realm and have never tried pupusas, Los Cocos should be you first stop — you might find owner Rosa Gonzalez behind the grill.
Soriano said she will continue running El Palacio now that she has officially passed the baton to her kids to run Tacos Los Michoacanos. "Once I'm ready to retire, I hope that my daughter, who knows the business very well, carries on with the store," she said.
Although Fruitvale has a large Latinx community, other ethnic groups still call the neighborhood home. If you have driven on Foothill Boulevard, chances are you have passed Mi Ranchito Market — located directly across from Peña's Bakery, another long-standing and community-loved establishment. The name Mi Ranchito Market might indicate that it's owned by someone of Latinx descent, an immigrant perhaps, which is partly true. Mi Ranchito is owned by Mohammed Alomari, an immigrant from Yemen.
"Whenever I talk to him [Alomari], I always ask, where are you from? And when he responds, 'Yemen,' I always say, 'Man, what part of Mexico is that?'" Iglesias said of the welcoming embrace Alomari has received from his immigrant comrades.
"I've always been fascinated with his business," Iglesias said. "When you walk in there, most of the staff is Latino, and there's products from everywhere."
---
Jose Rivera
is passionate about talking about Fruitvale and all of its past and current businesses. Although not a business owner, Rivera runs the
Oakland Latinos United Facebook page
, which he started back in 2003. The page is a time capsule that focuses on Oakland's Latinx history, which he contends is too often overlooked. Rivera was raised in Jingletown and Fruitvale, and the history of those two neighborhoods are especially significant for him.
Many of the Facebook posts are "throwbacks" — old photos of his family, as well as historical archives with detailed captions for followers of the page to get a glimpse of what Oakland used to be. While he doesn't live in Oakland anymore, he continues to have deep ties with his hometown. "We moved [to Richmond] during the crack epidemic, and gang-banging era," Rivera recalled. "My mom wanted us to get out so we wouldn't get caught up."
Despite living in Richmond, Rivera often finds himself back home — not only because he works in Fruitvale, but because he feels it's important to remain rooted in The Town.
Recently, Rivera posted a sepia-toned photo of the Brown Brothers Shoes, which used to be located near the corner of 34th Avenue and Farnam Street. "Many people who grew up in the Fruitvale remember this place. It was the go-to place for Stacy Adams [shoes]," Rivera wrote on the caption.
"My primo Jaime Guzman worked there," read one comment.
The idea behind the page stems from Rivera's desire to learn more about Oakland's history. He calls himself "a natural history buff." As a teenager, he became interested in the Chicano Movement, but in the books and articles he was reading, he wasn't able to find much information about the movement in Oakland. "Oakland and the Bay Area were almost never mentioned," he said. "Growing up, I remember hearing about the Chicano movement and how Cesar Chavez used to come to Fruitvale."
Some might not be aware that Oakland was key to Chavez and his movement, a place to kick off his community organizing. One scroll through Oakland Wiki's Cesar Chavez page, and you can find many political connections that bounded Chavez to Oakland, like endorsing Ron Dellums in 1970 during his first run for U.S. House of Representatives. Rivera is one of the writers of the history-related pages on Oakland Wiki.
"I started researching books about Oakland, and again, it's like we didn't exist," he said. "I refused to believe that we were this immigrant group that just came here from the border yesterday."
With his page, and the historical knowledge that he has acquired through his years of research, Rivera wants to educate others on what was in Oakland before — while not taking away from the contributions of the Irish, Portuguese, and German immigrants who lived in Fruitvale before Latinx. "A lot of the businesses now owned by Latinos were sold by Portuguese," Rivera noted.
My conversation with Rivera revealed not only his vast knowledge, but also the importance of having people like him telling the stories of The Town. As he told me about the Fruitvale he remembers, I couldn't help but think: Can the Fruitvale community continue to fight against displacement?
Can it continue to be the self-sufficient and vibrant hub that new immigrants call home?