Stories you shouldn't miss:
1. Governor Jerry Brown signed landmark legislation, making California
the first state in the nation to ban the use of secret grand juries in cases in which a police officer has killed someone
, the
Mercury News
$ reports. The governor's action, which was opposed by law enforcement groups but backed by civil rights organizations, will take effect on January 1. Under the new law, prosecutors must present criminal cases against police officers in open court rather than behind closed doors. The bill, authored by Los Angeles state Senator Holly Mitchell, comes one year after Ferguson, Missouri police officer Darren Wilson shot and killed Mike Brown, but then was not indicted by a secret grand jury.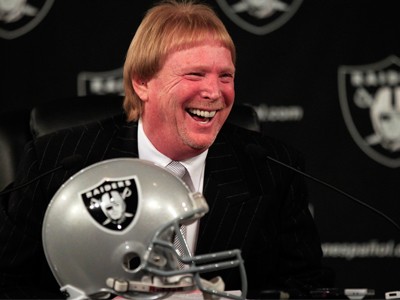 2. Oakland Raiders owner Mark Davis
personally pitched his plan to the NFL yesterday to move his team to the City of Carson
near Los Angeles and build a new stadium there with the San Diego Chargers, the AP reports (via the
CoCo Times
$). Davis has said his first choice is to keep in the team in Oakland, but he has not pushed a proposal for a new stadium here.
[jump]
3. Two Alameda County sheriff's deputies
were injured in a blast in West Oakland yesterday while serving an eviction notice at home in which one person was later found dead
, the
Trib
$ reports. It's not clear whether the person died before or as a result of the explosion, which appears to have been caused by a gas line that was disconnected.
4. The University of California will give applicants for the first time this fall the opportunity to i
dentify their gender as trans male, trans female, genderqueer/gender nonconforming, and different identity,
the
Chron
$ reports. UC will also give students the choice of identifying their sexual orientation as heterosexual or straight, gay or lesbian, bisexual, or not listed above.
5. Federal authorities have filed
corruption charges against three DMV employees for allegedly selling driver's licenses to truck drivers for up to $5,000 each
and not requiring them to take state tests, the
LA Times
$ reports. Truck drivers who obtained the licenses in the scheme were involved in 23 accidents, although none was fatal.
6. And officials in New Mexico and Arizona
are alarmed by the oncoming disaster caused by a massive spill of toxic pollution into the Animas River in Colorado
, the
LA Times
$ reports. The huge spill was caused by the US Environmental Protection Agency during its attempt to clean up an old mine. The disaster has already polluted hundreds of miles of the Animas, which is used as drinking water by numerous communities in the Southwest.