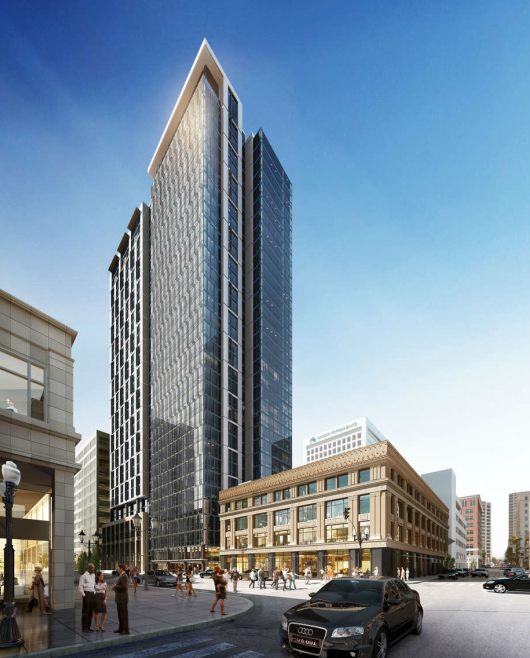 The Oakland Planning Commission has approved a proposal for a 33-story high-rise apartment building on 19th Street and Broadway — a project that will include 345 residential units conveniently located next to BART in the city's Uptown district. But while many agree that this kind of high-density project in an urban center can help promote sustainable development and that new apartments are needed during the current housing crisis, the proposal has one feature that contradicts a key principle of environmentally friendly planning.
The tower, proposed by developer Seth Hamalian, calls for the construction of 333 parking spaces for residents, meaning the building is designed to accommodate and encourage car ownership in nearly every single unit — despite the project's central location directly adjacent to BART and other public transit. 
[jump] As I outlined in last week's cover story, "
A Green Solution to Oakland's Housing Crisis
," transportation and environmental advocates have increasingly argued that developers in Oakland and across the Bay Area
waste significant amounts of money and space
constructing giant parking garages and lots in downtown apartment buildings where more residents can and should be living car-free. And the negative impacts of these large parking garages extend beyond environmental consequences. In addition to enabling continued high rates of greenhouse gas emissions and pollution — by attracting car owners to the neighborhood — the creation of excessive parking also drives up housing costs.
Depending on a number of factors, a single parking space can cost a developer anywhere from $35,000 to $75,000 to build, and those costs are passed along to tenants. Oakland-based transportation advocacy group TransForm, which has a
program
dedicated to encouraging reduced parking in new developments, has done extensive research showing that apartment buildings in the Bay Area have much more parking than they need; for example, across fourteen Oakland buildings the group surveyed, an average of 27 percent of parking spaces were unused, translating to unnecessary construction expenditures of roughly $22 million.
The new Uptown project, which is located at 1900-1944 Broadway and was approved last week by the planning commission, would involve construction on lots that are currently vacant and underutilized and would also include the renovation of an historic four-story building. All units would be market-rate. In terms of its parking plan, the project offers a clear illustration of how development proposals in Oakland are often largely based on backward, car-oriented policies.
The location could not be more transit-friendly. As the city planning department explained in its recent
report
on the project: "An entrance to the 19th Street BART Station and an AC Transit bus stop is located on Broadway, directly in front of the site." Throughout the report, the city also emphasized that it supports the project specifically because of its transit access and central location, writing: "1900 Broadway is an ideal location for a high-rise tower because it is in the heart of Downtown Oakland, which is the regional center for the East Bay and a major hub for transit facilities."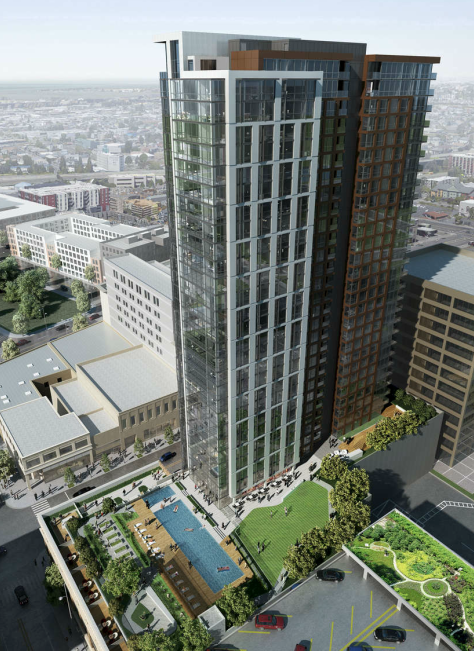 Despite the official acknowledgments of the value of 1900 Broadway's transit-oriented location, the city has endorsed a project that is built primarily for car owners. Transportation advocates argue that part of the reason developers continue to build excess parking is that outdated city zoning rules, which were written decades ago and are rooted in car culture, require and encourage the construction of a large number of on-site spaces based on the number of units in the project. In most parts of Oakland, the city mandates that developers build one parking space per unit in new apartment buildings. Developers can seek special exemptions from the city to do reduced parking — such as the Nautilus Group project in Temescal that I profiled in my recent
feature
— but projects often tend to default to the minimum number of spaces that zoning rules require. 
In fact, for the 1900 Broadway project, Hamalian had to seek a special exemption from the city to build 333 parking spaces, since that was just below the one-to-one minimum ratio for the 345-unit project. Some cities with more progressive parking policies have instituted
maximum
parking ratios in dense downtown areas, meaning in a prime location next to a transit hub, the city might forbid developers from building more than .25 or .5 parking spaces per unit. That can lead to lower construction costs for developers and can result in significantly lower rents for tenants without cars (while residents who still want to own cars have to pay extra for their spots). And when developers build less parking, they often invest the savings in other amenities that promote alternative modes of transit, such as free car-share memberships for residents, on-site bike parking, and discounted public transit passes. (In some cases, overly restrictive zoning rules directly block the creation of affordable housing. TransForm, for example, has worked with Bay Area developers who were able to increase the number of affordable units built in a specific project only after the local municipalities granted them an exception to do less parking than zoning rules required.) 
Under current Oakland zoning policies, the 1900 Broadway project could have applied for an exemption from the city to go as low as 0.5 spaces per unit, which would have meant only 173 parking spaces. TransForm estimates that it costs $50,000 to construct one space in a structured garage, meaning this project could save millions of dollars if it decided to do reduced parking — and could potentially offer more affordable rents as a result. And considering the high vacancy rates in Oakland apartment garages that TransForm has uncovered, the project could also end up wasting a significant amount of funding on spaces that sit empty — an outcome that is particularly likely given that its location adjacent to BART is sure to draw tenants without cars. 
Oakland's Planning Department is in the process of rewriting its parking codes — the official zoning rules that outline minimum requirements for new developments — and as part of that process, the city may eliminate certain minimums so that for a project right next to BART, a developer could go as low as .5 spaces per unit without seeking a special exemption. But Hamalian proposed the 1900 Broadway plan under the guidelines of the antiquated parking rules, which means that this rare opportunity to build so close to BART has resulted in a large project that contradicts the city's own goals to fight climate change and promote sustainable development. 
Hamalian did not respond to requests for comment.